To a shopaholic like me; the words, Biggest and Grandest would magnified with sparkle right before my eyes.  Combine it with Baby Fair, I am running for my wallet and car key.  It is Supermom Baby Fair at Marina Bay Sands this year.  Dear mummies, please block your calendar from 17 to 19 February 2017. With over 1,000 international brands & more than 100,000 products, this will be the best time for parents to try, test and compare all sorts of products right under one roof.  What's more, parents can shop directly with so many brand owners and distributors for the best deals and discounts.
Browsing through their website already had me jotting down the list of things I am going to grab at the fair. To help better prepare my visit to the fair, I can start shortlisting the starbuys from as low as $1 at this link. From what I have marked, I would have a gauge of how much I would likely be spending at the event.  Then, the best part of the fair is I can also get Supermom Cash vouchers at 25% discount!!!  How it works is, if I am going to spend $1000 from my shortlisted items, I can get the  Supermom cash vouchers here at only $750!!! Here is the link to the get the cash vouchers  
In addition, to celebrate this Post CNY Blowout event, parents can redeem a $188 Ang Bag Bag for every $50 spent from 17-19 February 2017 (while stocks last)
Held in conjunction with Supermom Baby Fair is the Supermom Luxe; which will be showcasing premium maternity, baby and kids products and brands on the cooler side of style and design for modern, savvy-chic parents who are starting a family.  With over 30 specially curated vendors, premium baby clothes, maternity wear, accessories, nursery decors and many more.  There is even going to be the 1st ever Junior Fashion Show at the event!!!  This will be the only kids show in Asia lending its platform to Asia's up-and-coming designers alongside the world's most iconic international designers.
I have to say the organizer of the event had really put much efforts and thoughts for their shoppers in all aspects. From  beautifully designed diaper changing and nursing rooms, stroller rental, bag drop-offs to home delivery services for parents' convenience.  These amenities and services that are never seen before in other baby fairs are added in an effort to make the entire experience a comfortable one not just for the little ones but also for every mum and dad.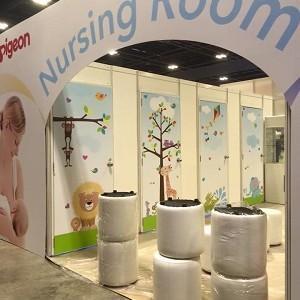 Supermom is offering CLAK's reader a $5 voucher to use at the fair. All you need to do is to sign up for the voucher here with the discount code of "CLAK5".  Limited to the 1st 50 signups*. So hurry and sign up NOW!!! *Collect the vouchers at the  Supermom Baby Fair redemption booth between 17 to 19 Feb 2017.
Signed up already.  You will be glad to know that to help mummies & daddies save even more, SuperMom will also be offering the following additional transportation perks:
Spent a minimum of $88 and get $5 off the next Comfort Delgro taxi ride home from 17-19 February 2017 (promo code will be provided)
$8 flat fee for parking at Halls E & F when customers flash the SuperMom website at Loading Bay entrance
Spent a minimum of $388 and get a refund of $8 for parking at Halls E & F only
Spent a minimum of $588 and get complimentary Valet Parking offered only at the Valet Parking located at the pick-up/drop-off outside The Shoppes/Casino Driveway only
For more details & T&Cs, please visit http://babyfair.supermom.com.sg/venue-info