I was very blessed to be able to experience the OSIM uLove 2 (4手天王) at their media preview recently!
If you have been a regular follower of my IG story, you would remember that I have always wanted to have a massage chair at home. Due to my bad posture, I have been suffering from backaches and shoulder ache. Do you know I specifically told our interior designer to keep an area in our new house for a massage chair?
So when I was told of the launch of the OSIM uLove2, i was more than excited to have a try on it.
The event was well planned with an OSIM Airlines First Class theme.  We were being pampered from head to toe at the event. Everything was meticulously planned, from the decor, to the staff and finally when we were led to the uLove 2 "airline cabin", everyone inside was in awe. I heard that quite a few ladies fell asleep shortly after the massage started. I was too engrossed by the chair's 4-hand massage – it was literally like having 2 masseurs pampering you at 1 go.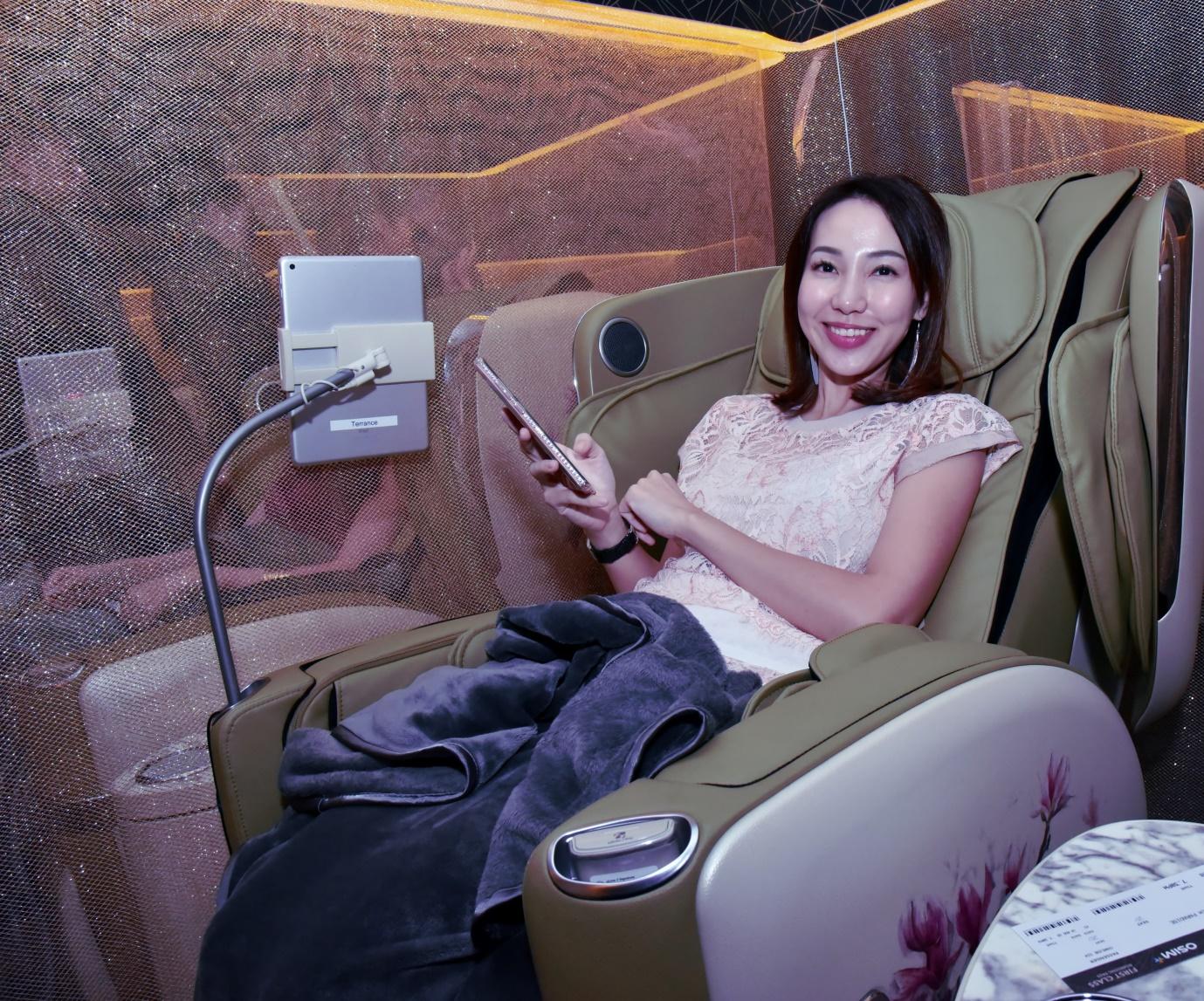 Watch the event video here
Let me share some of the features of the OSIM uLove 2:
World's first 4-hand massage – Like I mentioned above, this 4-hand massage technology features 4 sets of powerful rollers that massage your upper and lower body concurrently, mimicking the synchronised double massage on the upper and lower body, doubling your relaxation, doubling the pampering and doubling the luxury.  This is the closest you can get to having 2 masseuses at the comfort of your home!
Patented V-Hand with 720 degrees Roller Balls – This is one of my personal favourite features of the chair! The intelligent V-Hand Massage emulates the skilful techniques and flexibility of a masseuse's hand for a realistic grip that extracts your deep-seated knots. The 720 degree roller balls rotate 360 degree in both directions, rolling along every contour of your body! Who says a massage chair cannot fight a real masseuse?
uLove 2 Signature Suite – With 8 massage programs that addresses your different lifestyle needs, from Sport Massage program to ease muscle tension, a pampering Beauty massage program to tone and firm, a Stretch massage program to loosen muscle and improve flexibility, to a Sleep massage program that relaxes the body and mind for a well-rested slumber.
Woah… This amazing massage chair leverages on its V-Hand and 4-Hand Massage to tailor a massage program that perfectly targets and eliminates your sore spots for an euphoric experience.
May I also share that the uLove 2 also comes with 3D surround sound speakers and a wireless Bluetooth music playback!  It was so relaxing to enjoy the massage with your favourite music playing in the background.
You would also have noticed the elegant and sophisticated design of the new uLove 2.  The feminine flora hand-painted drawing and the luxurious quilted leatherette, uLove 2 is really a versatile accent piece that complements every living space. My favourite colour is the purple one! Which is yours?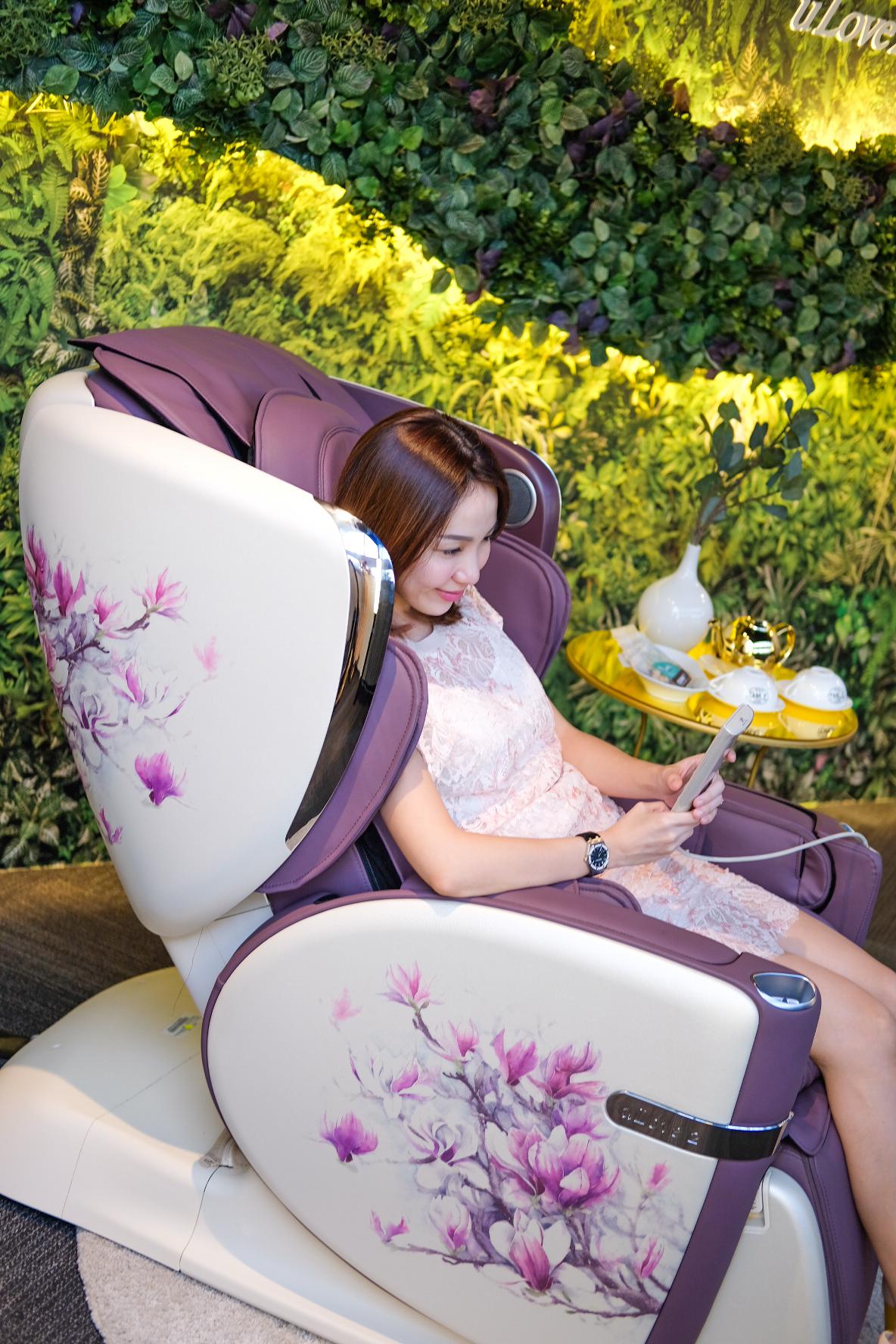 Cannot wait to bring one back home? Head over to this link here to grab this amazing OSIM uLove 2 (4手天王) at a special preview price now or head over to any OSIM Outlets or Roadshows to try it & redeem an exclusive preview gift, while stocks last!