Cirque du Soleil returns to Singapore after 10 years with an awe-inspring production, TOTEM,  presented in an intimate setting of the signature blue and yellow Big Top.
TOTEM traces the fascinating journey of the human species from its original amphibian state to its ultimate desire to fly. The characters evolve on a stage evoking a giant turtle, the symbol of origin for many ancient civilizations.
Inspired by many founding myths, TOTEM illustrates, through a visual and acrobatic language, the evolutionary progress of species.
Somewhere between science and legend TOTEM explores the ties that bind Man to other species, his dreams and his infinite potential.
It was our 1st time going to Cirque du Soleil and we have heard so much about it.  All the acts were breathtaking and magical.
Among all, Lauren's favourite was the Ring Trios.  A Bollywood-inspired music accompanies two men as they compete against each other on the rings – until a woman arrives and shows them how it's done. Their graceful movements, sheer physical strength and superb physiques take to the skies above a summer beach.  Lauren kept saying the 2 men were very sexy. (Faints….)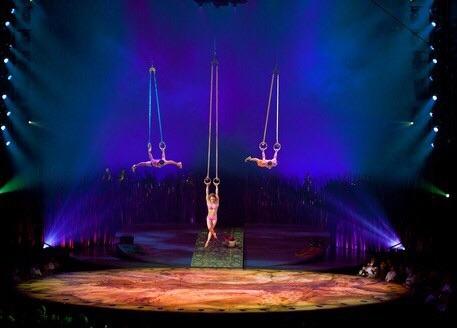 Lauren was also intrigued by the Fixed Trapeze Duo. The act which was performed by two lovebirds, a young man and woman tease, play and sulk in an innocent game of seduction and eventually intertwine their bodies in a lighthearted vertical dance of fresh, unusual movements and lifts.
Kel and I were both mesmerized by the roller skaters.  The highlight of the show.  In a scene that evokes a wedding ceremony, a pair of roller skaters spin and whirl at heart-stopping speeds atop a tiny platform – just 1.8 meters in diameter – shaped like a drum.
For those that are going, some advices for you:
If you are driving there, please do go early as all the carparks are very full and the queue to enter the carparks are very long.  Alternatively, You can valet at MBS hotel and walk over
It is stated on Sistic site that external F&B are not permitted but we saw people brining their own water as a bottle Dasani Mineral water cost $6 inside/ coke or Heaven & Earth green tea cost $7
Those bringing children, please ask for the booster seat from the crew before you are seated
I really wanted to take a video of Lauren being super fascinated at all the acts. Throughout the show, she was screaming "woah… woohoo!!!"  She was also constantly asking me to if I manage to catch what the acrobats did.
Lauren wrote a diary about TOTEM when she reached home.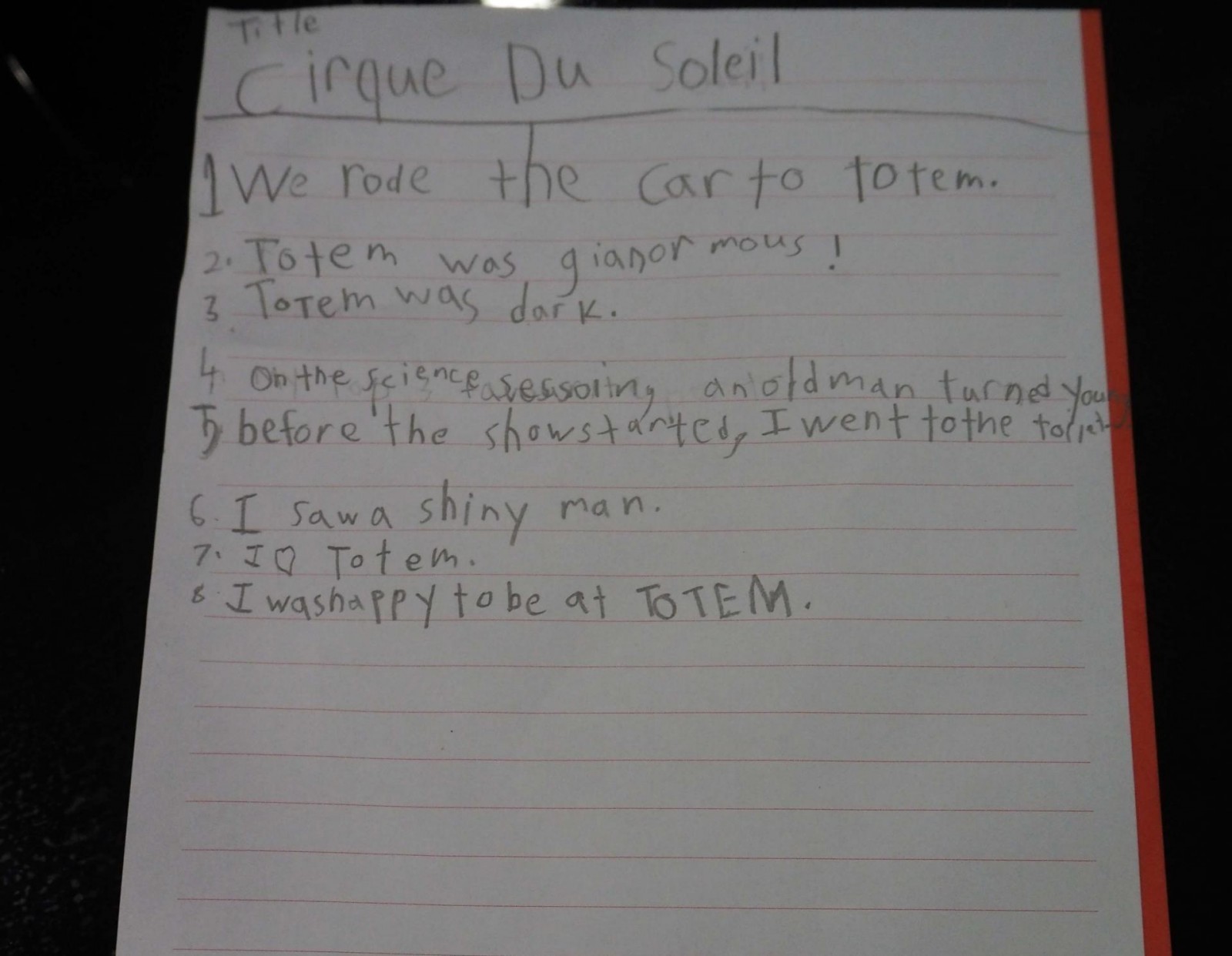 It is a 2 hour and 25 min show (Inclusive of a 25min interval) running from now till 6th Dec at the Big Top beside Marina Bay Sands.  Please do bring your kids as I am sure children will be super excited by all the acts.