My relationship with my mum is special – special because she is both a Mum and a Dad to me. Dad left us when I was 10. Mum single-handedly brought us up; the very hard way.  Hard for her but to us we did not appreciate what she had done when we were younger.  Earning $900 a month before CPF deduction, she managed to raise my 2 younger brothers and I to who we are today. That is truly remarkable indeed! As a mum myself now, I often wondered how that was possible.  My mum is quite afraid of me.. actually my entire family is quite afraid of me because of my authoritative nature; I guess I naturally became like that because I had to play the role of mum/dad to my younger brothers when Mum was often working then.  I had to protect my 2 brothers from bad influences or people who tried to take advantage of us.  My mum is also quite a softie; she would give in to our requests most of the time and sometimes we would be audacious enough to raise our voice at her.  I remembered when I was 15, Mum brought me to Bangkok for a holiday. Just me and her, I guessed she wanted some bonding session with me but I ended up making her cried.  I regretted that action till this very day. I told myself I would make it back to her; so during the days when I was a cabin crew with Singapore Airlines, I took Mum with me on my flights to Rome and Cairo.  I was not very pleased with the trip because I did not find that Mum truly had an holiday (sleeping on train and most of the places we visited was "touch and go" due to the limited time).  I told her then that when I saved up in the future, we would go for a nicer holiday.  It is depressing as I recalled this because I realized that since I started a family on my own, the holidays were always with my hubby, kids and friends.  I had forgotten about the promise I made and Mum of course did not take it to heart.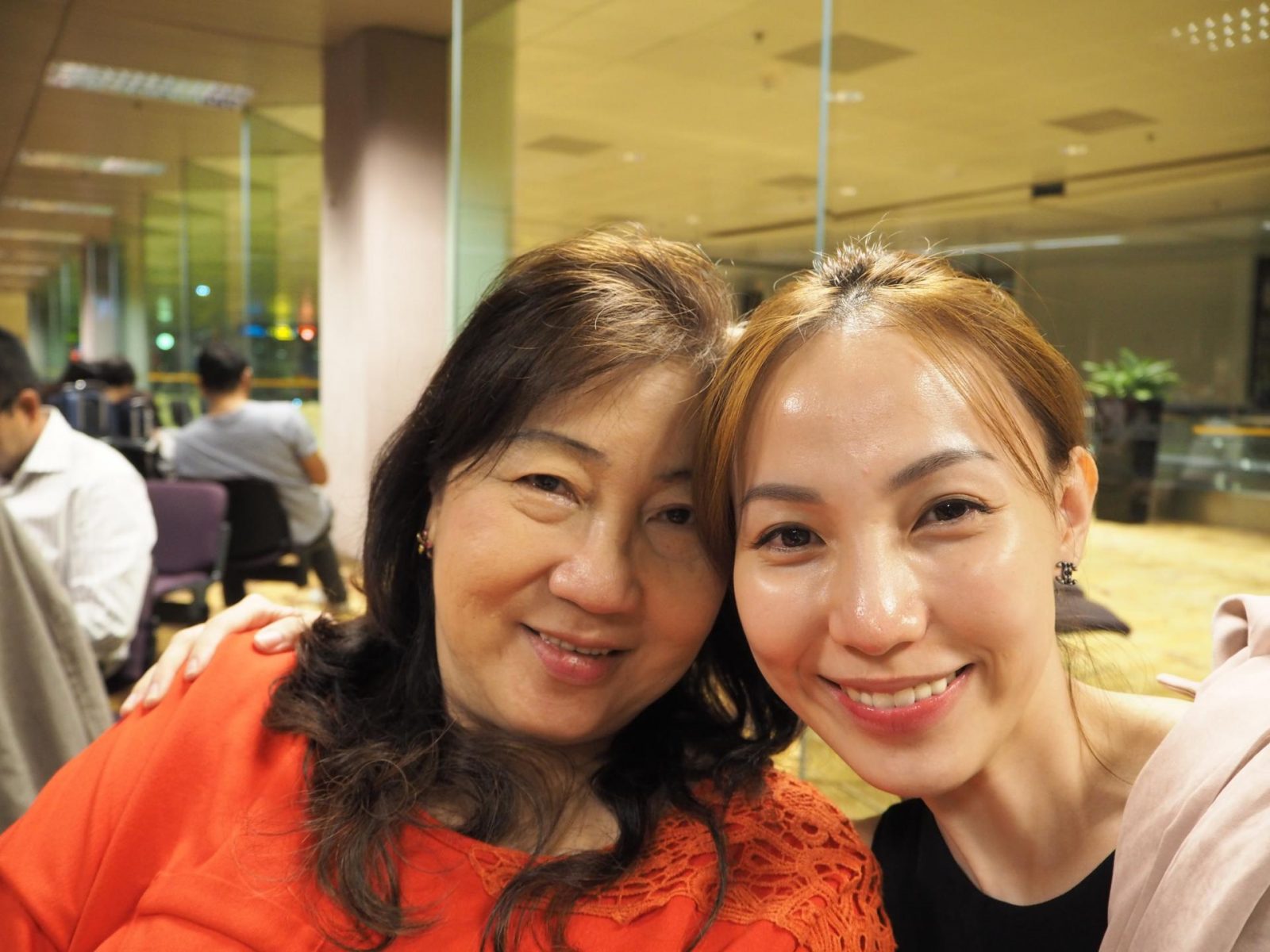 So… this year, I planned and finally brought Mum to Japan on her birthday. Just the 2 of us; like when I was 15. To bring back those memories and to keep my promise; although it was many years after that I fulfilled this, it was still better than never. I decided on a free and easy itinerary to Tokyo and Kyoto; 6 days/5 nights but it felt like a 2 weeks trip because we covered so many places.
Day 1
Overnight flight and arrived Toyko Narita at 8am, took the coach from Narita Airport to Tokyo Station at 1000Yen per pax as our hotel was a 10-min walk from the station.  For those travelling to Japan, renting a WiFi device is so convenient and strongly recommended. I booked mine online (a promotion from ANA) and collected the device at the airport upon arrival. The device was superb, find out more here.
The ride took slightly more than 2 hours. Then the unexpected happened;  when we arrived at Tokyo Station, the google map brought us all around and my poor Mum had to walk 45 mins with me trying to find the hotel. Finally when we reached the hotel, we realised it was just 5 mins away from where we stopped (if we had walked the opposite direction instead). Faints..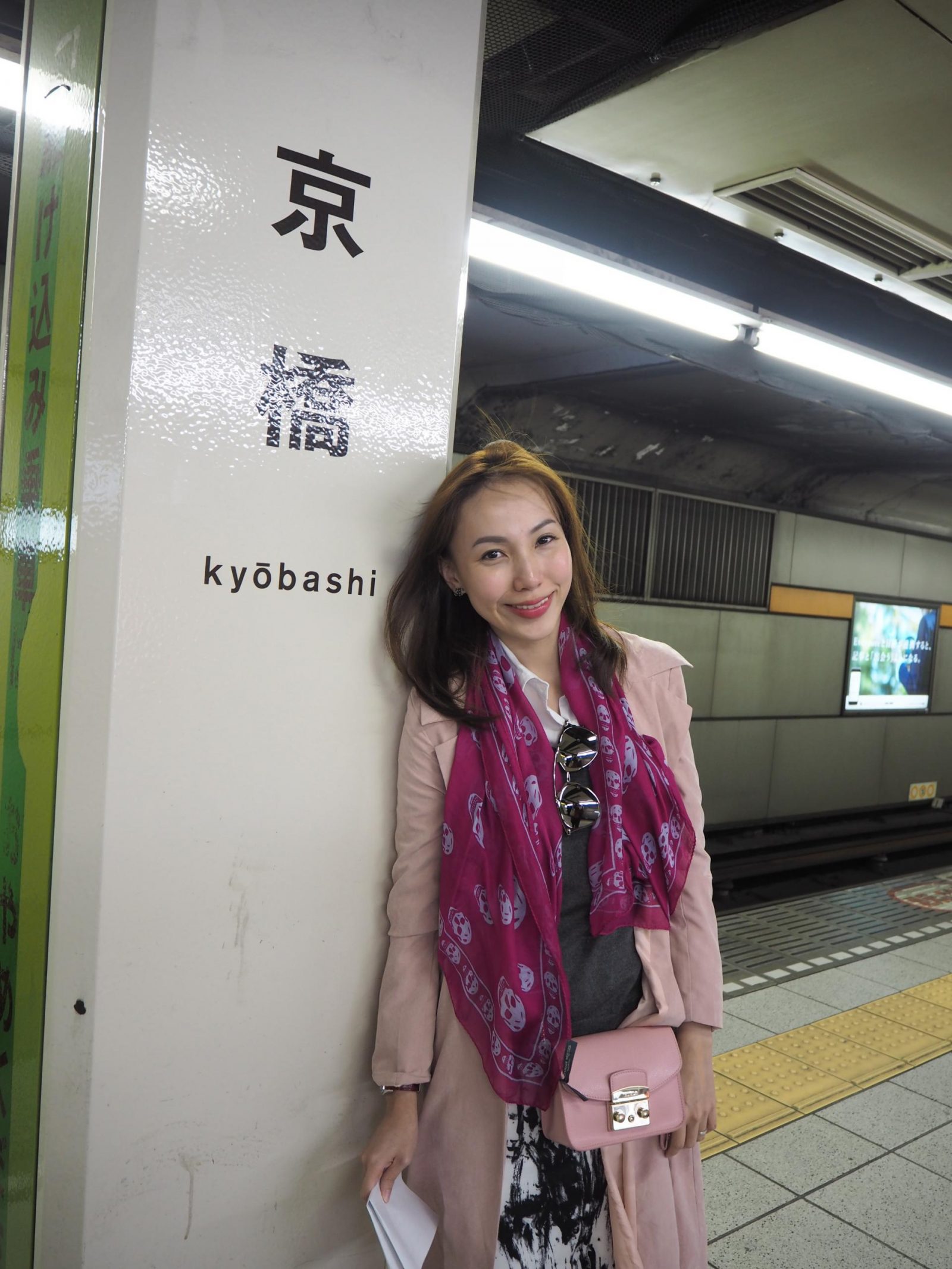 We stayed at Courtyard Marriott at Ginza. The location was very convenient; located right next to Kyobashi metro (Ginza Line). After we checked in, we freshened up and took a train to Asakusa to visit the famous Senso Ji Temple. Asakusa was lively with a lot of stalls lined up along the way to the temple.  Mum suggested a restaurant and so we went in. Omg… the restaurant had 100 items on its menu but Mum chose only FRIED RICE!!… Hahahaha. Japanese cuisine was not to Mum's liking.  I had my Salmon Don..yummzz. Super satisfied 1st meal in Tokyo.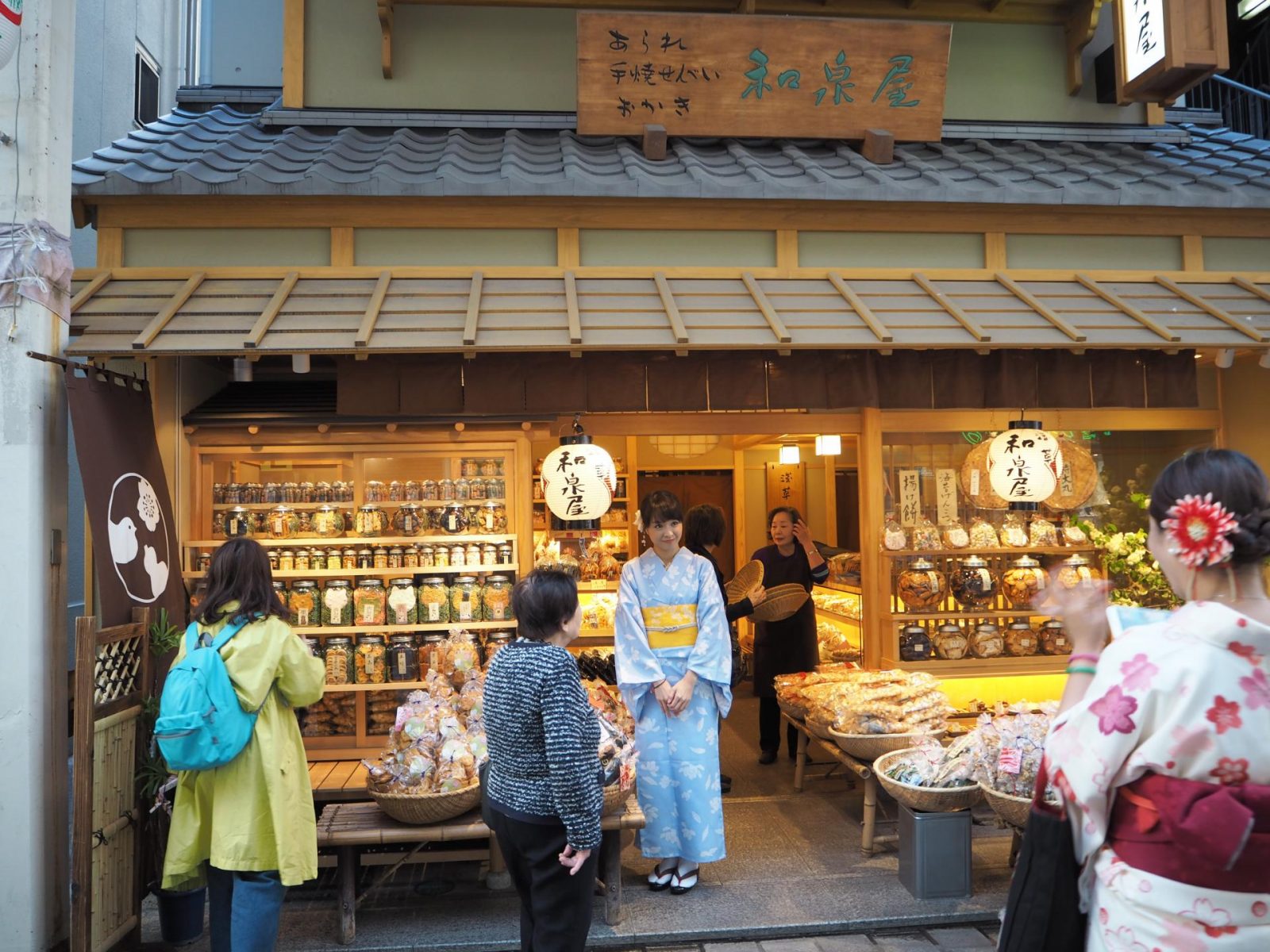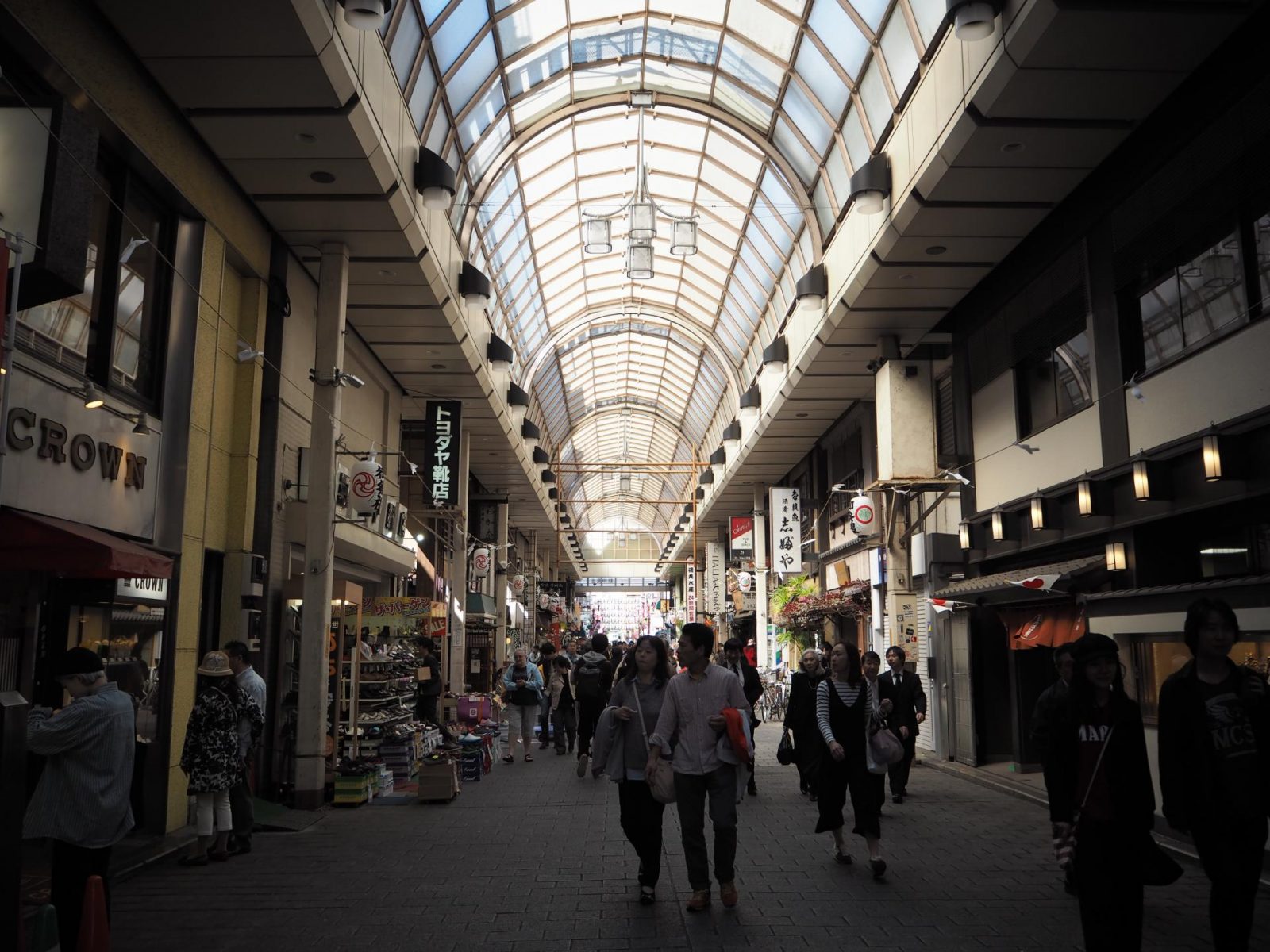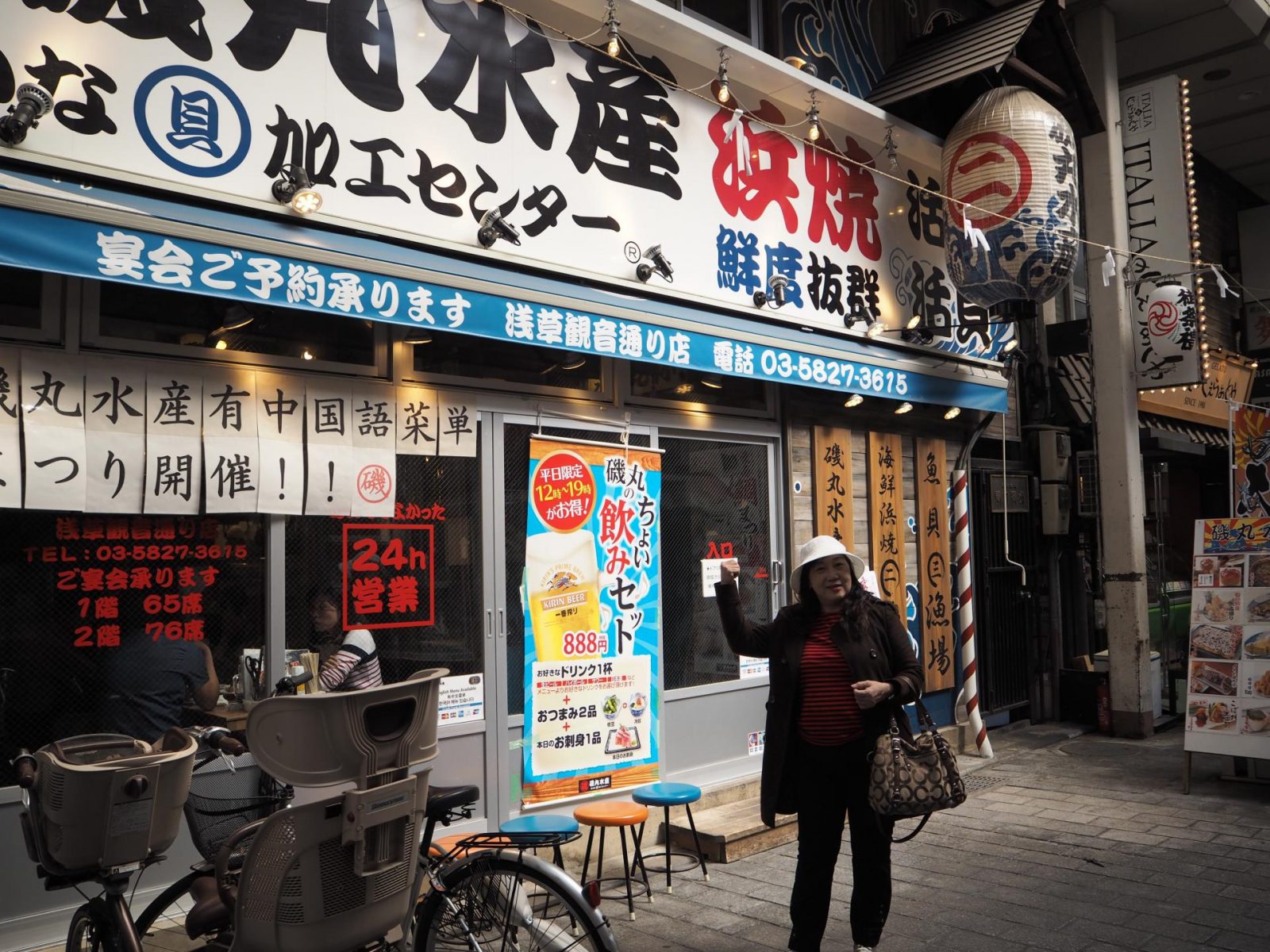 Senso Ji Temple is a buddhist temple located in Asakusa. It is one of Tokyo's most colourful and popular temples. Almost like a must-go if you are in Tokyo. According to a legend folktale, 2 brothers fished out a statue of goddess of mercy from the river and even though they put the statue back into the river, it always returned to them. Senso Ji temple was eventually built nearby for the statue of the goddess of mercy.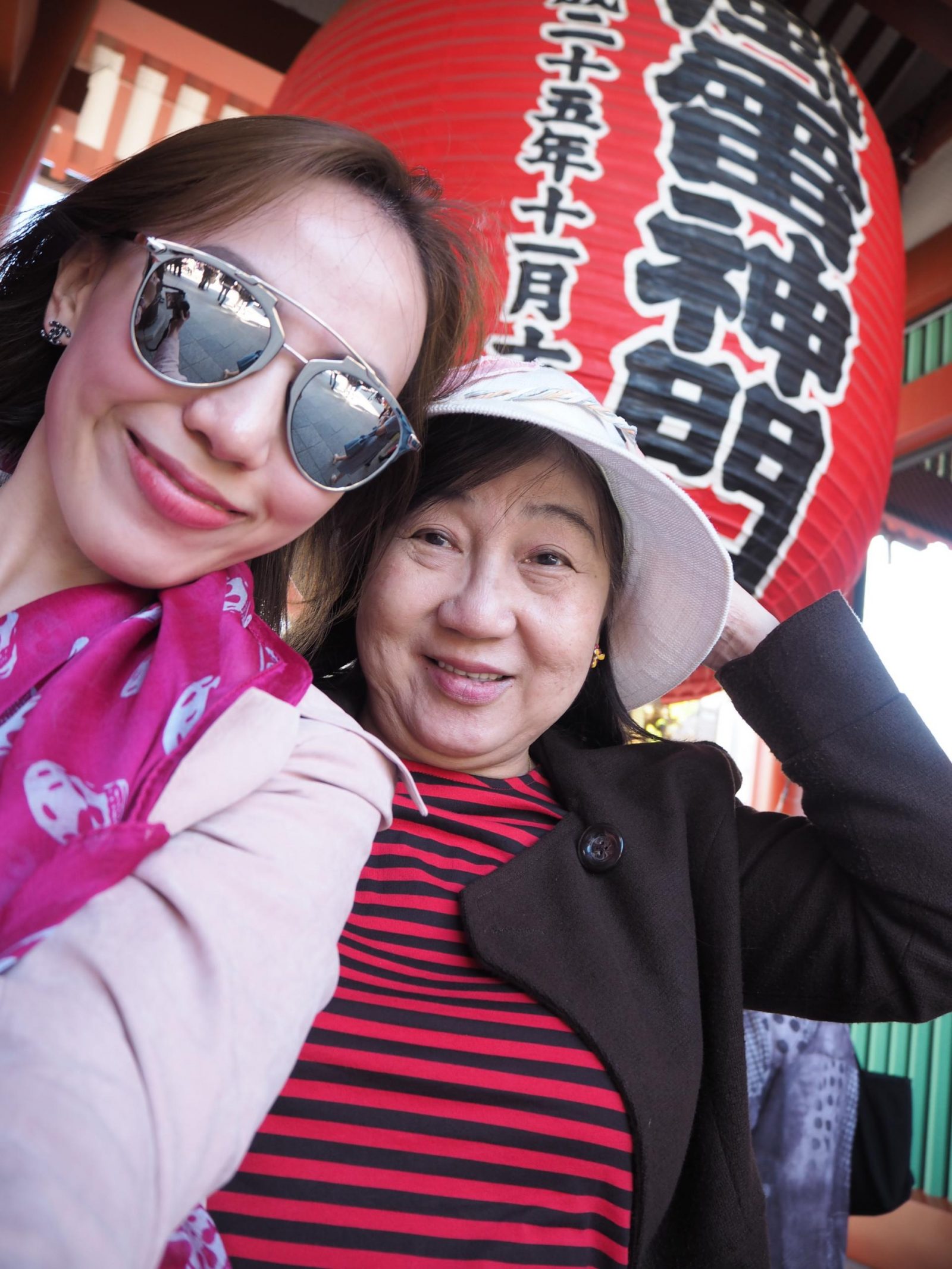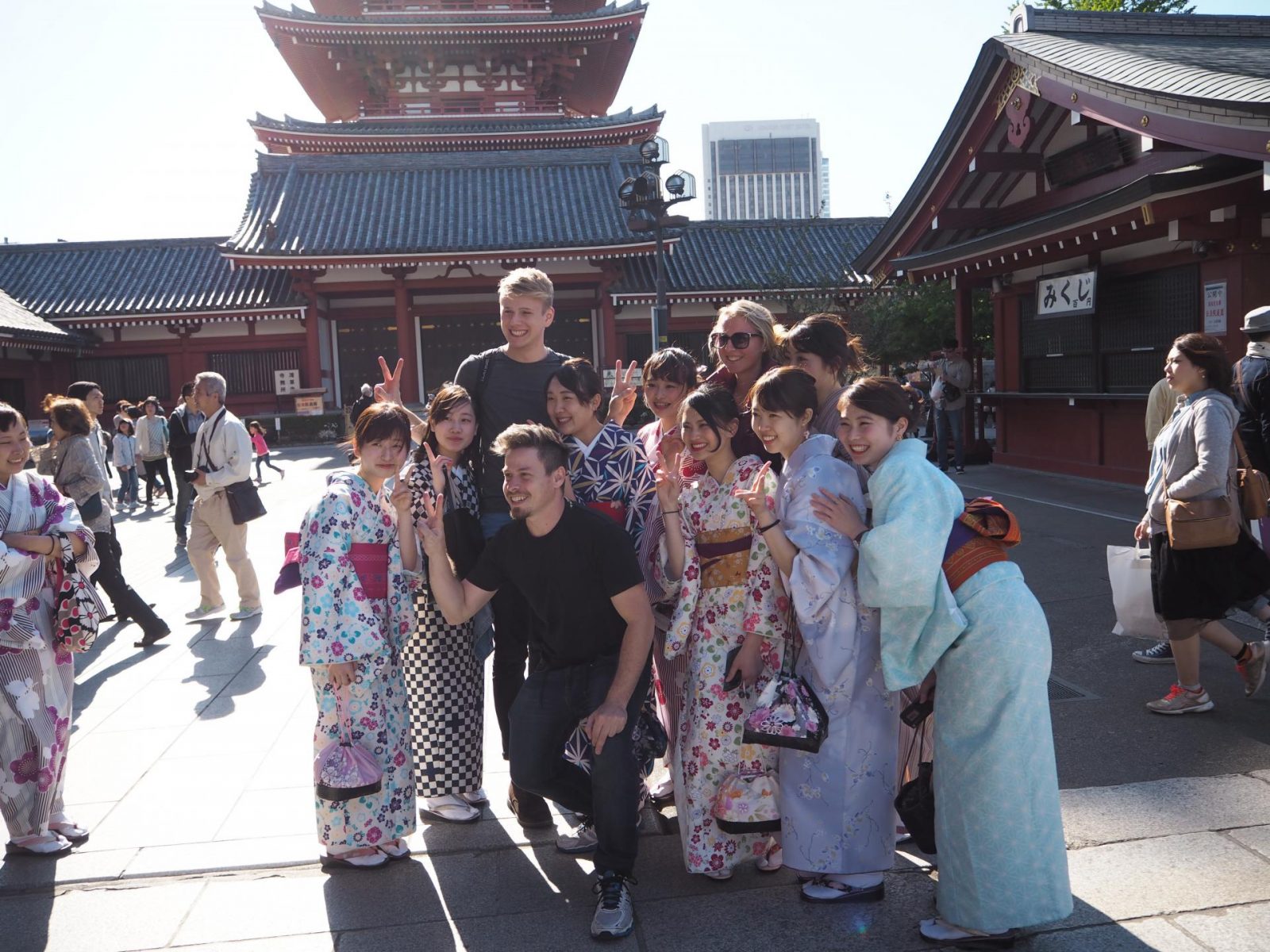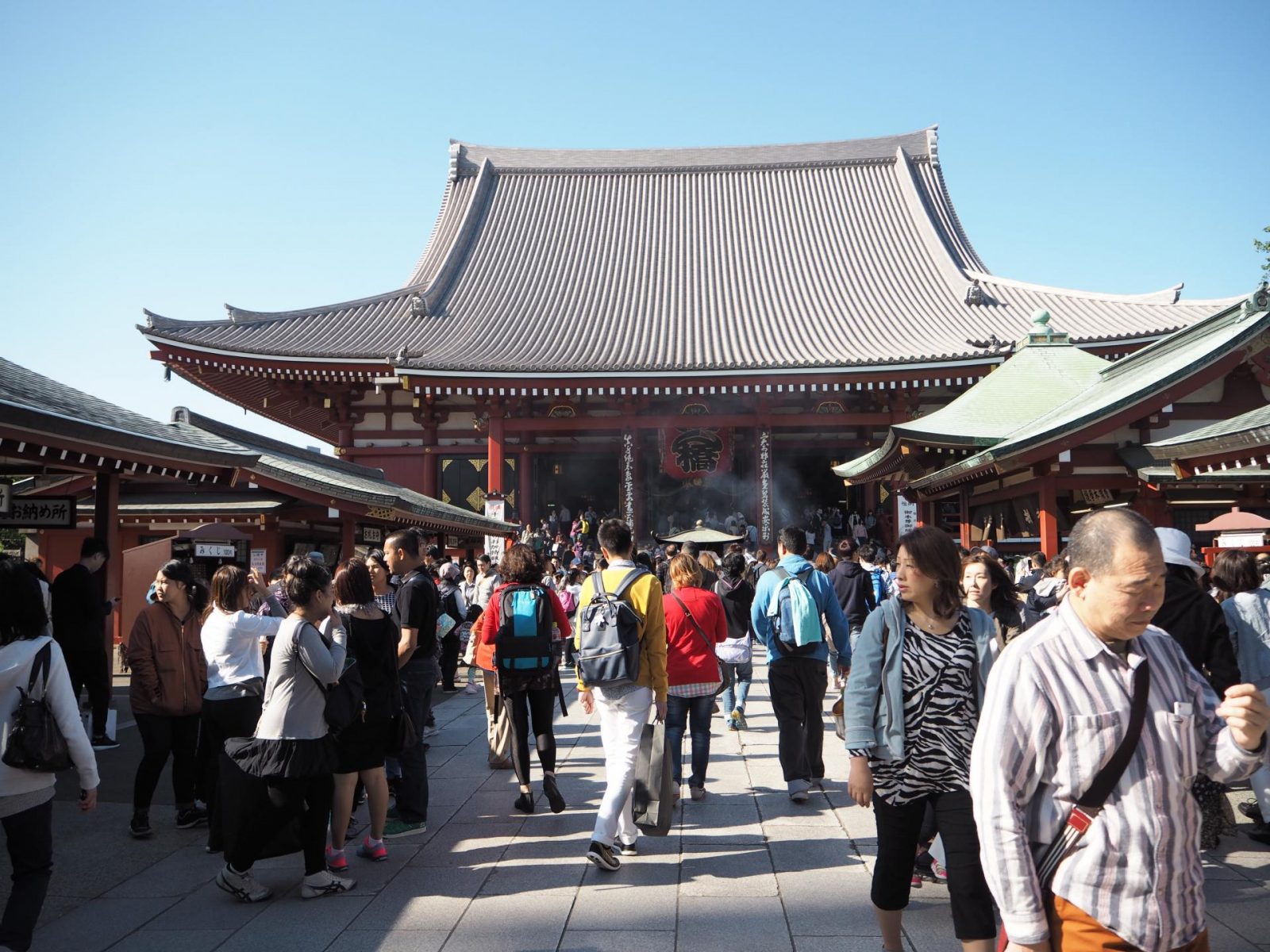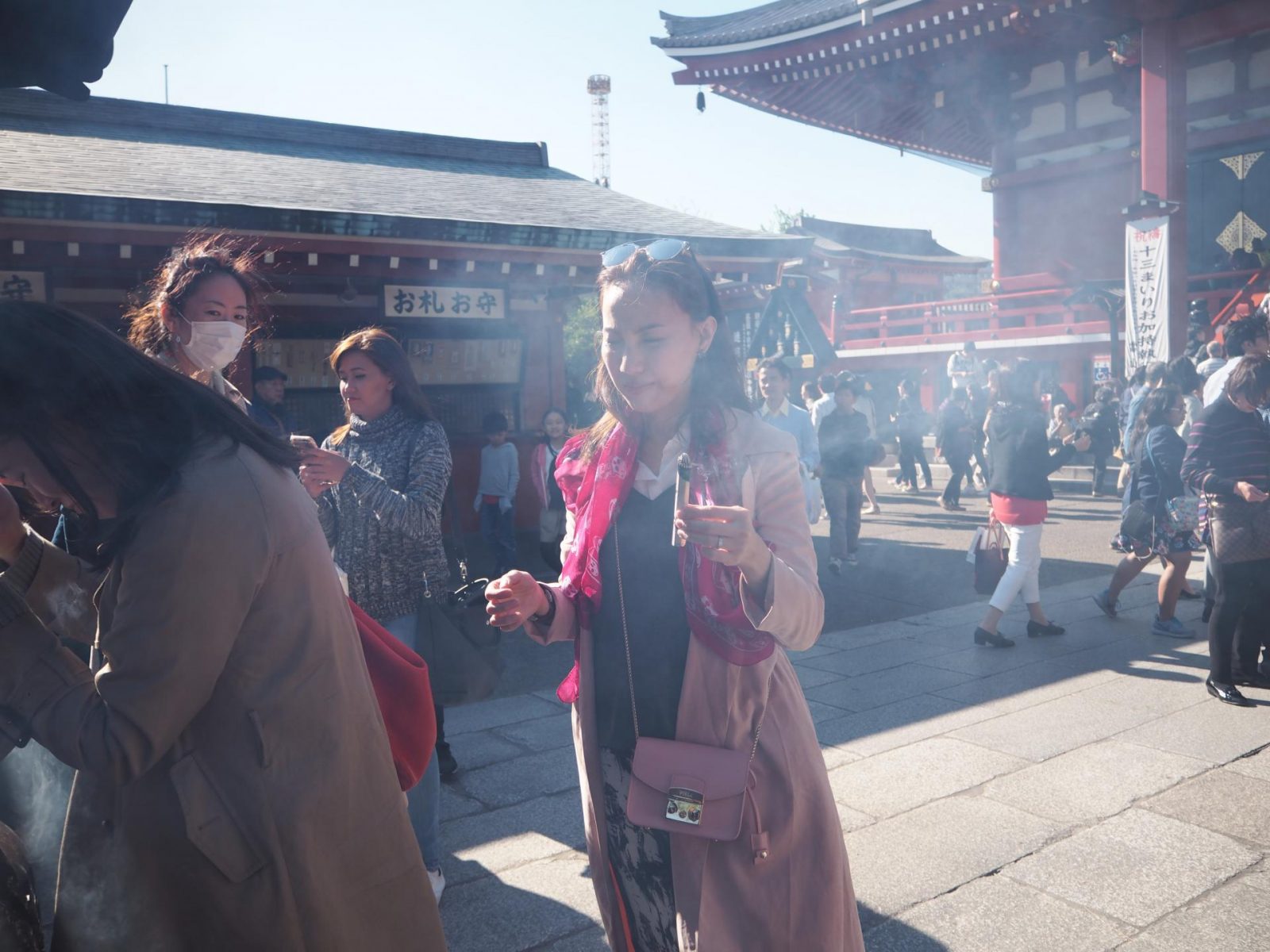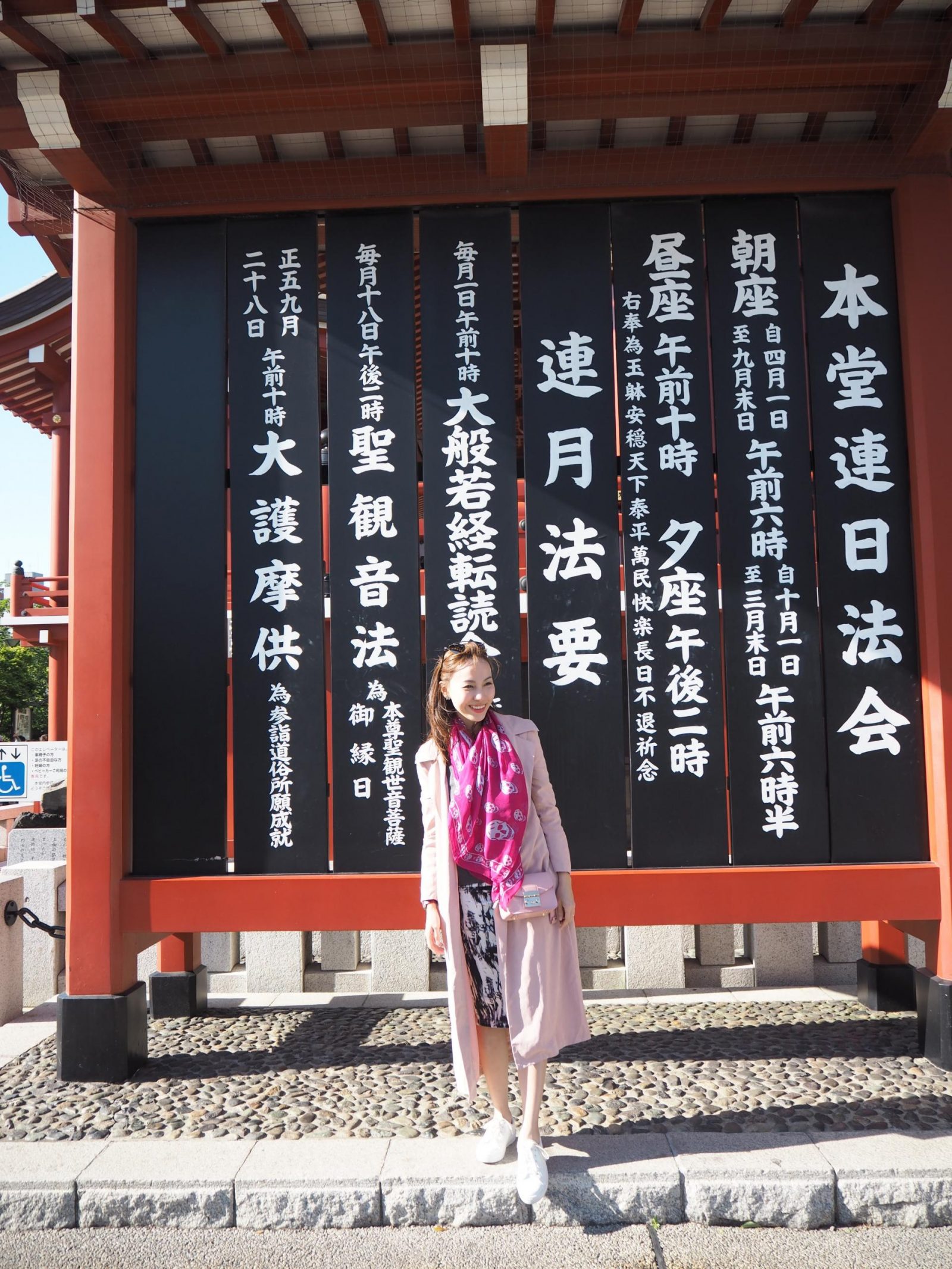 Mum and I paid our respects and walked around the shrine to admire the architecture before heading to Shibuya for some people watching and shopping. Shibuya is on the same Ginza line thus it was pretty straightforward to get there. I brought Mum to cross the famous Shibuya crossing and people-watch from a cafe on the 2nd floor.  Mum suggested going back to rest before dinner but you know what? Once we were back, she buried herself under the blanket and said she was not hungry and wanted to call it a day…. I ended up trying to find a place to taopow a quick meal. Because it was a public holiday that day, most of the shops were closed. The shopping mall like Takashimaya closed at 7.30pm and by the time I walked there, the staff told me it was closed… sob sob.. I walked to a 7-eleven and got some bentos back to the hotel room. Mum finished everything… Hahaha.. Poor Mum, I think my holiday style was too much for her.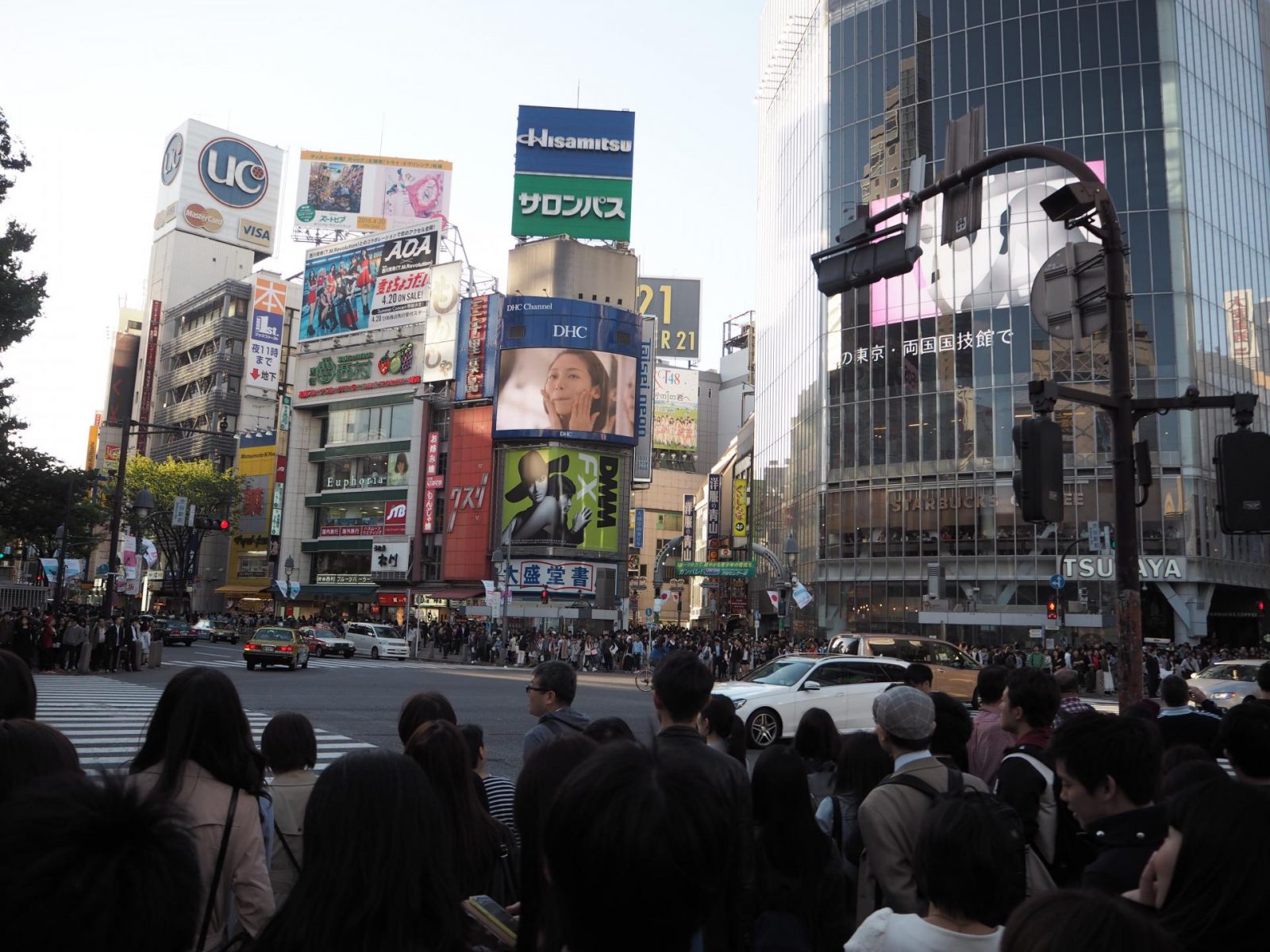 Day 2
After yesterday's incident, I reminded myself to go slow.. But there were really so many places I wanted to bring her. One very important place I thought was the Tsukiji Fish Market. Tsukiji Market will be moving to its new location in November 2016 thus I really wanted Mum to visit before the relocation. I asked her if she was keen to witness the Tuna auction (by the way, to witness the auction, one probably has to arrive at 3am to start queuing as only 120 pax are allowed per day). Mum freaked out upon hearing the "3am".. Thus we went at 9am to visit only the outer and inner markets.  Tsukiji fish market was 2 metro stations from where we were staying and about a 15-min walk from the Tsukiji station. The Tsukiji fish market was amazing; the outer market was filled with many small restaurants, food stalls and stalls selling ceramic knives and dried/fresh ingredients. Mum tried their street food such as fish cake and torched scallops.  Then we moved on to the inner market (wet market). The inner market opens to public at 9am as prior to that was their peak business hours.  Mum kept mentioning that there was no fishy smell despite the fact that it was a wet market.  There were a lot of vehicles and everyone was in mad rush. We had to watch our back as the vehicles were moving fast and of course we did not want to get into the fishmongers' way.  We had an early lunch at a restaurant and I made Mum tried some sushi. Her sushi were torched as she could not stand the idea of eating raw fish. Still it was unbearable for her. She had to take a lot of ginger with each piece of sushi she ate.  We continued exploring the outer market before making our way to Meiji Shrine.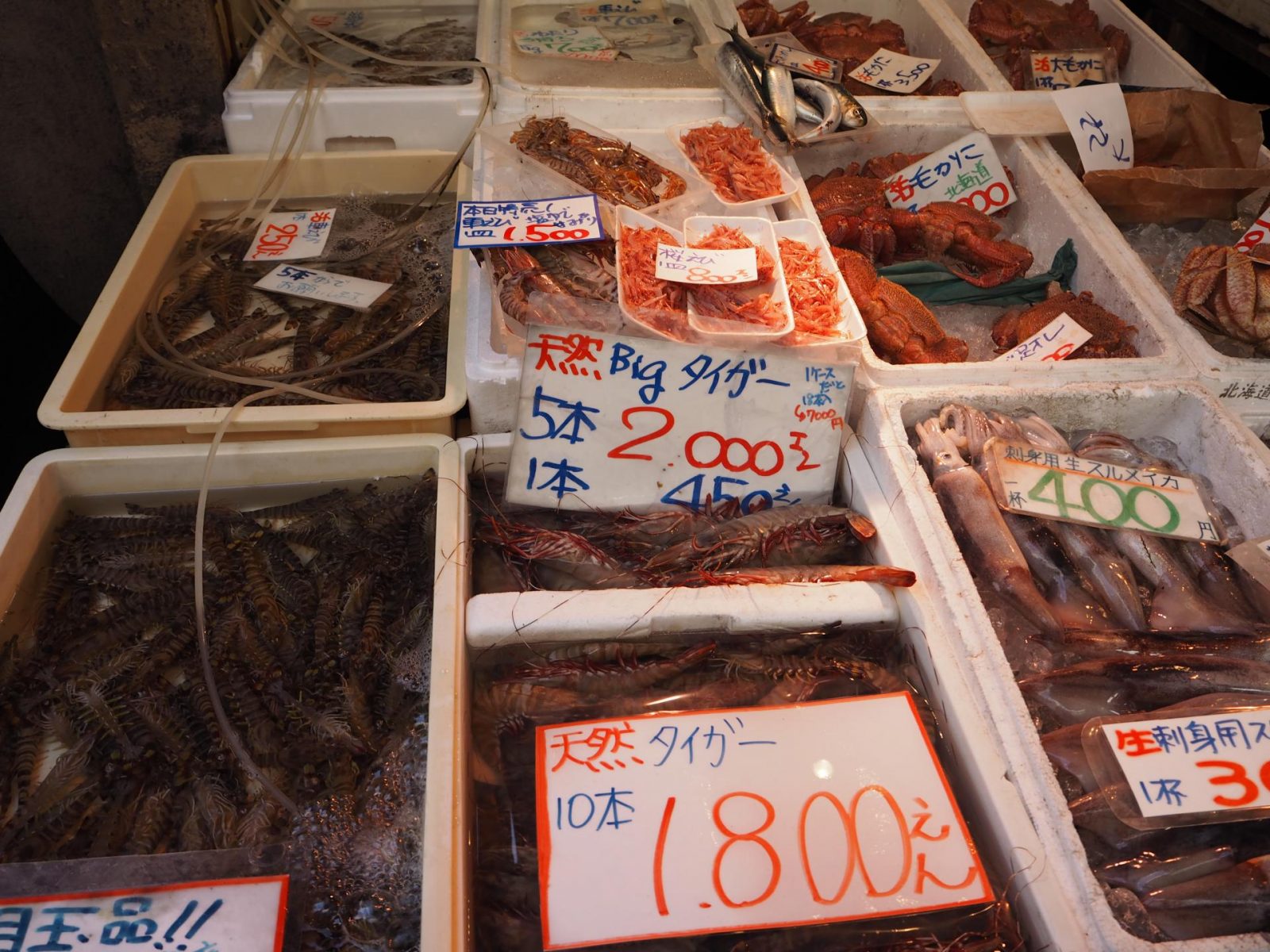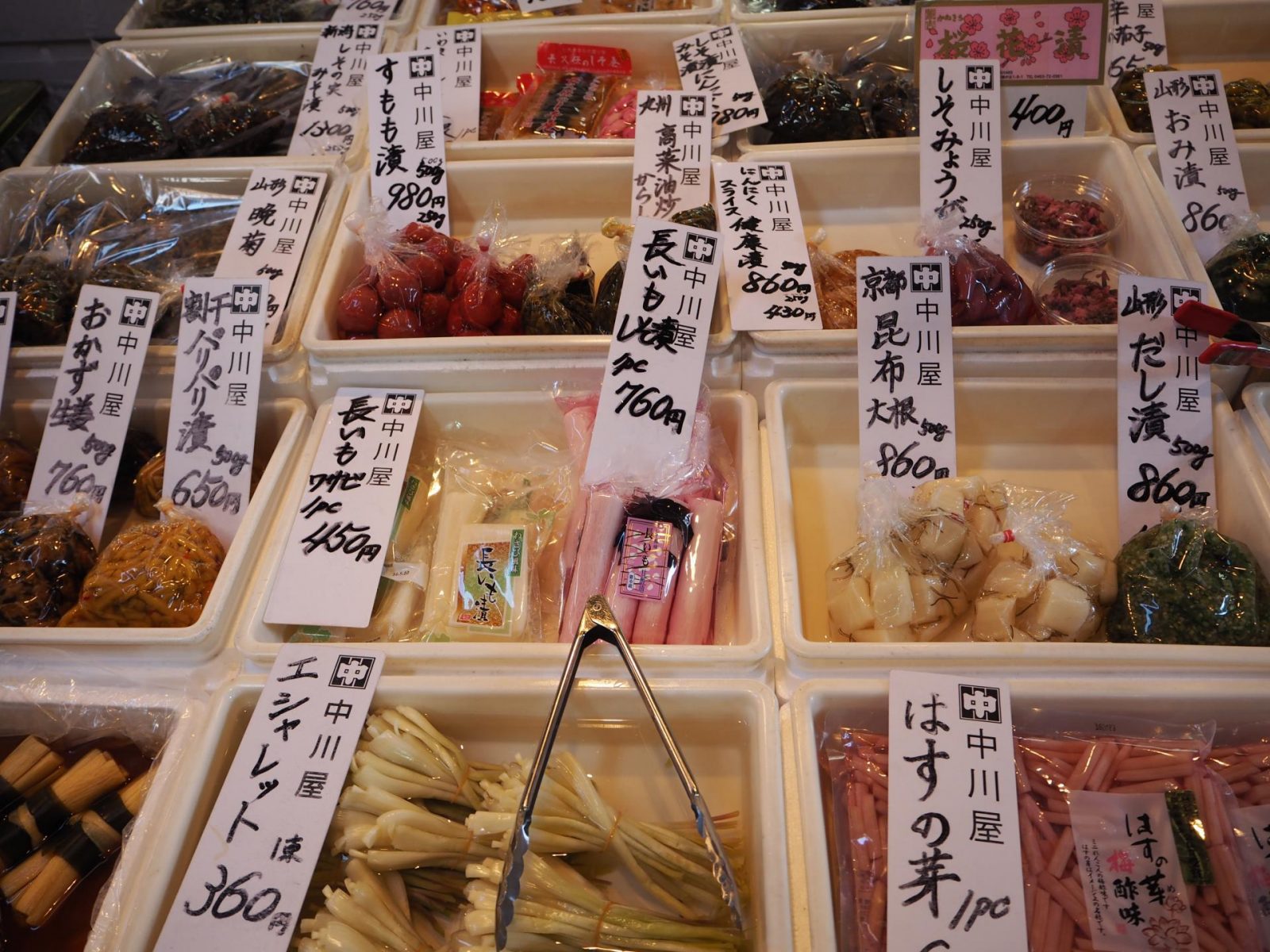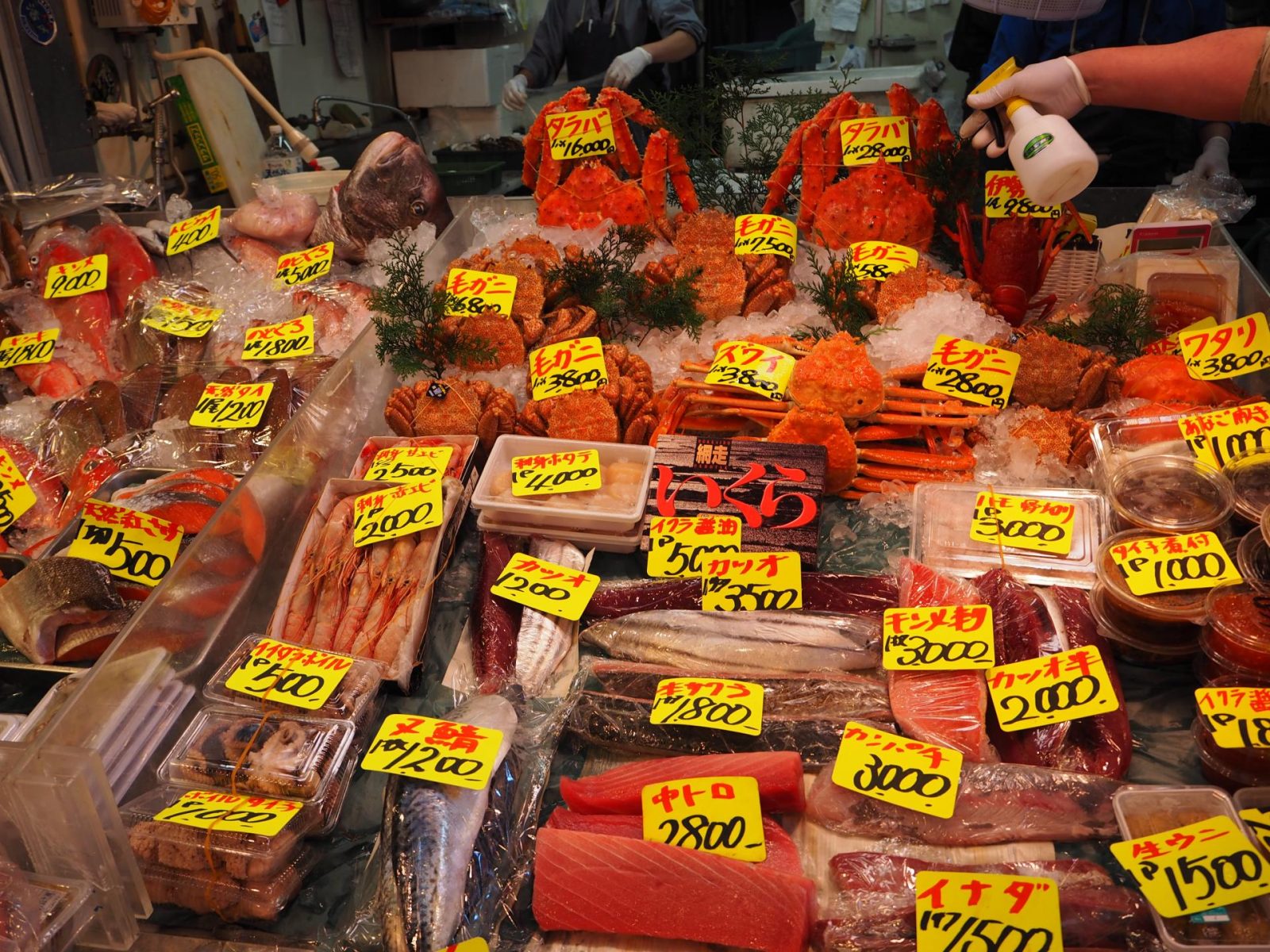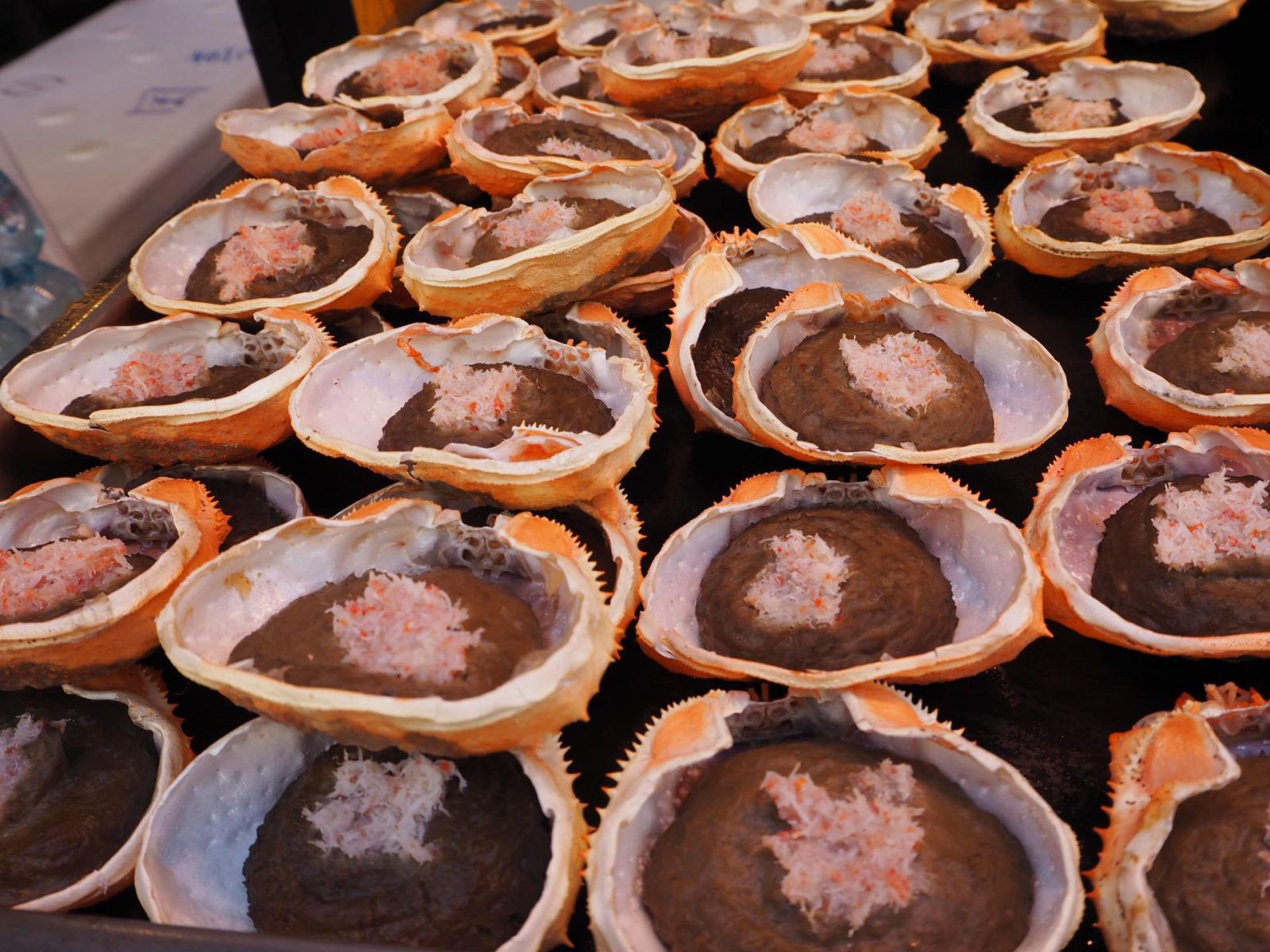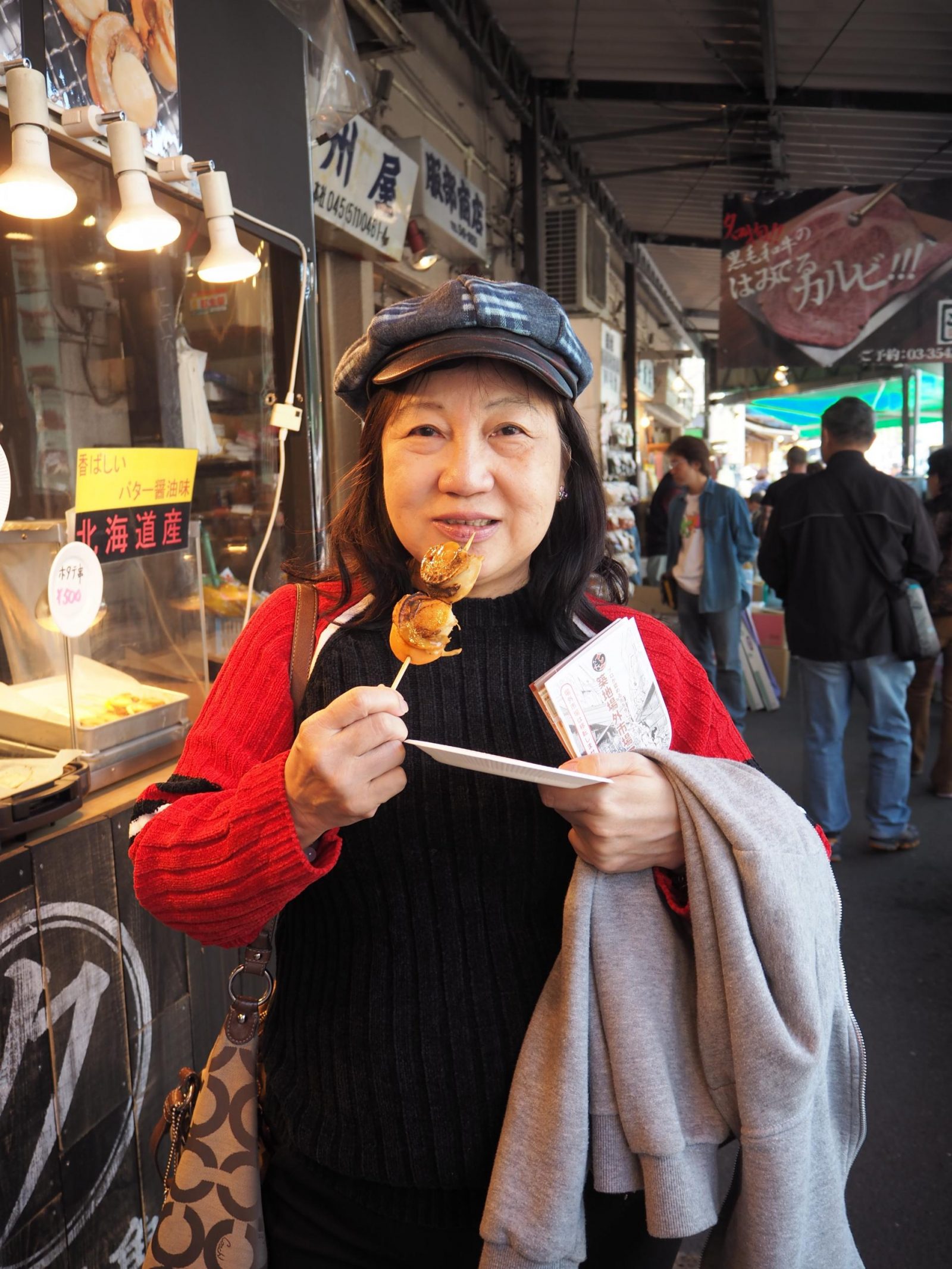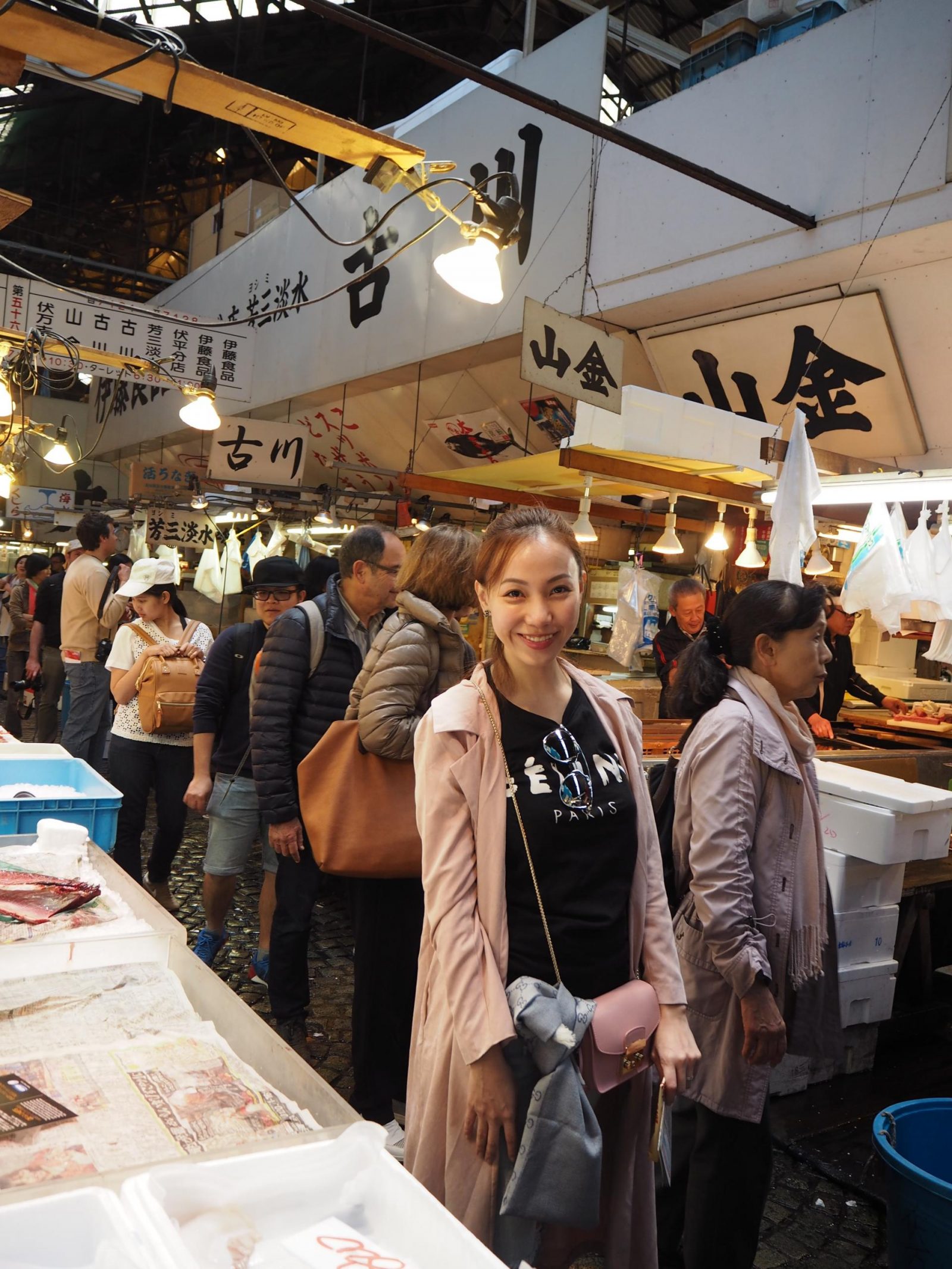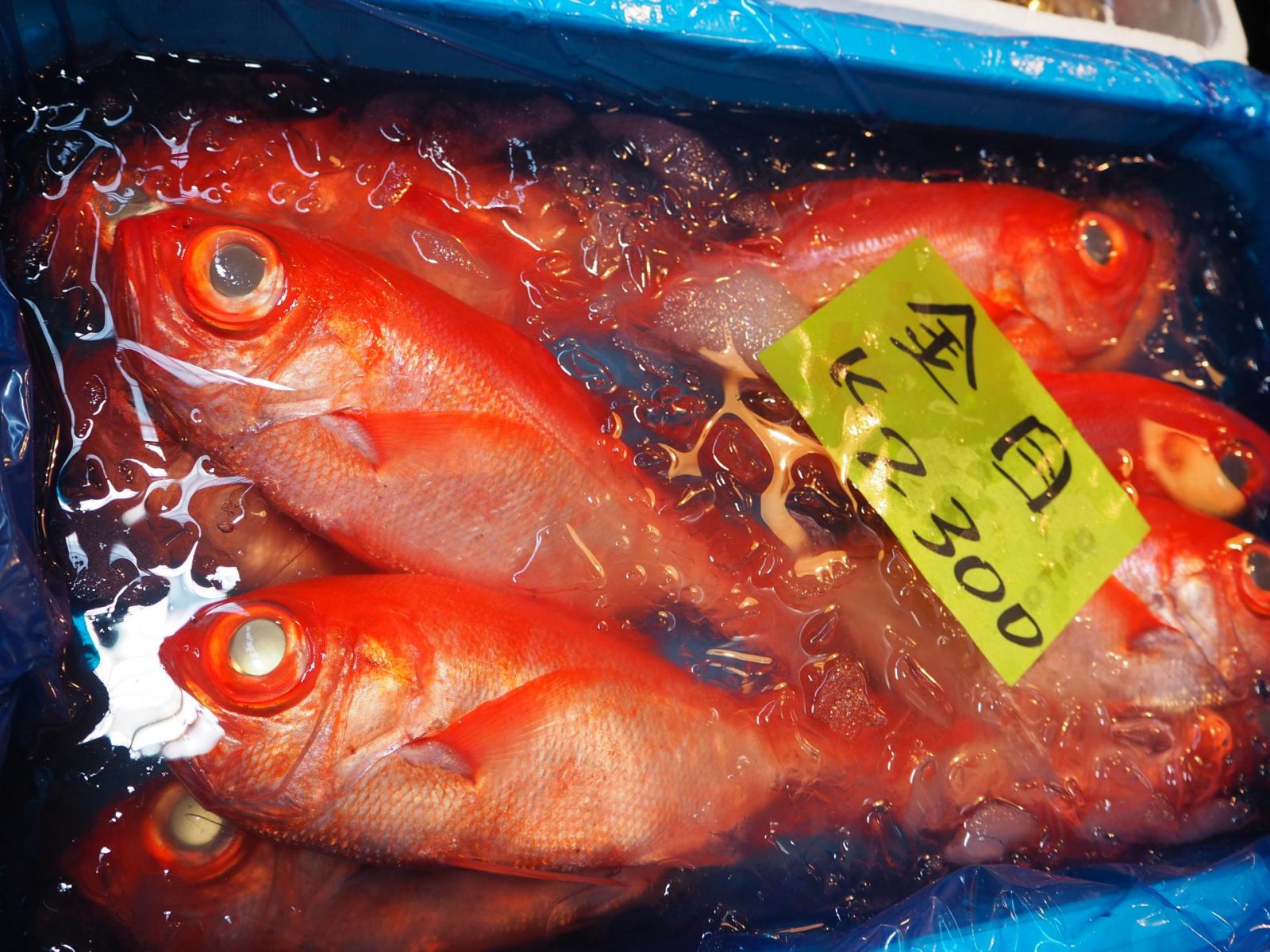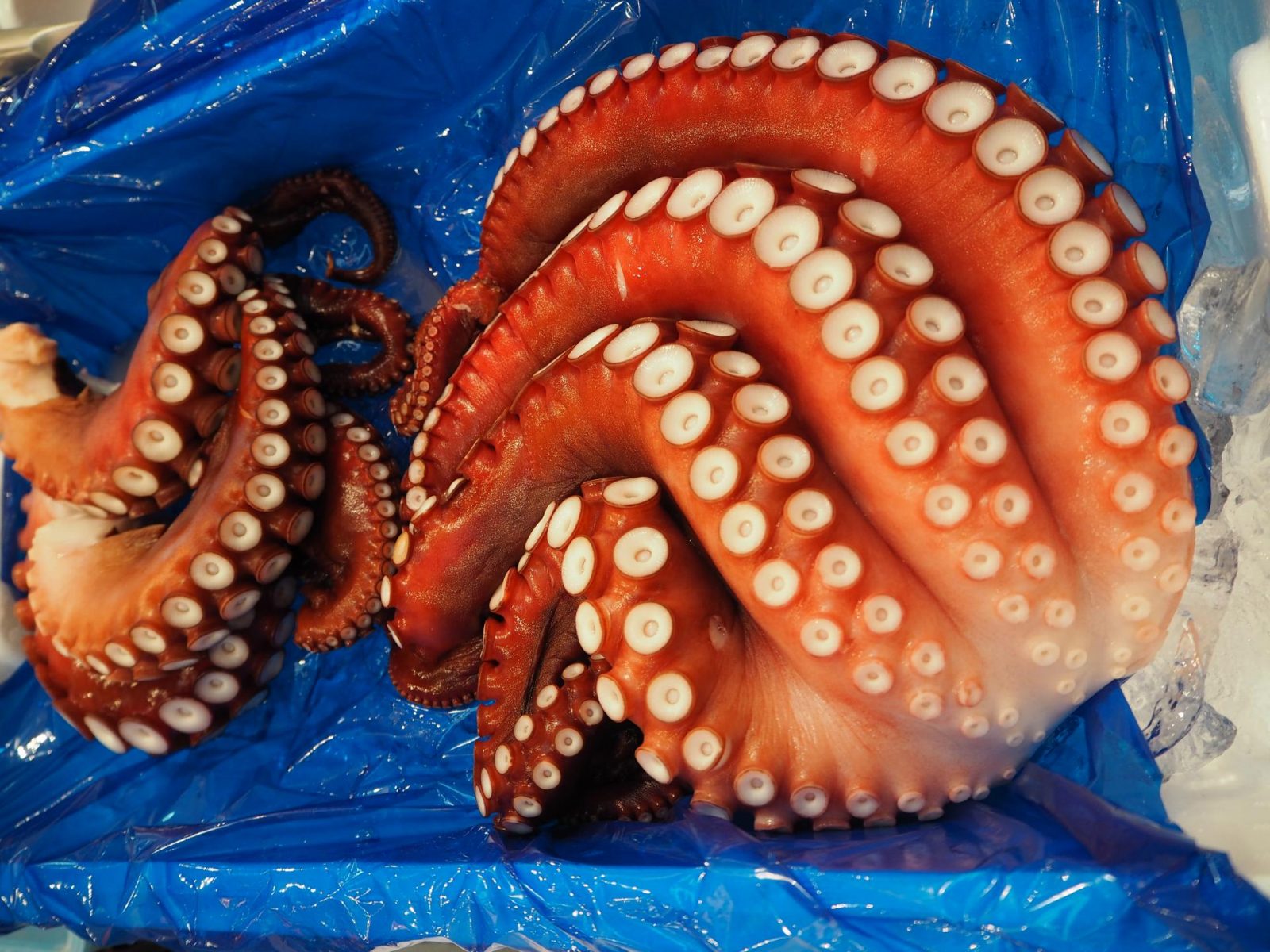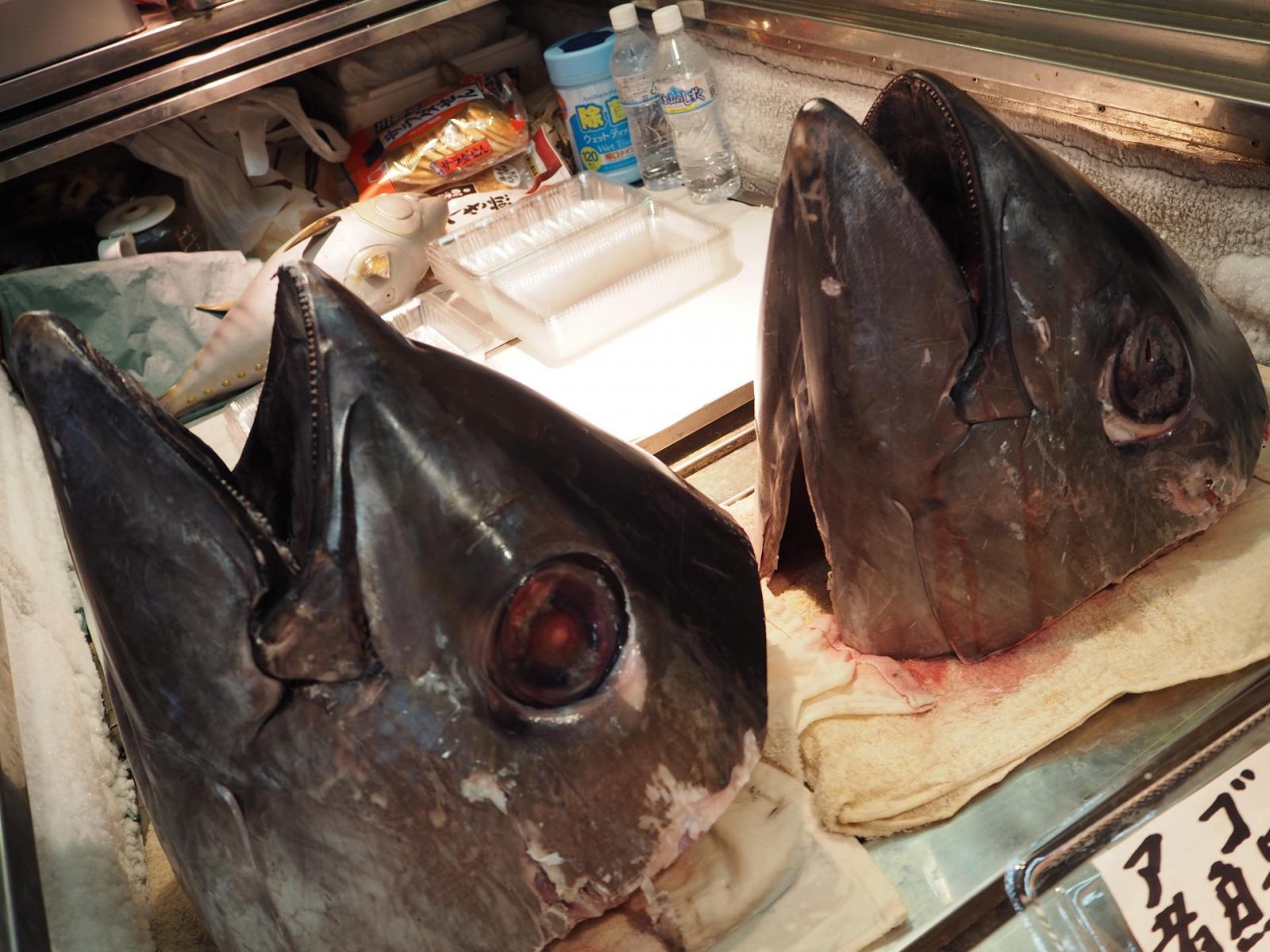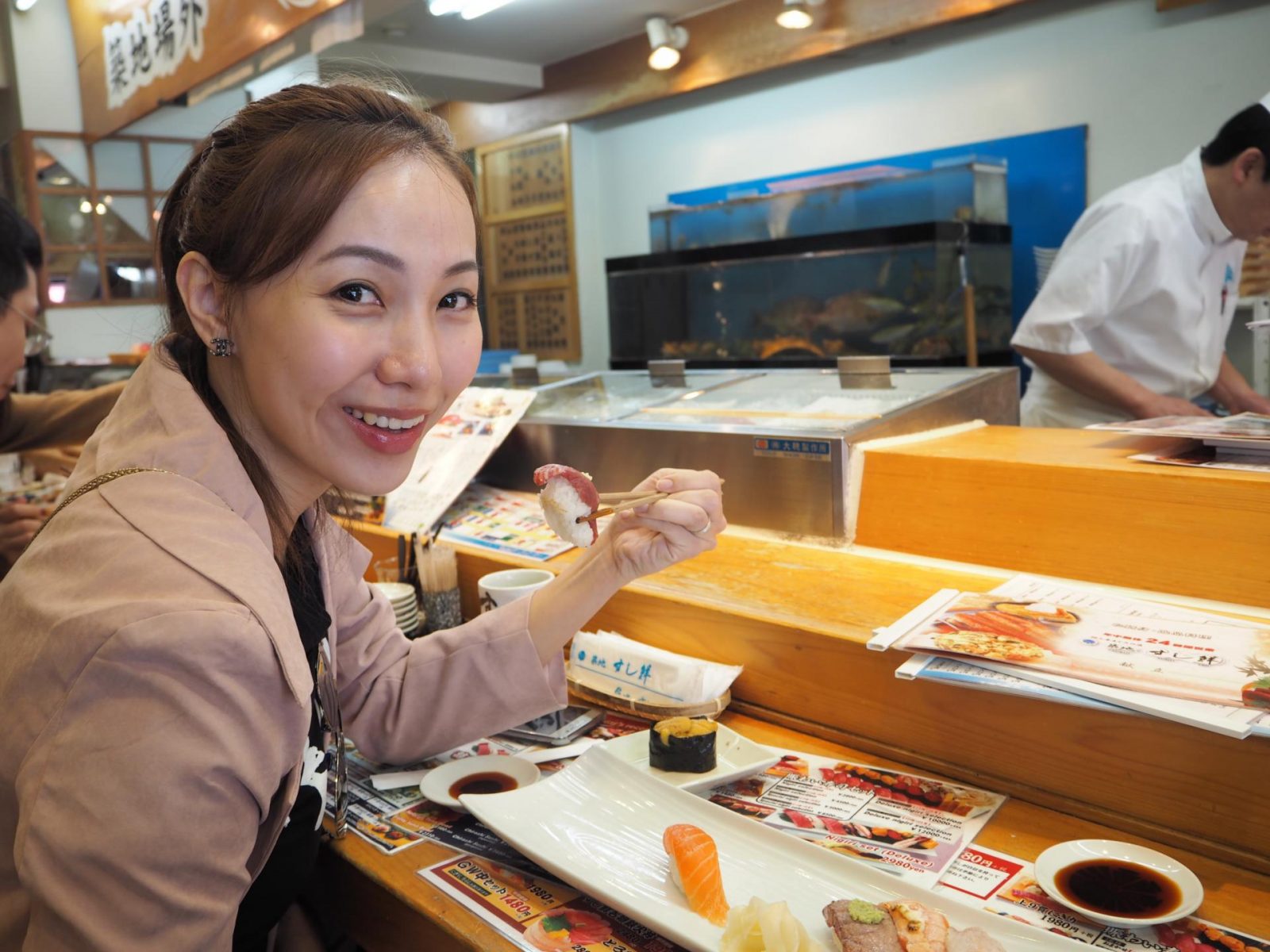 Meiji shrine was tranquil compared to the busy streets of Tokyo. The fact that it was located next to the busy Harajuku station made us feel like we were in a different part of the city. The moment we exited the station, we were greeted with busy streets filled with youngsters and hippy shops.  We were greeted by the huge torii gate at the entrance to the shrine. It was a nice and relaxing 10-min walk to the main shrine from the gate. We stopped by a cafe for some desserts and drinks as Mum was complaining about her tired feet.  At the main shrine, we were lucky to witness 5 beautiful couples giong through their traditional Japanese wedding ceremonies.  We made offerings, wrote wishes on emas and bought alot of charms for our family members.  I suggested Yoyogi park which was located adjacent to the Meiji Shrine but Mum seemed too tired for any more walking that day. We decided to sit along the streets of Harajuku to watch the fascinating fashion style of young Japanese before heading back to the hotel for a rest.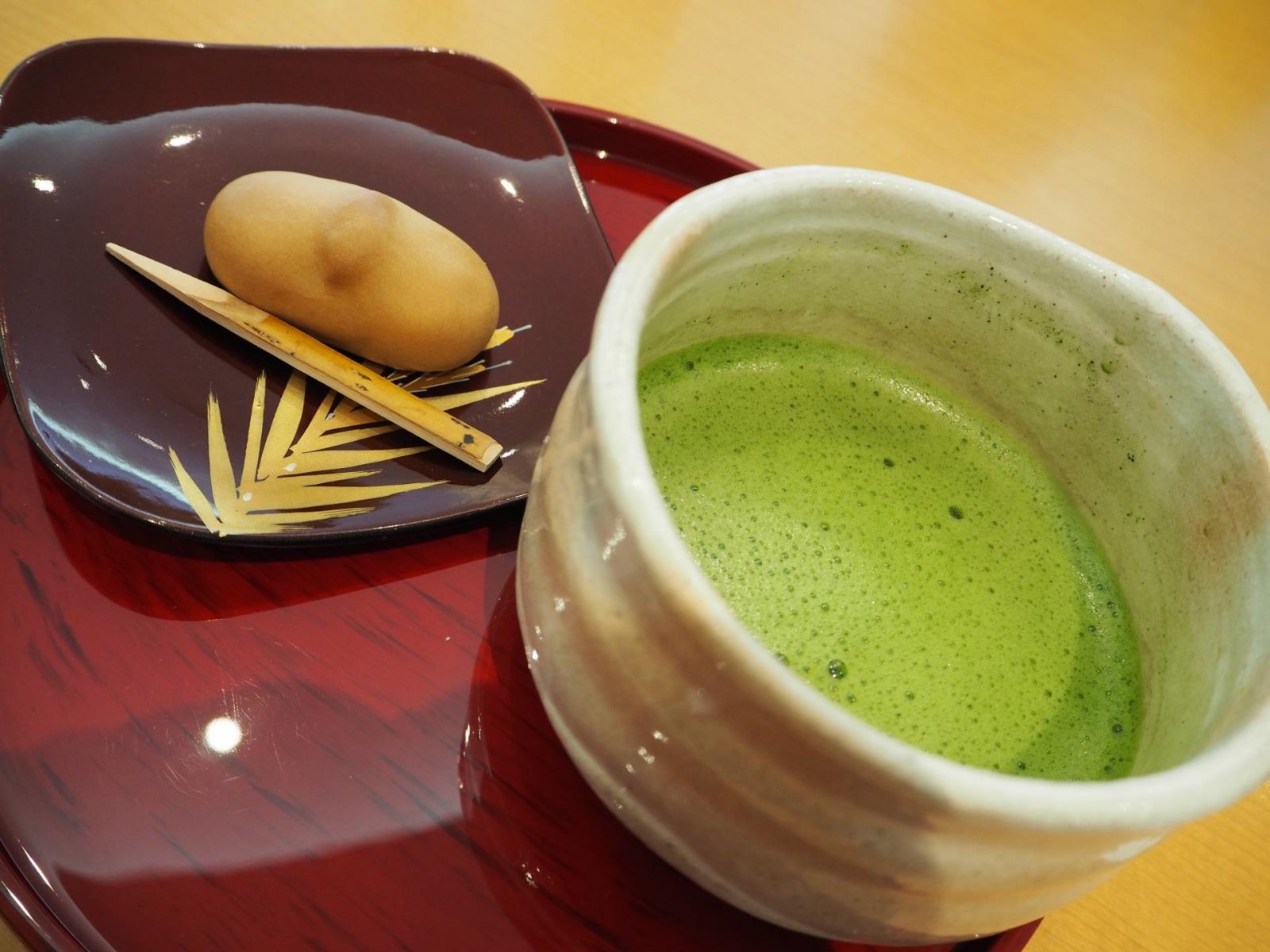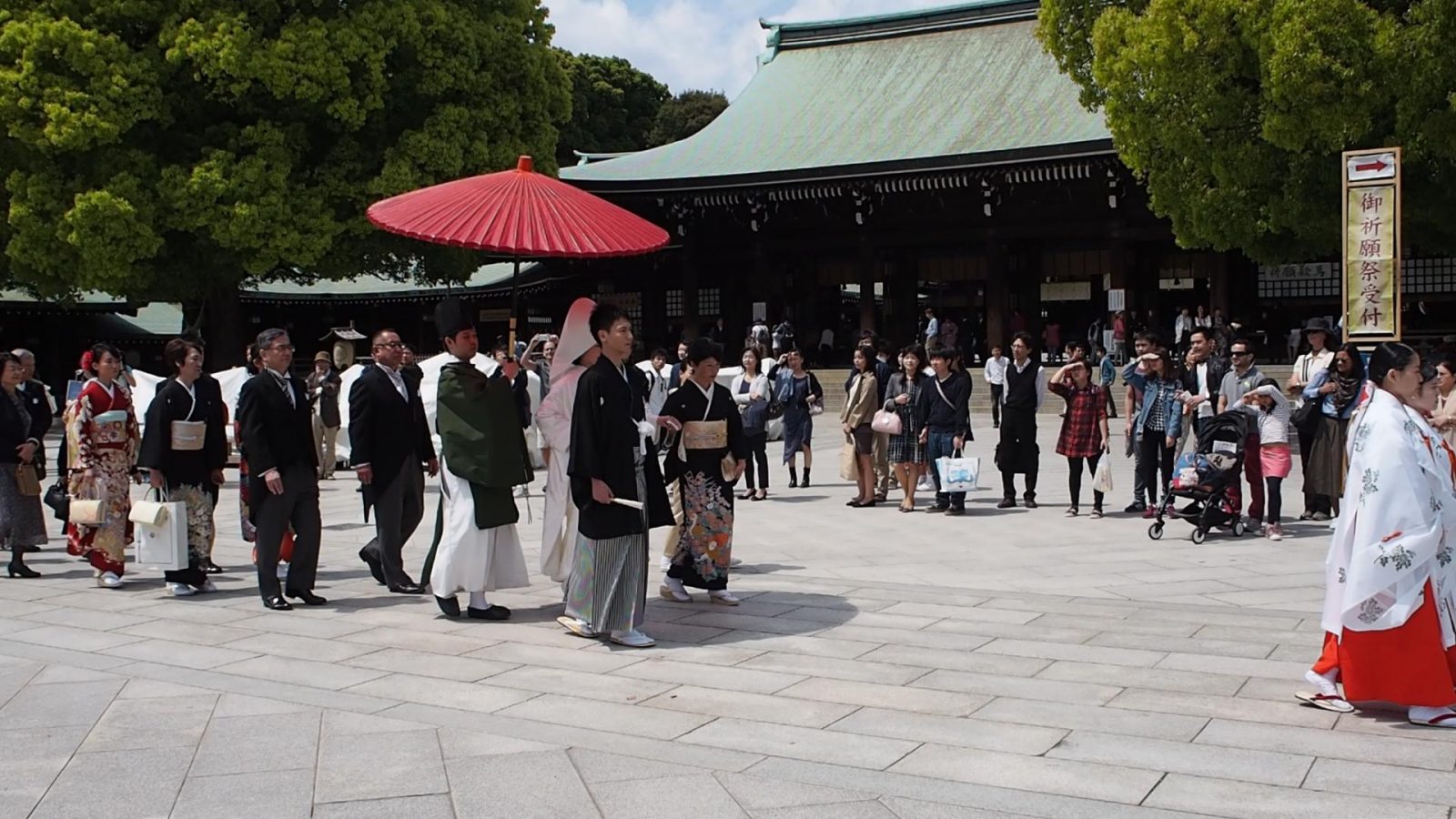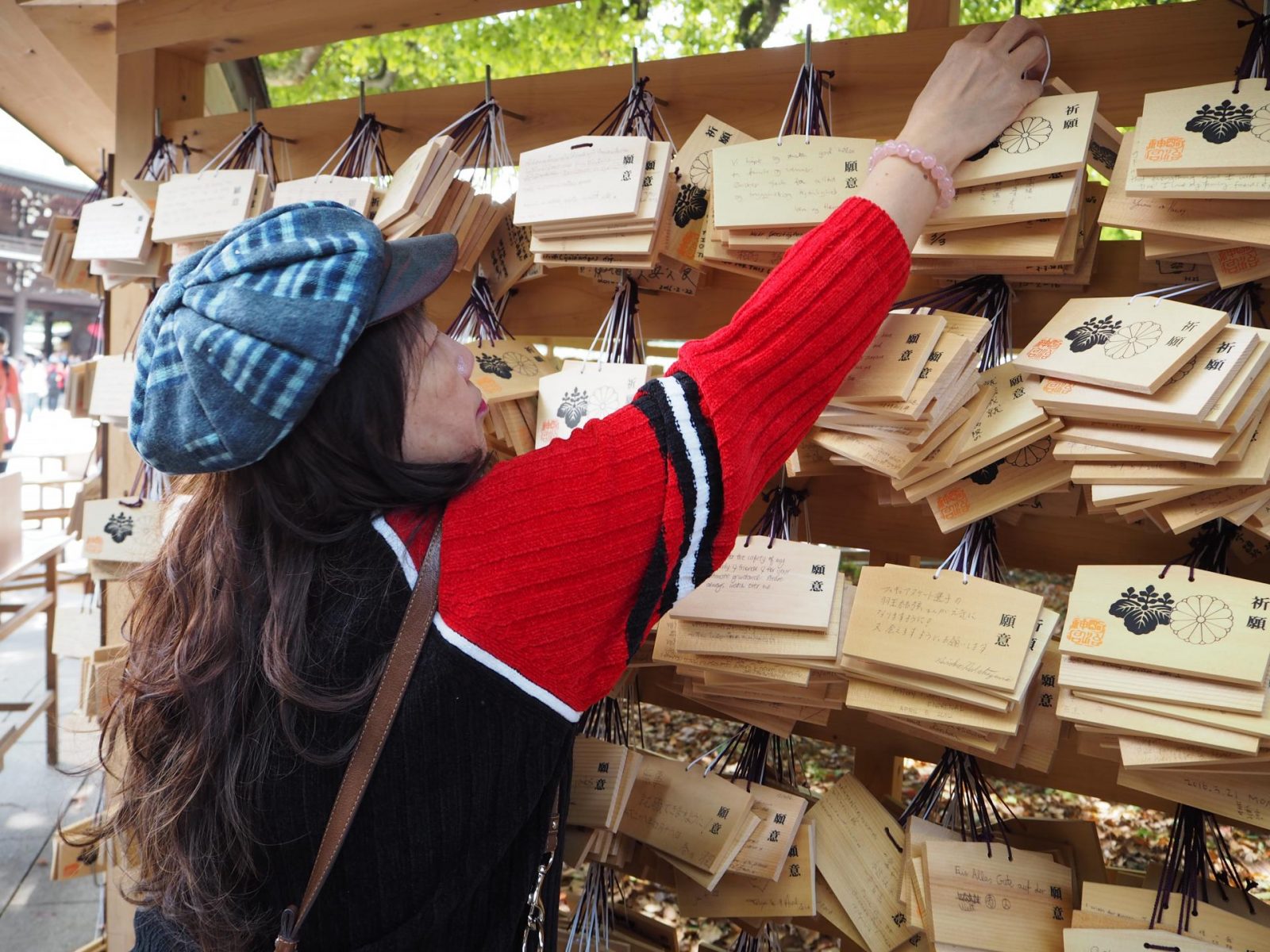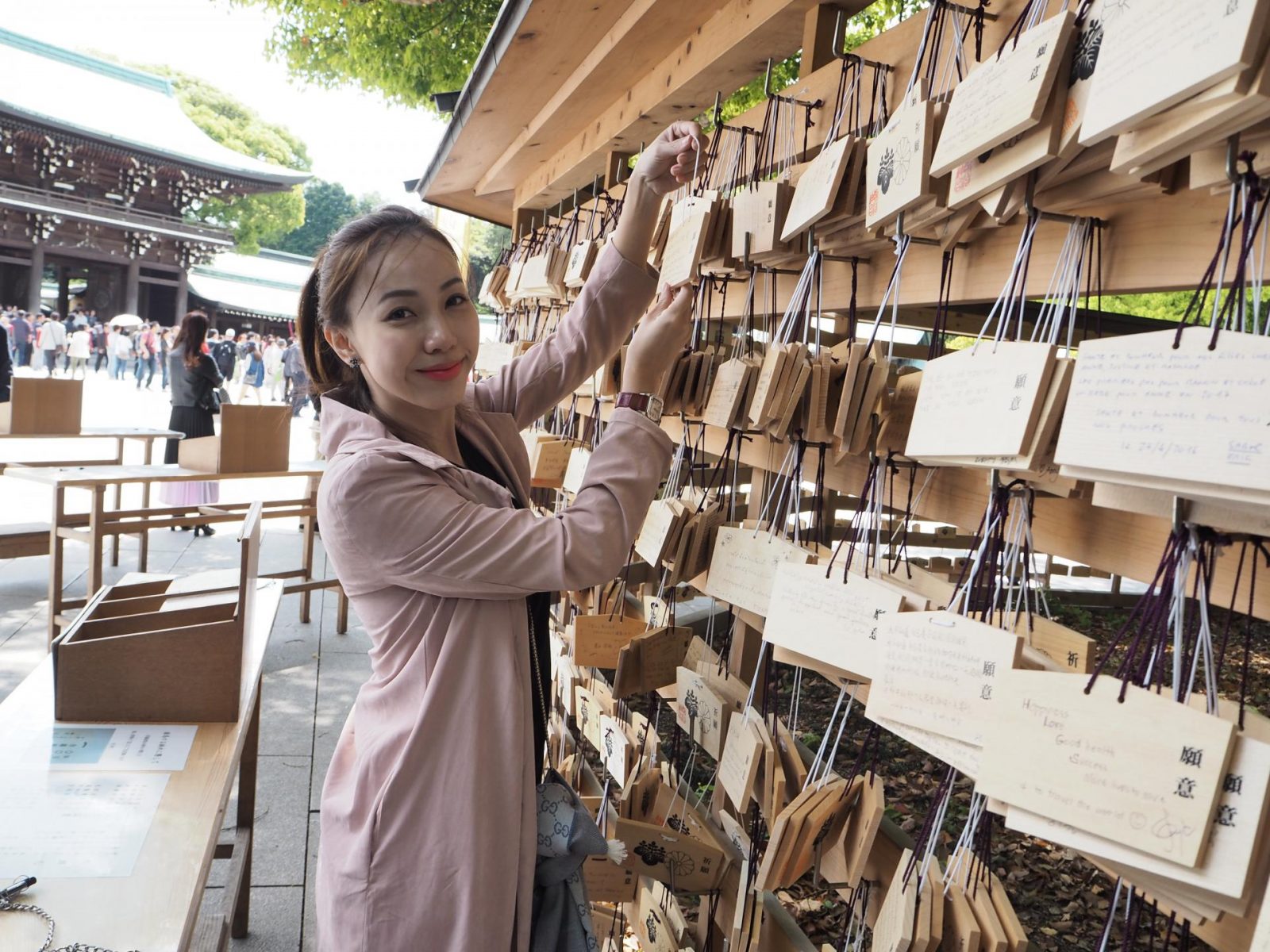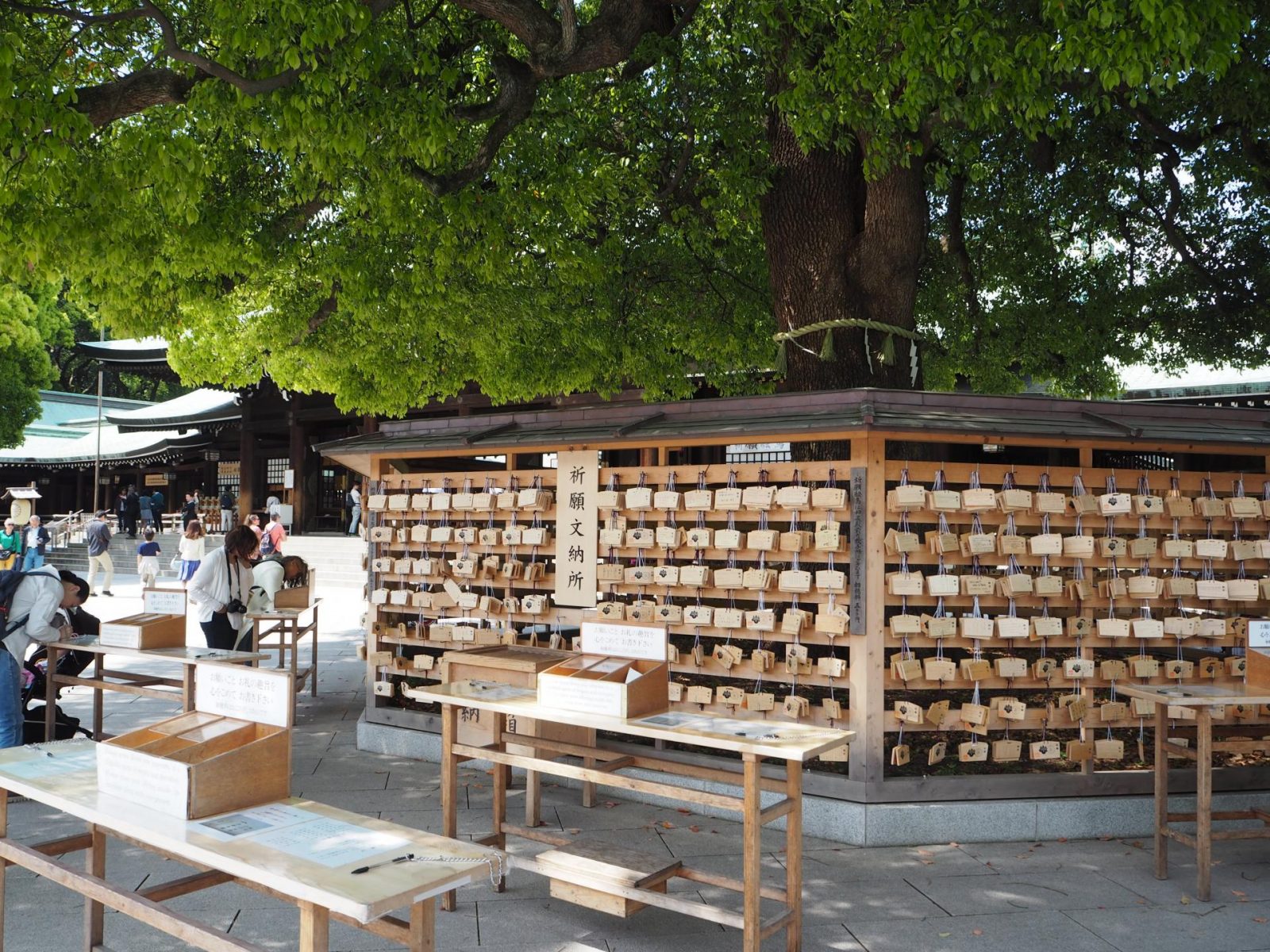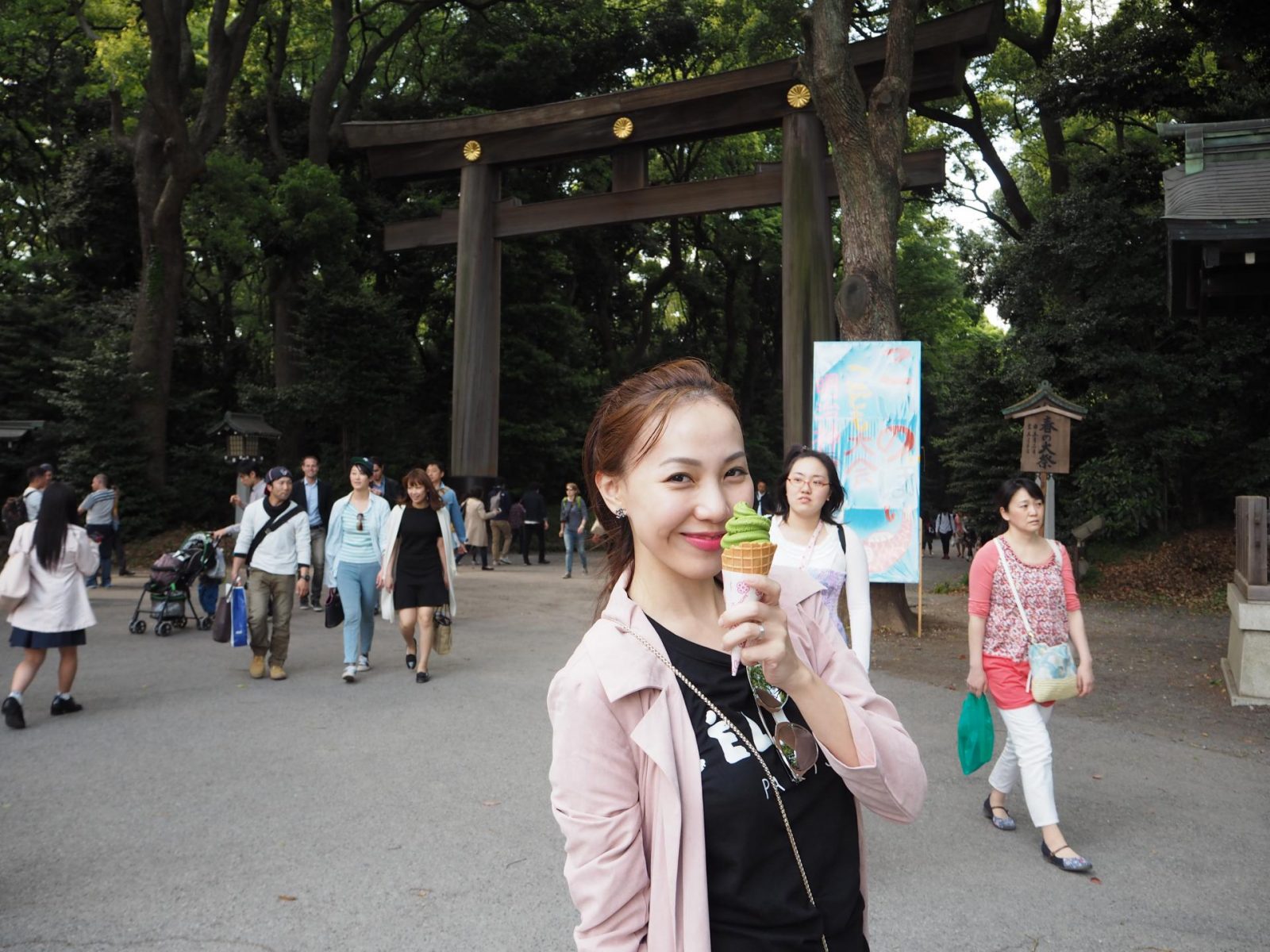 After resting for 2 hours, we headed out to Tokyo Tower. Mum gave me a list of places she wanted to visit and Tokyo Tower was one of them.  We were greeted by the magnificent Tokyo Tower when we exited Akabanebashi station.  Mum was in awe! A 10-min walk brought us to the foot of the tower. I would strongly recommend Tofuya Ukai restaurant located at the foot of the tower a try if you are there (but do remember to make a reservation). Thumbs up food.
Because it was a day before Mum's birthday, we were given a cake at the observatory deck. Mum loved the attention… and I could see how delighted she was when every crew we passed by wished her "Happy Birthday!"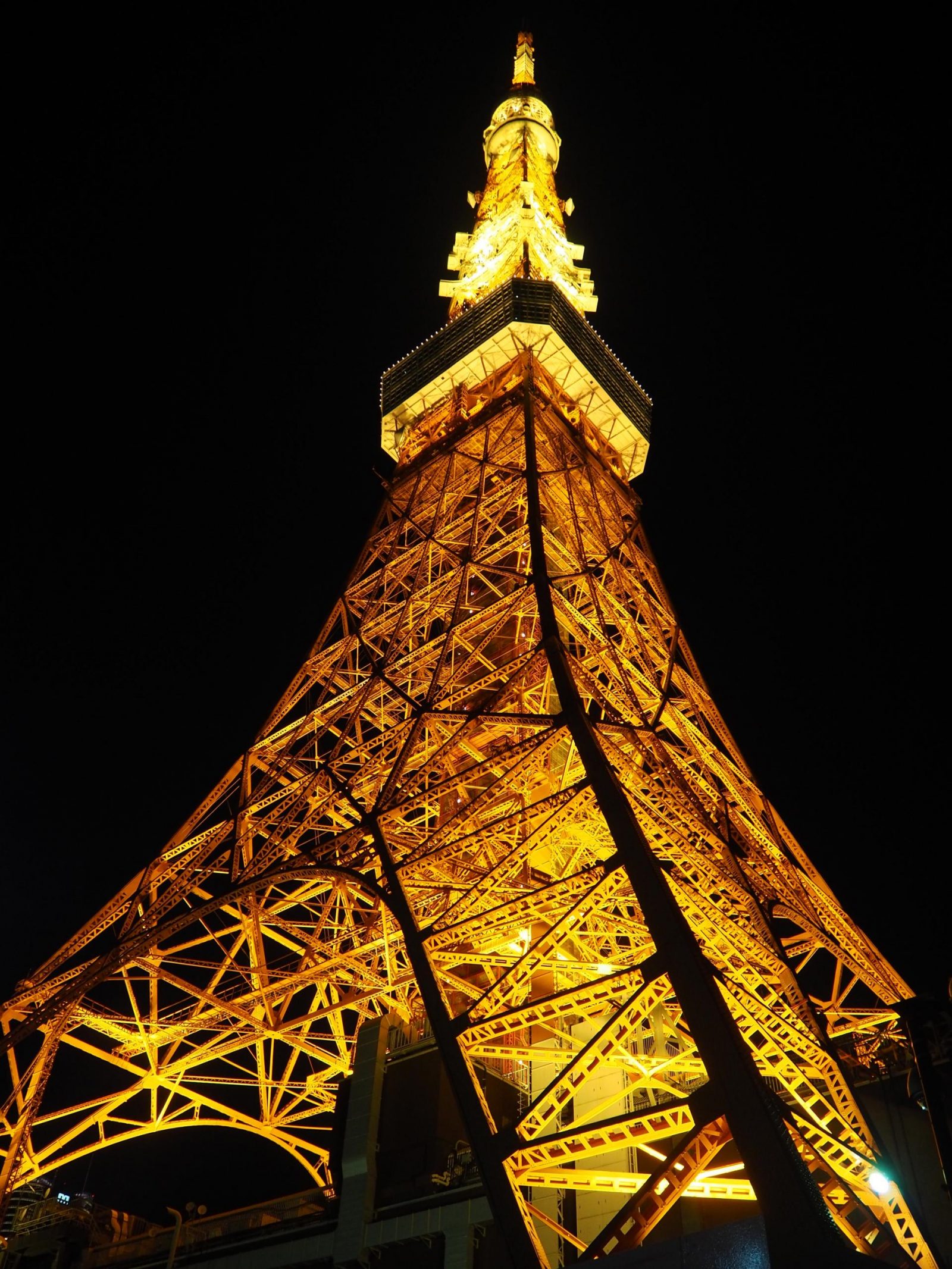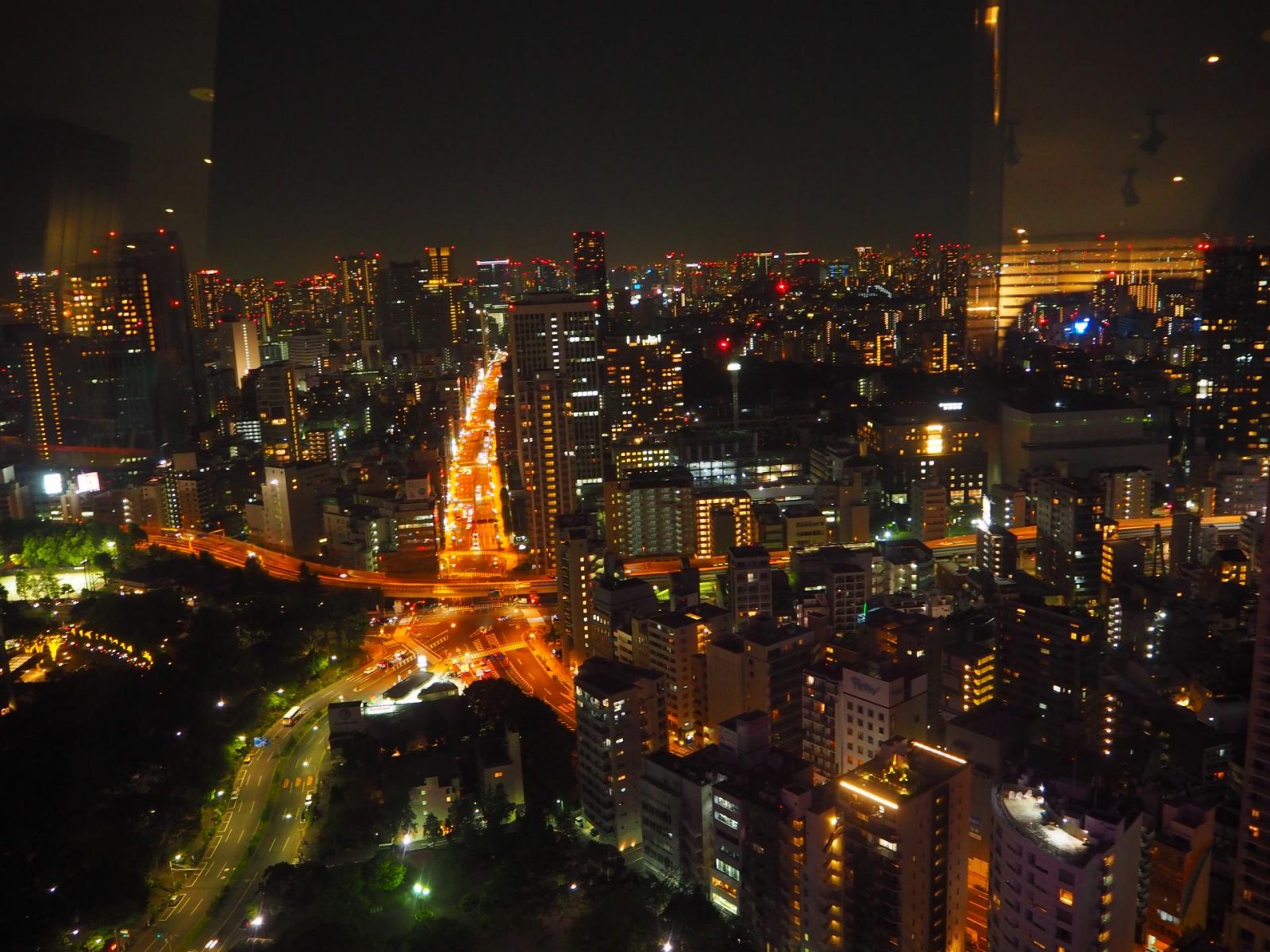 Day 3
Bidded a temporary farewell to Tokyo before heading south to Kyoto.  As we were more familiar with the Ginza area now, it took us 10mins to walk to Tokyo station to board the Shinkansen to Kyoto.  We took the Nozumi super express train which took only slightly more than 2 hours to reach Kyoto.  I wanted Mum to experience the much talked about bullet train and she mentioned that it was indeed so fast that she could feel the pressure in her ears when the train was moving at top speed.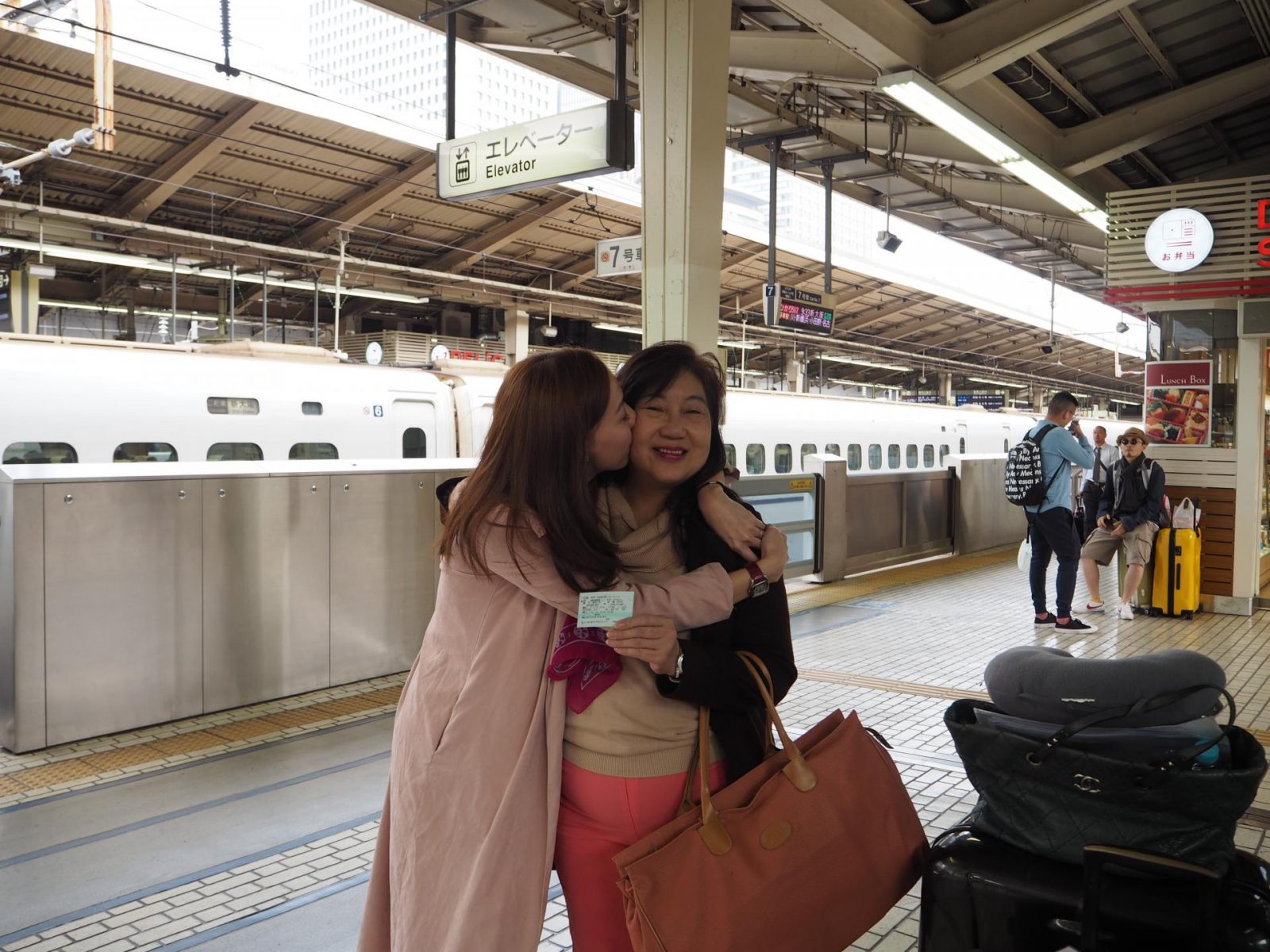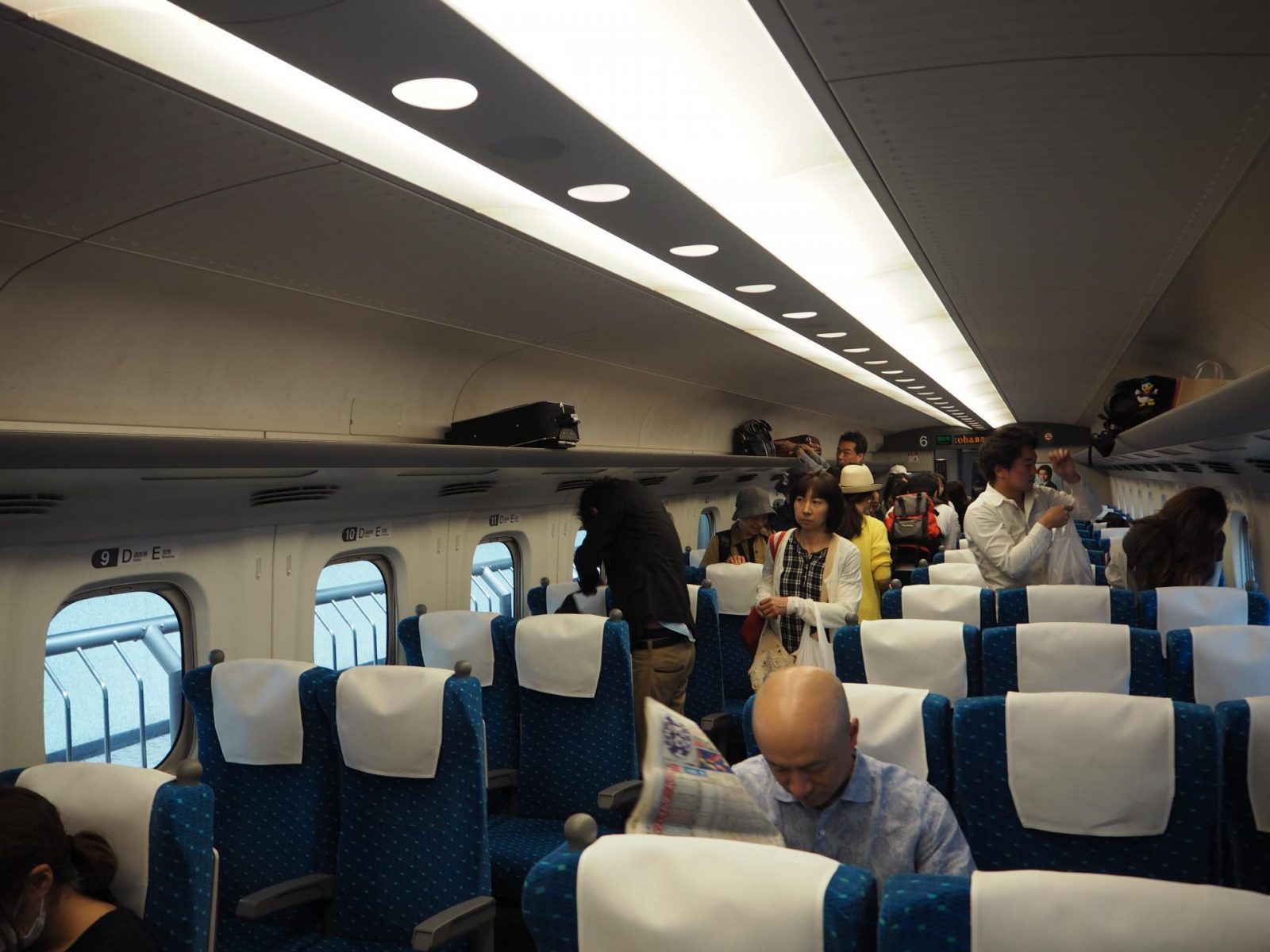 Once we arrived at Kyoto, we took a taxi to our Ryokan. Taxi in Kyoto was cheaper than in Tokyo; at least 30% cheaper.  We stayed at Ryokan Kohro, a small ryokan located at Rokkaku. The location was great because it was right next to the Nishiki Market and the busy shopping district.  We arrived around noon but our room was not ready. Hence we left our bags and headed for lunch nearby. Mum kept complimenting the beauty of Kyoto as we walked the streets. We took a taxi to Arashiyama.  The beauty of Arashiyama made Mum forgot about the pain in her feet. The well known bamboo grove…. very beautiful indeed… It was then I truly understood the saying "Better to see something once than to hear about it a thousand times".  If only it was not as crowded that day.. we had a hard time trying to get a picture without people passing by. And it was almost impossible until Mum had to stop a group of tourists to snap a nice picture of me…  We passed by the Tenryu Ji temple and went in to admire the serenity of the temple. Despite the number of visitors in the temple, the place gave a sense of peace and zen. There was a hall for meditation where we saw many people meditating.  When we exited the Tenryu Ji temple, we passed by the Nonomiya Shrine. It was a small shrine and we saw devotees making offerings and we went in to make our offerings too.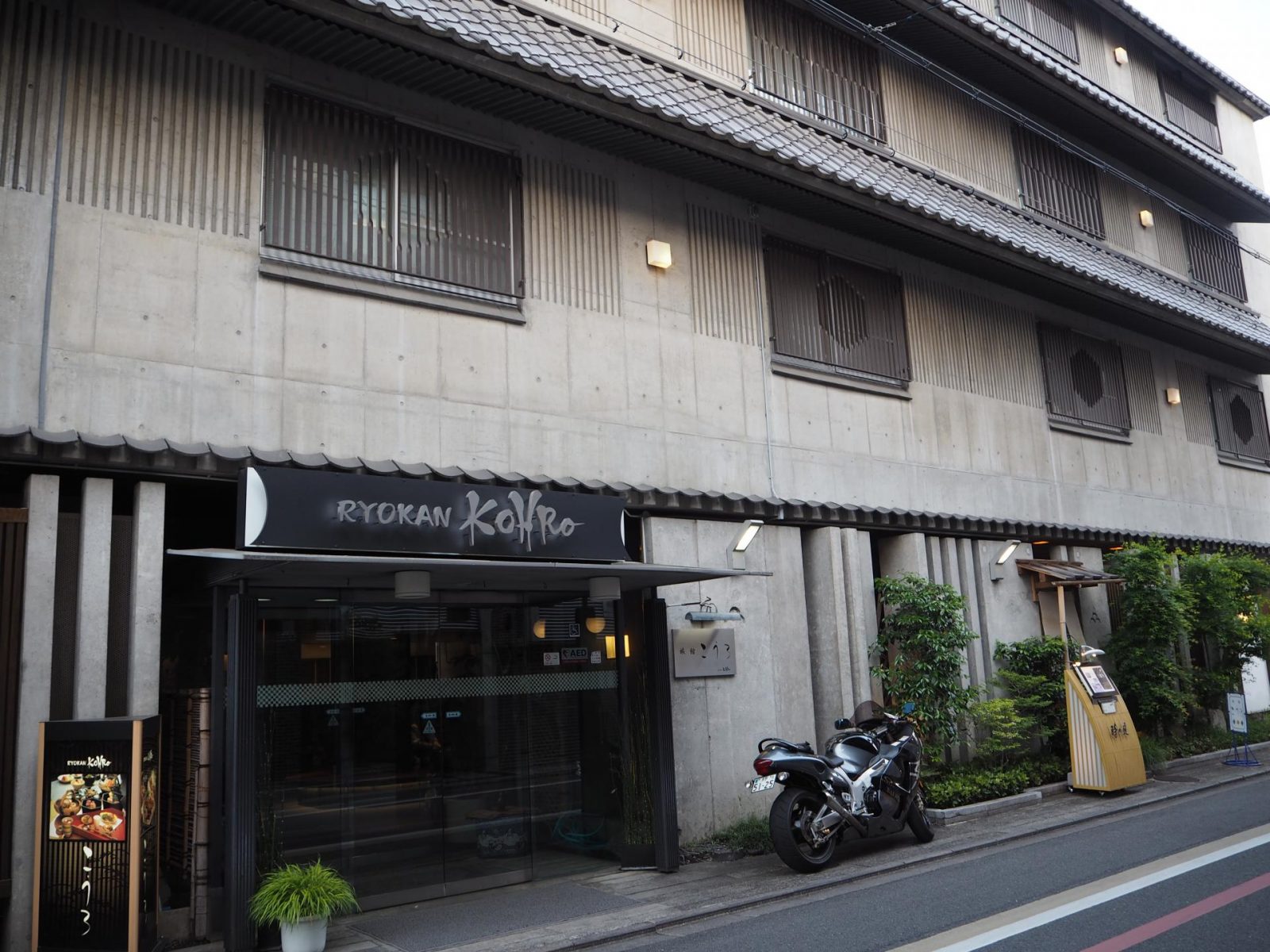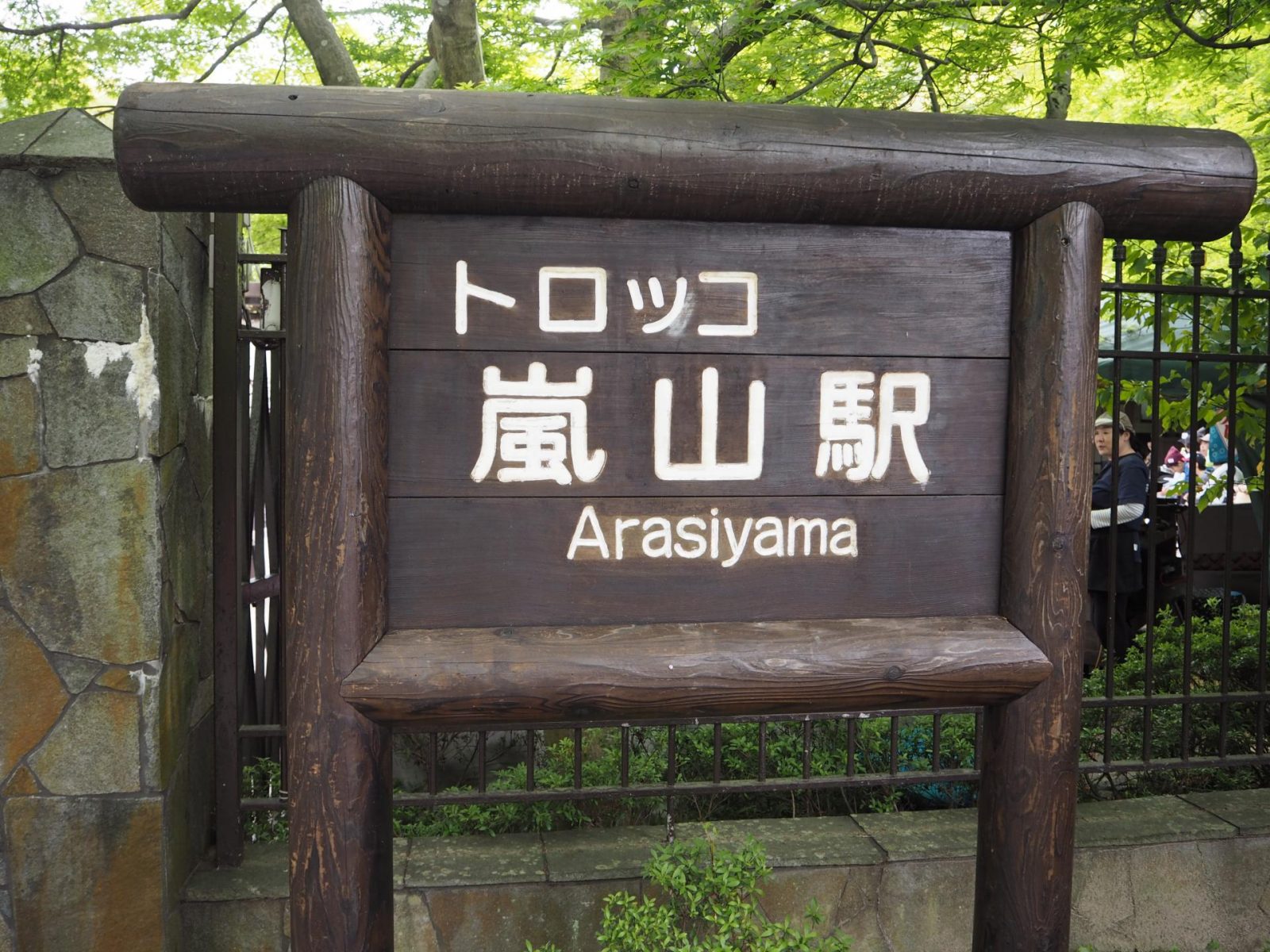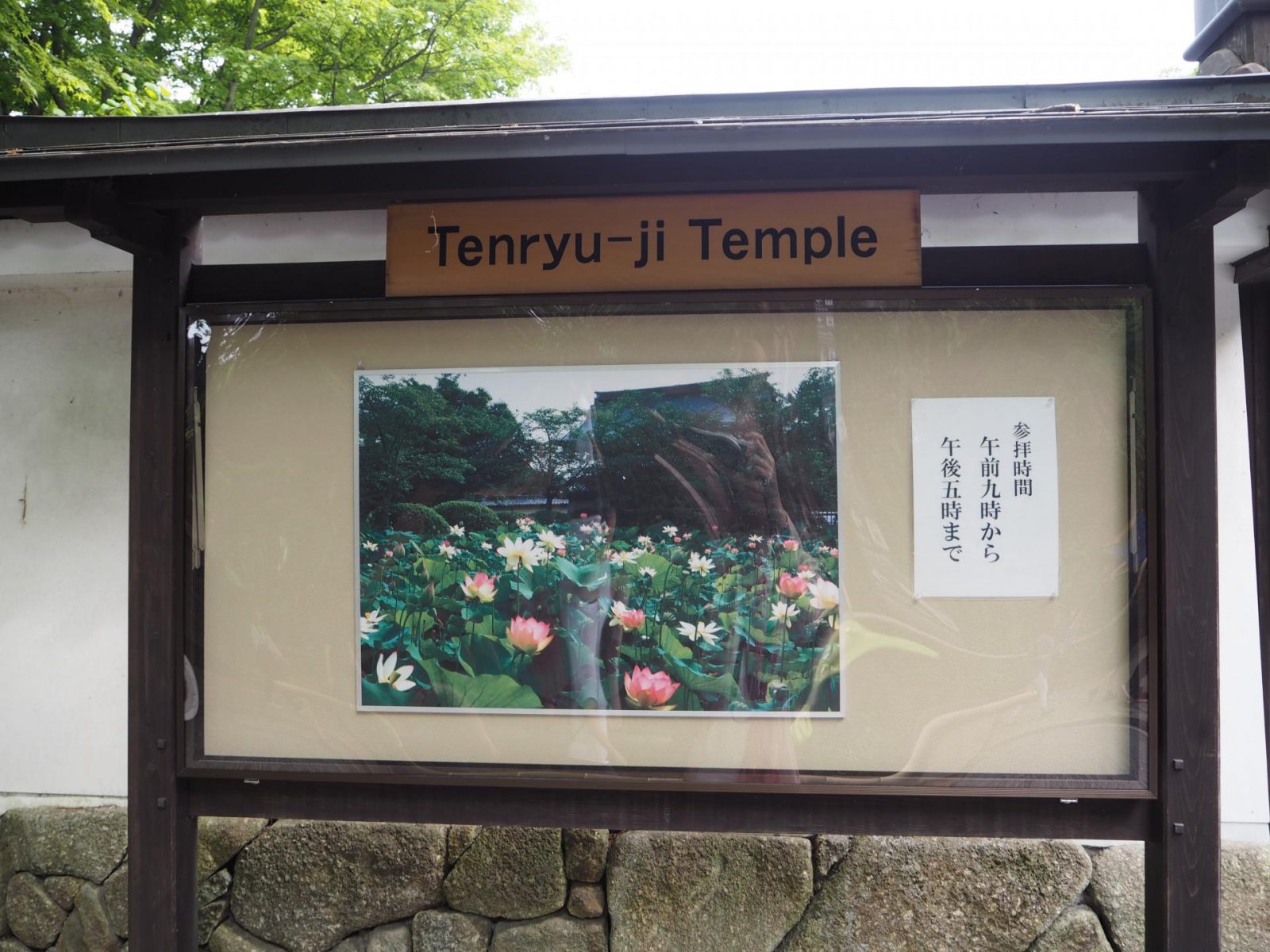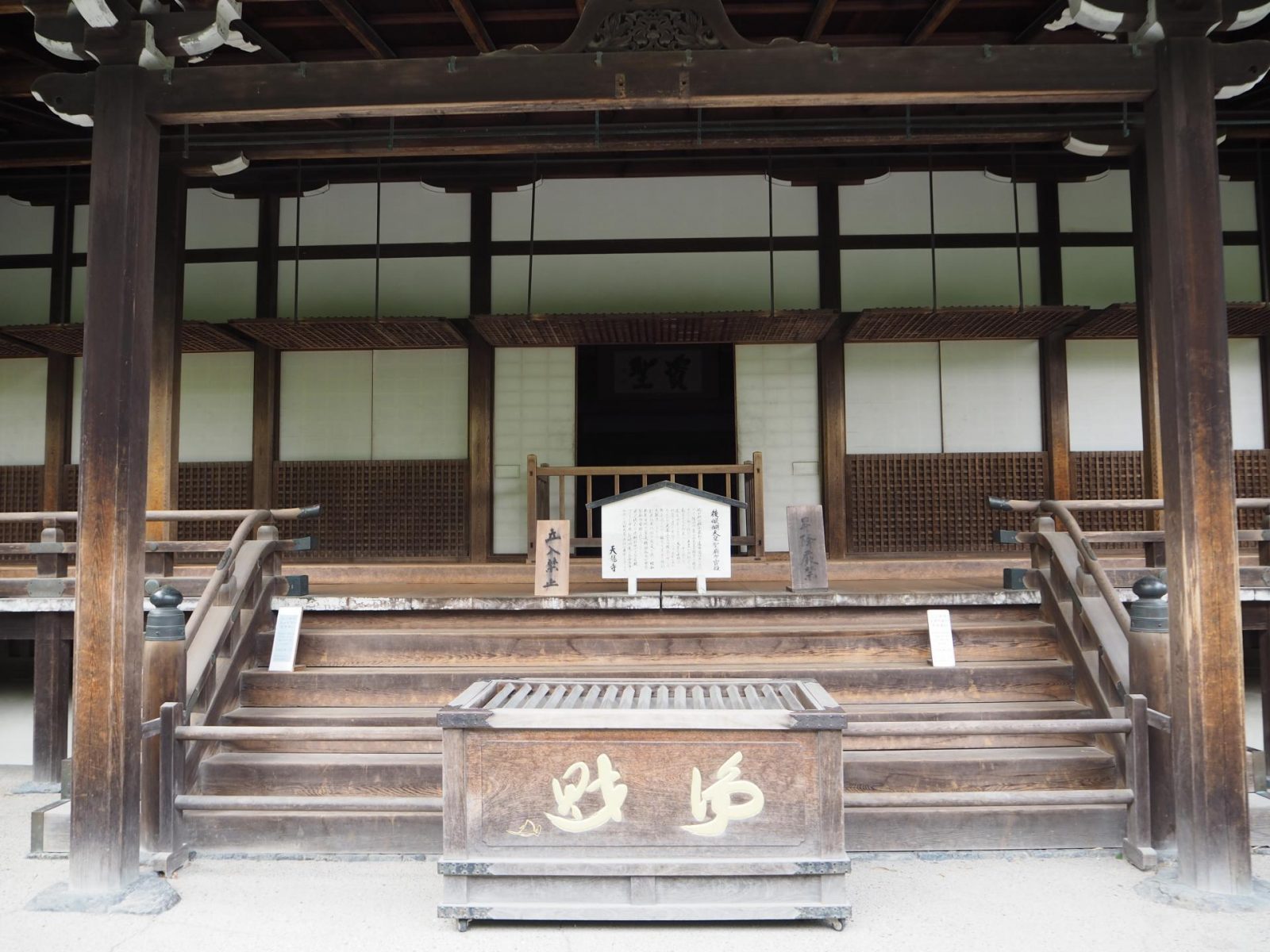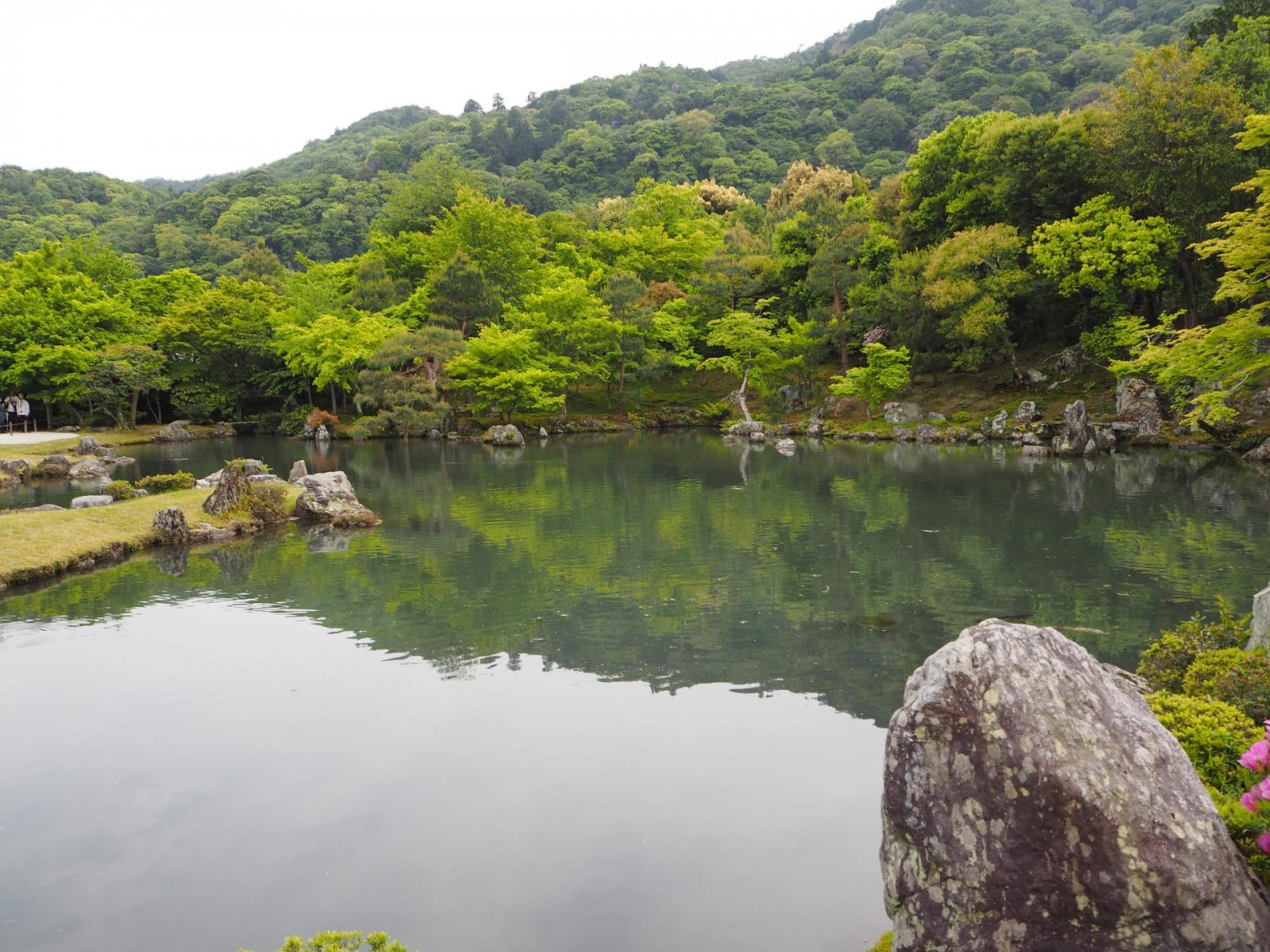 Taxi to the Yasaka shrine… I know it was a shrine after shrine we visited but I tried to choose those that were close to other attractions so we could do other things after that. Yasaka shrine was pretty near to our ryokan.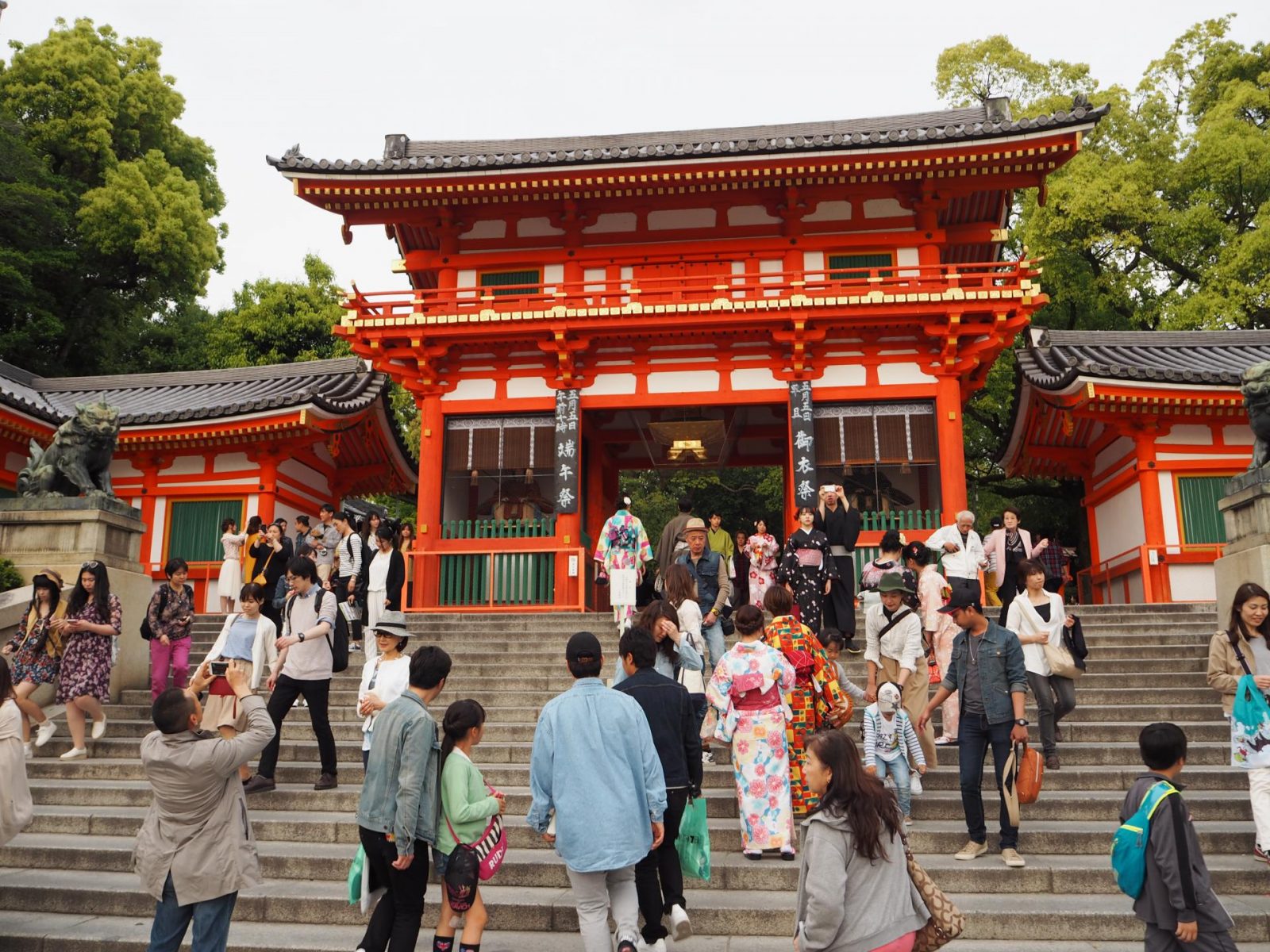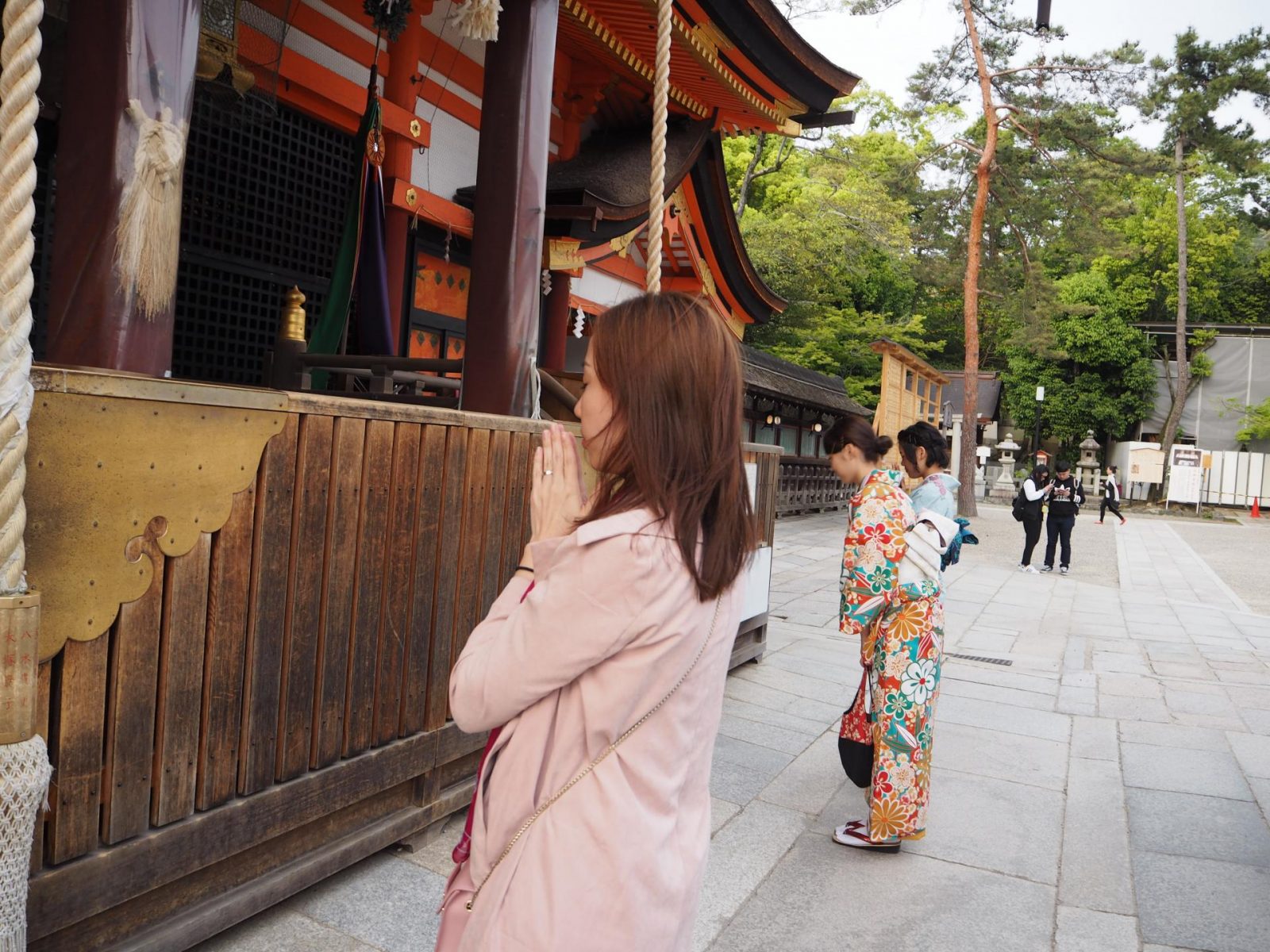 After the usual rituals in the temple, we walked down towards the busy shopping district. We passed by Gion, a street with so much character. It is actually Kyoto's most famous geisha district and….. we were really LUCKY to meet a geisha!!! We were Super excited and mum started running after her… Running, yes running. She had actually forgotten about her painful feet and started running after her.  I ran infront of them to capture a picture of mum beside the geisha.  After that, she suddenly remembered her painful legs and started complaining again. We walked towards our ryokan and passed by Pontocho, a scenic dining area in Kyoto. Restaurant on the eastern alley overlooked the beautiful Kamogawa river.  I stood by the bridge and for that moment I missed my hubby terribly much…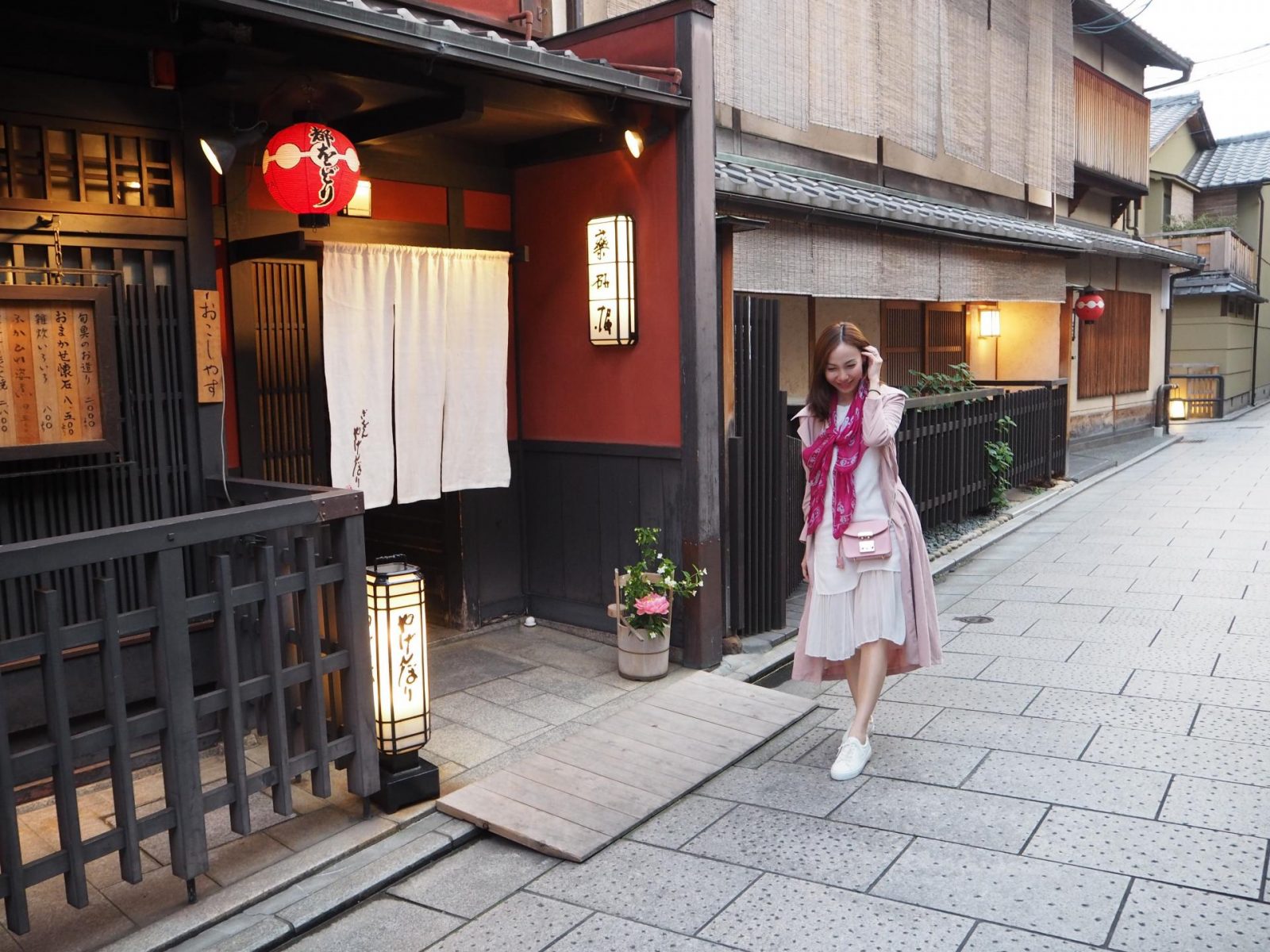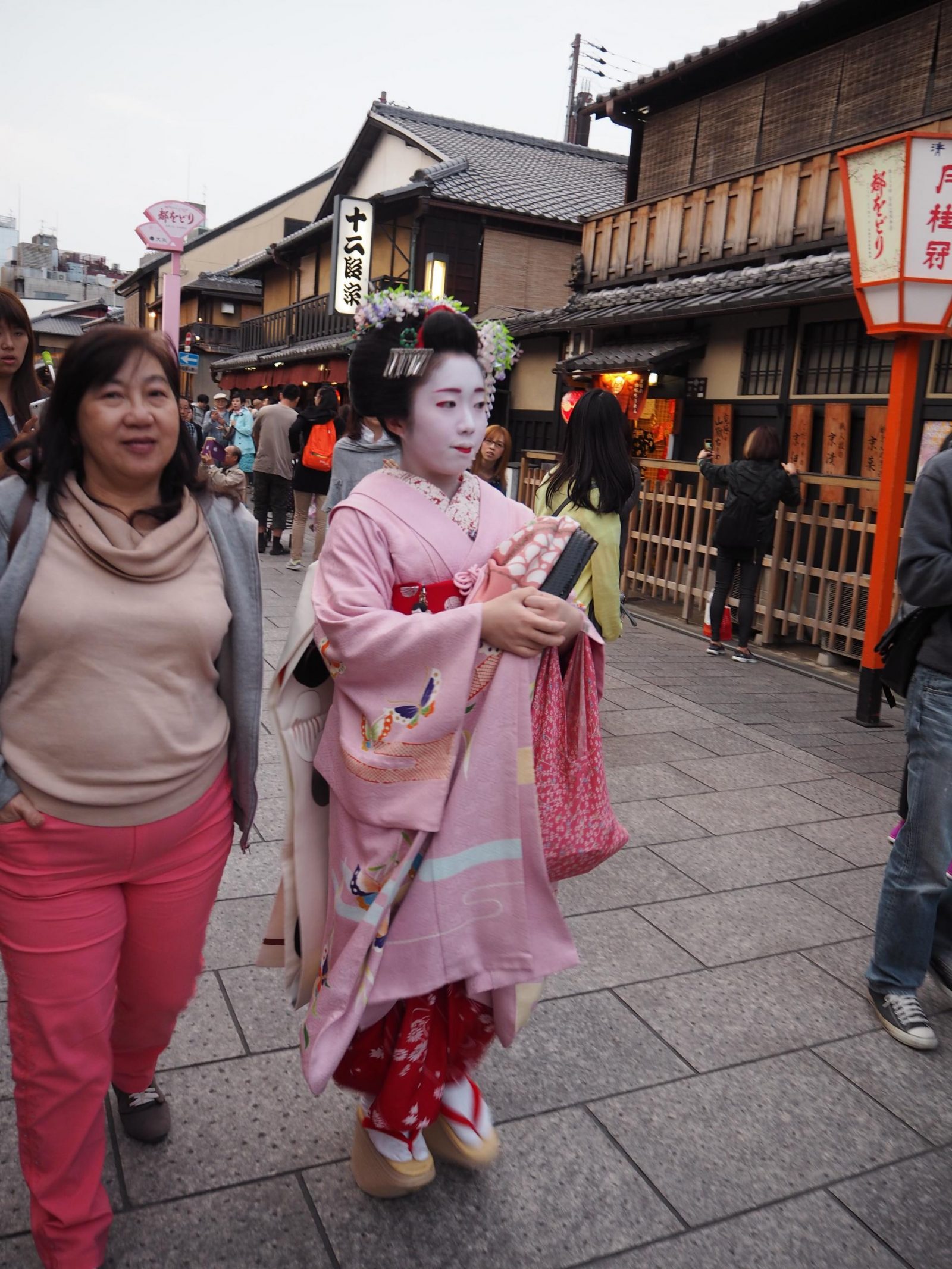 Headed back after a casual dinner and mum went for the public hot bath which was offered by the ryokan. Mum changed into the robe and went for the bath while I stayed in the room to complete some work (.. sob sob… working on holiday).. Mum came back 20mins later and I was shocked and asked why didn't she enjoy the bath a little longer since it was her first time trying and I believed the hot bath would help with the muscles ache that she was experiencing. Mum told me she did not know where to look when she was inside the bath as everyone was completely naked…. HAHAHAHAHAHAHAH…. I hugged her as she was soooo cute.  We slept on the floor and were woken up early next morning for traditional Japanese breakfast in our room. We were quite reluctant when they came in to make our bed (actually was to keep our bed) as we were still very sleepy.  The breakfast was rather heavy but we both agreed it was a very good experience indeed.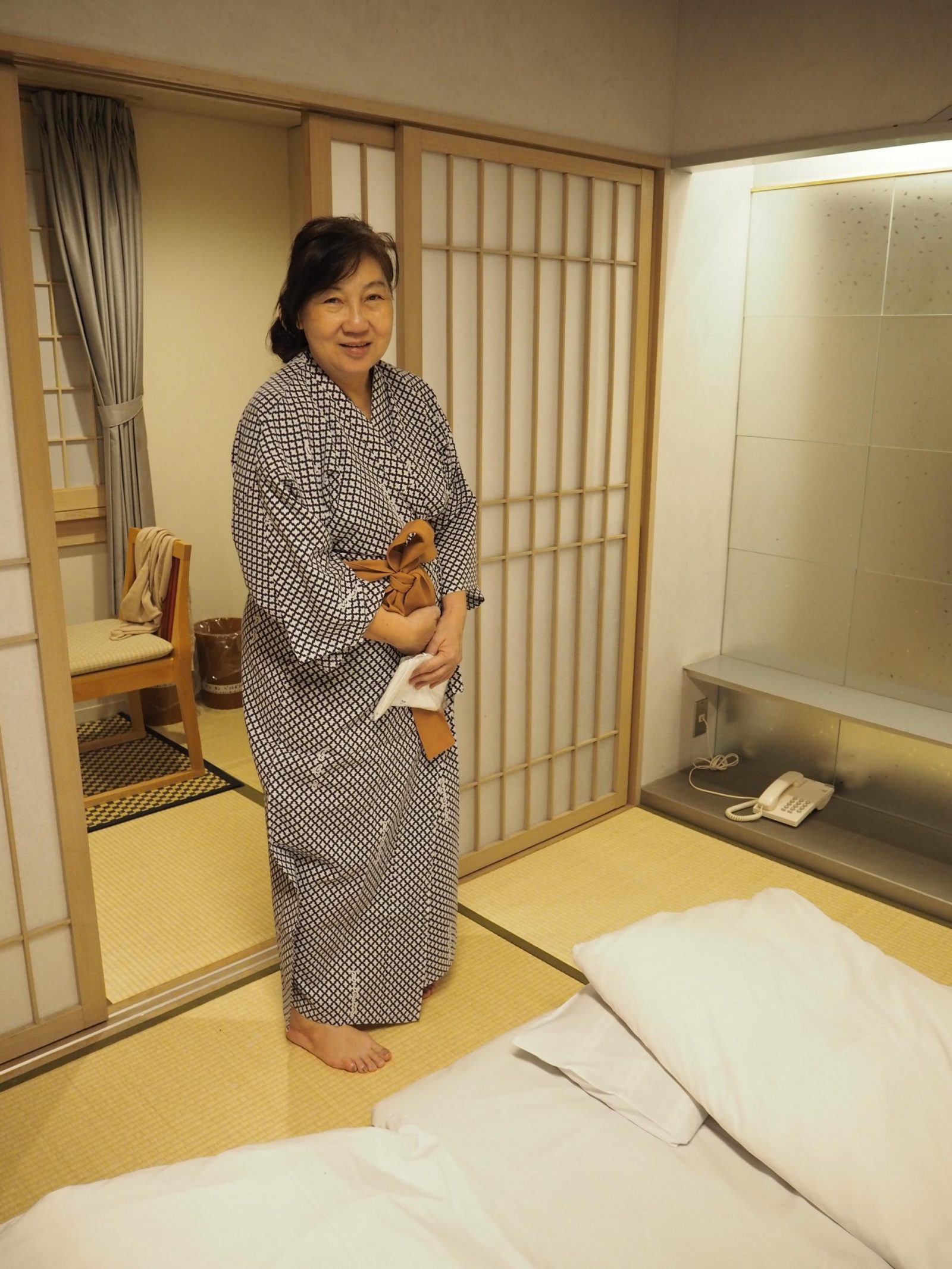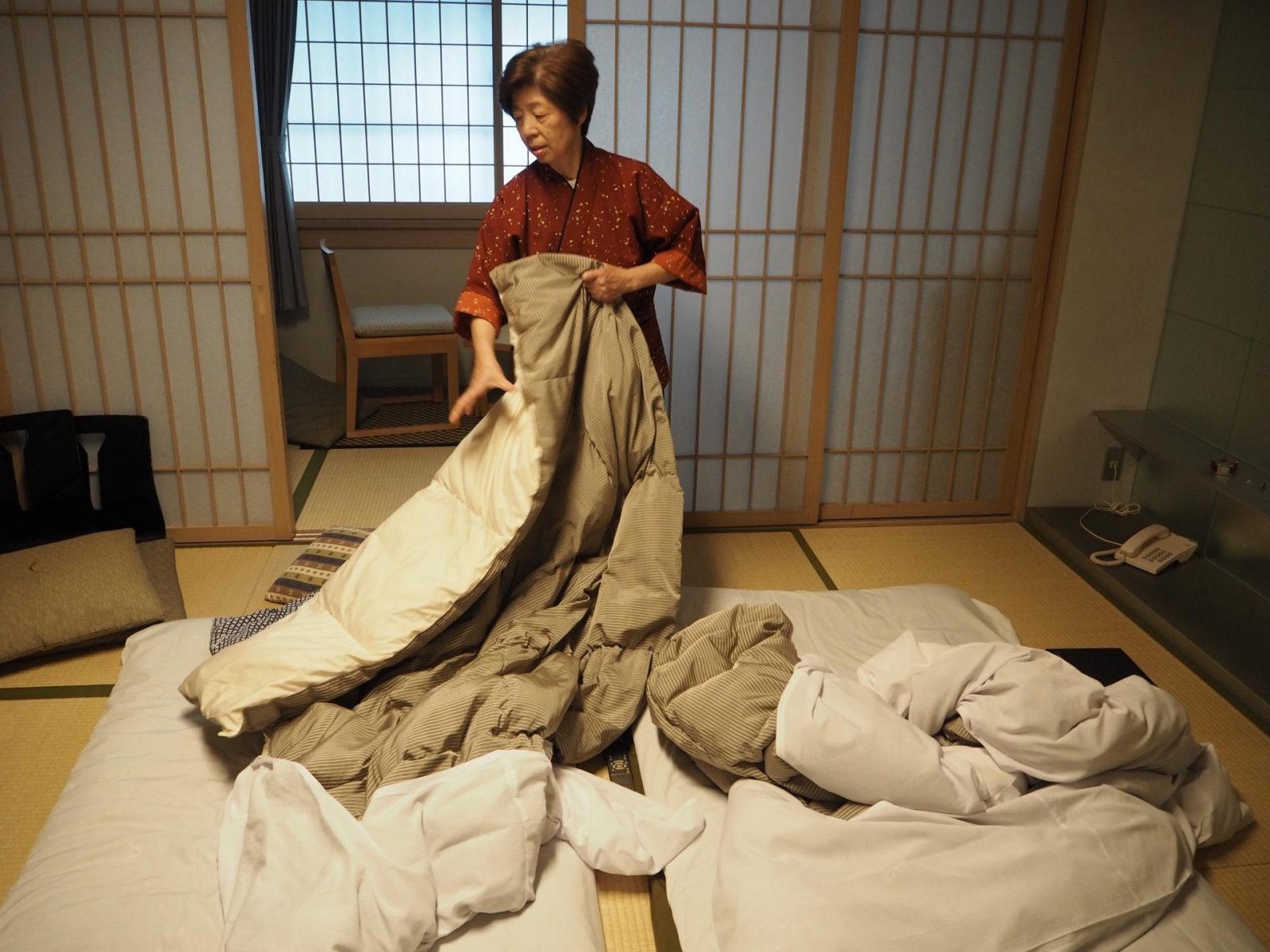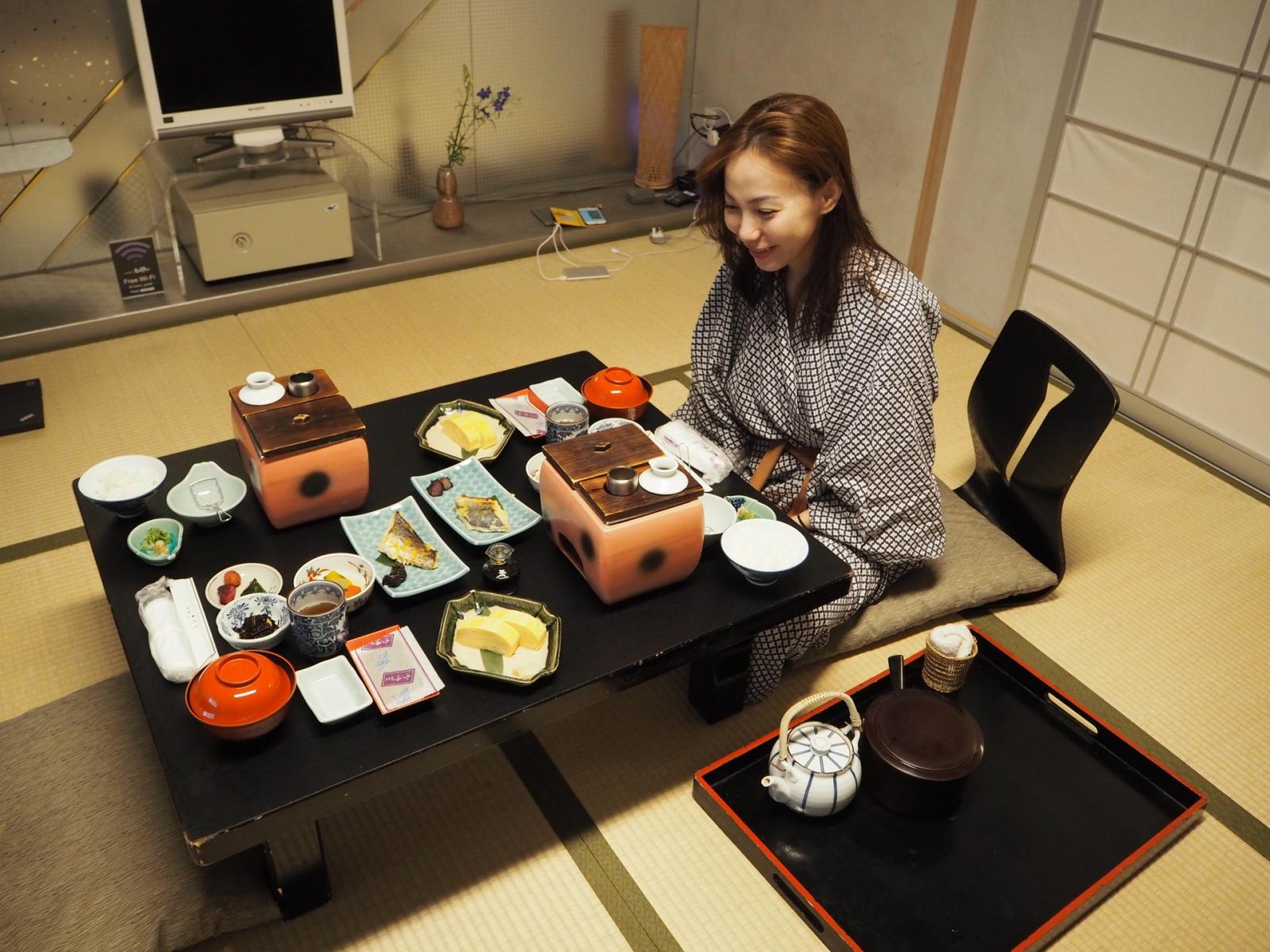 Day 4
We checked out and left our bags with the hotel front desk. We took a taxi to Fushimi Inari Taisha – a place famous for its thousand vermillion torii gates. Of course the standard rituals first before we moved to the beautiful trail of torii gates. The torii gates along the entire trail were donated by individuals and companies, and you could find the donator's name and the date of the donation inscribed on the back of each gate. I read that the hike to the summit of the mountain and back would take about 2-3 hours, however, visitors were free to walk just as far as they liked before turning back. That was what happened to me; I gave up half way; not even half maybe a third of the way and came back. Of course Mum waited for me at the foot of the trail.
Along the exit/entrance of the shrine were stalls selling souvenirs and restaurants. We had a simple lunch at a Japanese restaurant and some coffee at a nearby cafe before taking a train back to where our ryokan was. We did some shopping before bidding Kyoto goodbye.  Took the Shinkansen back to Tokyo and checked in to Shinjuku Washington Hotel at 10pm.  The room at Shinjuku Washington Hotel was really tiny. So tiny that Mum and I had to discuss where to place and open our luggages. We were not very pleased with the hotel. Actually we chose this hotel because we wanted to go for a tour organized by Yokoso Japan and the pick-up location was at this hotel.  The noise insulation at the hotel was really bad. We could hear our neighbour's conversation clearly and each time our neighbour opened their room door, it felt as though someone was  trying to break into our room. That was quite terrifying!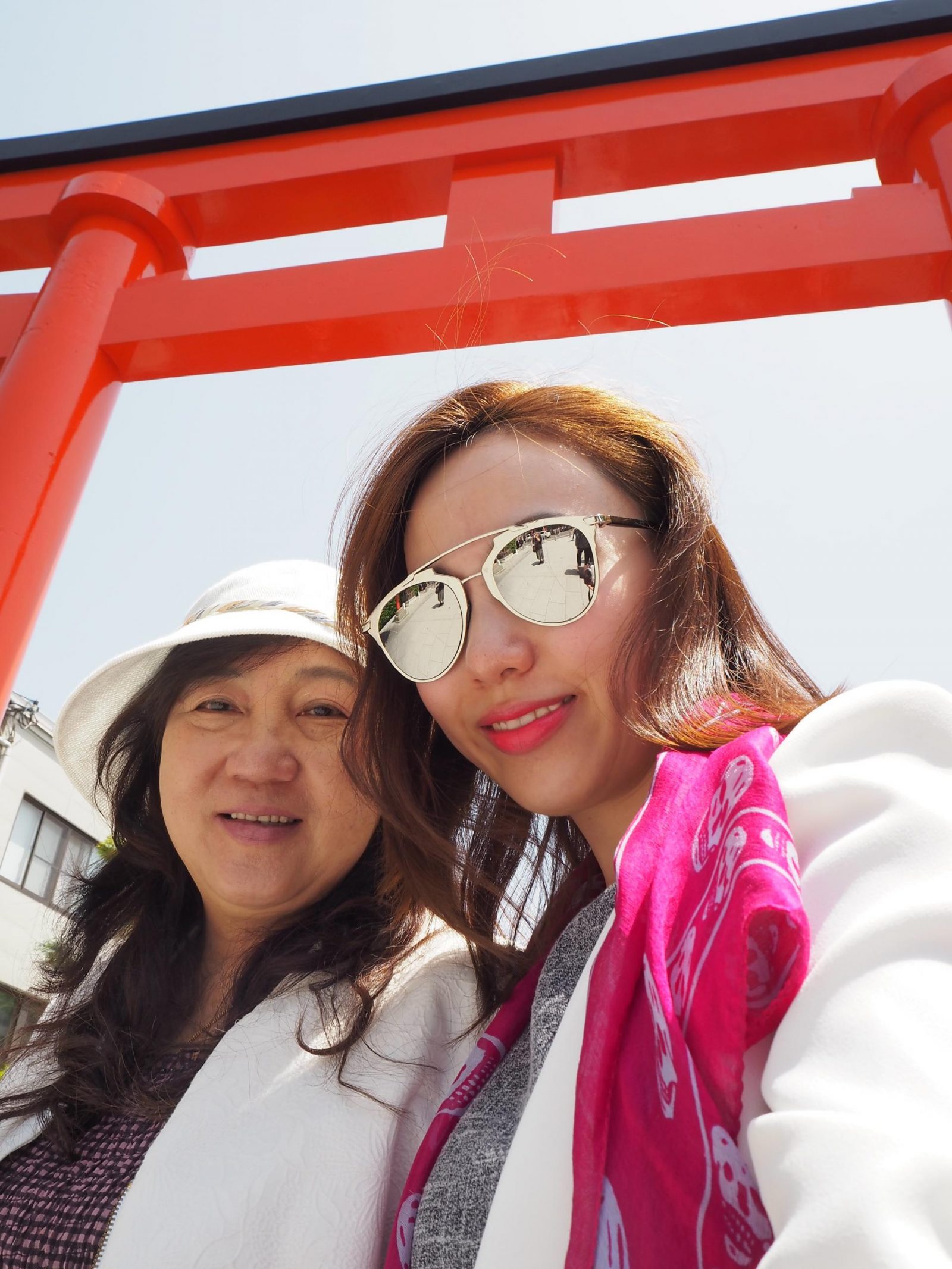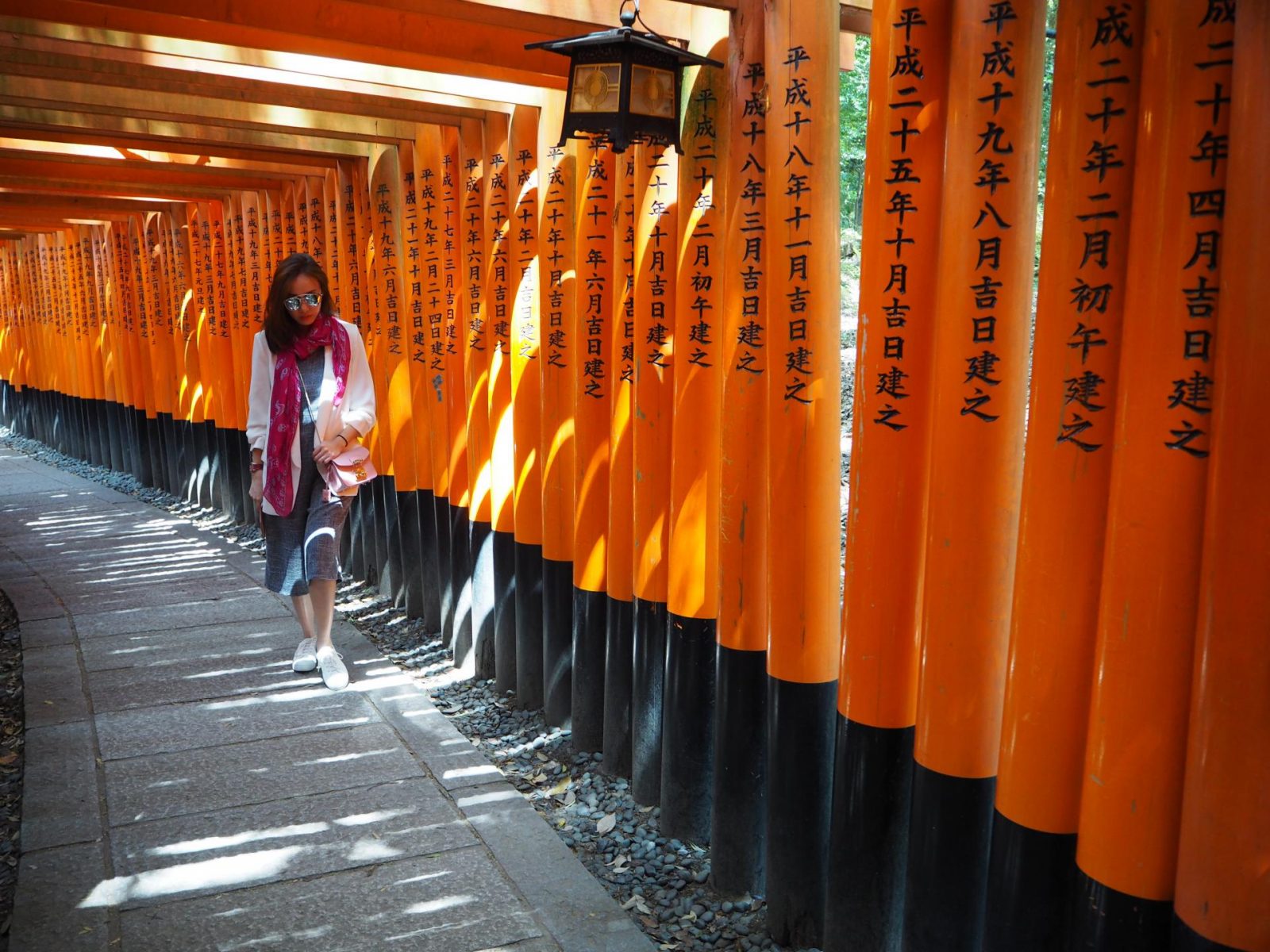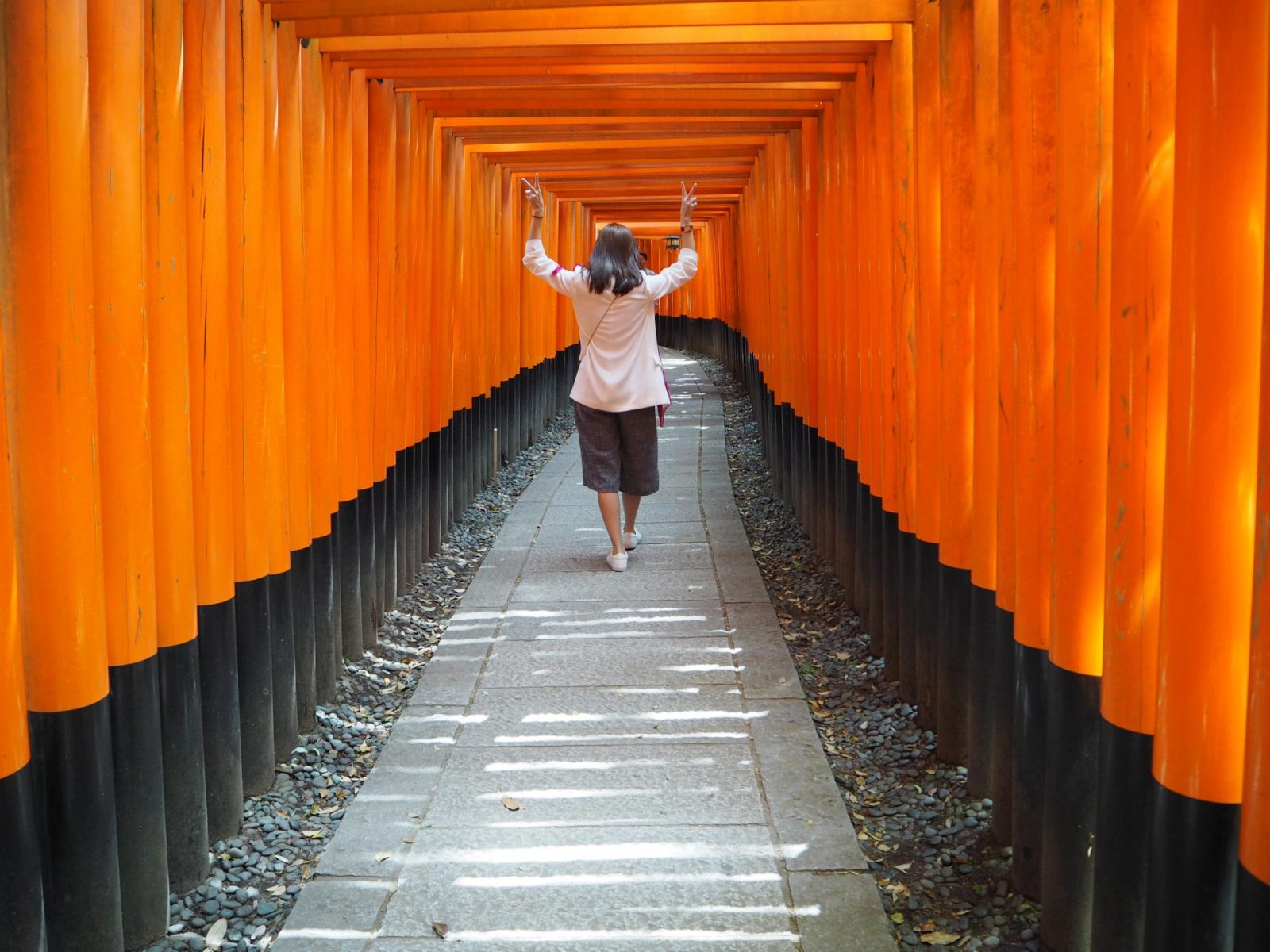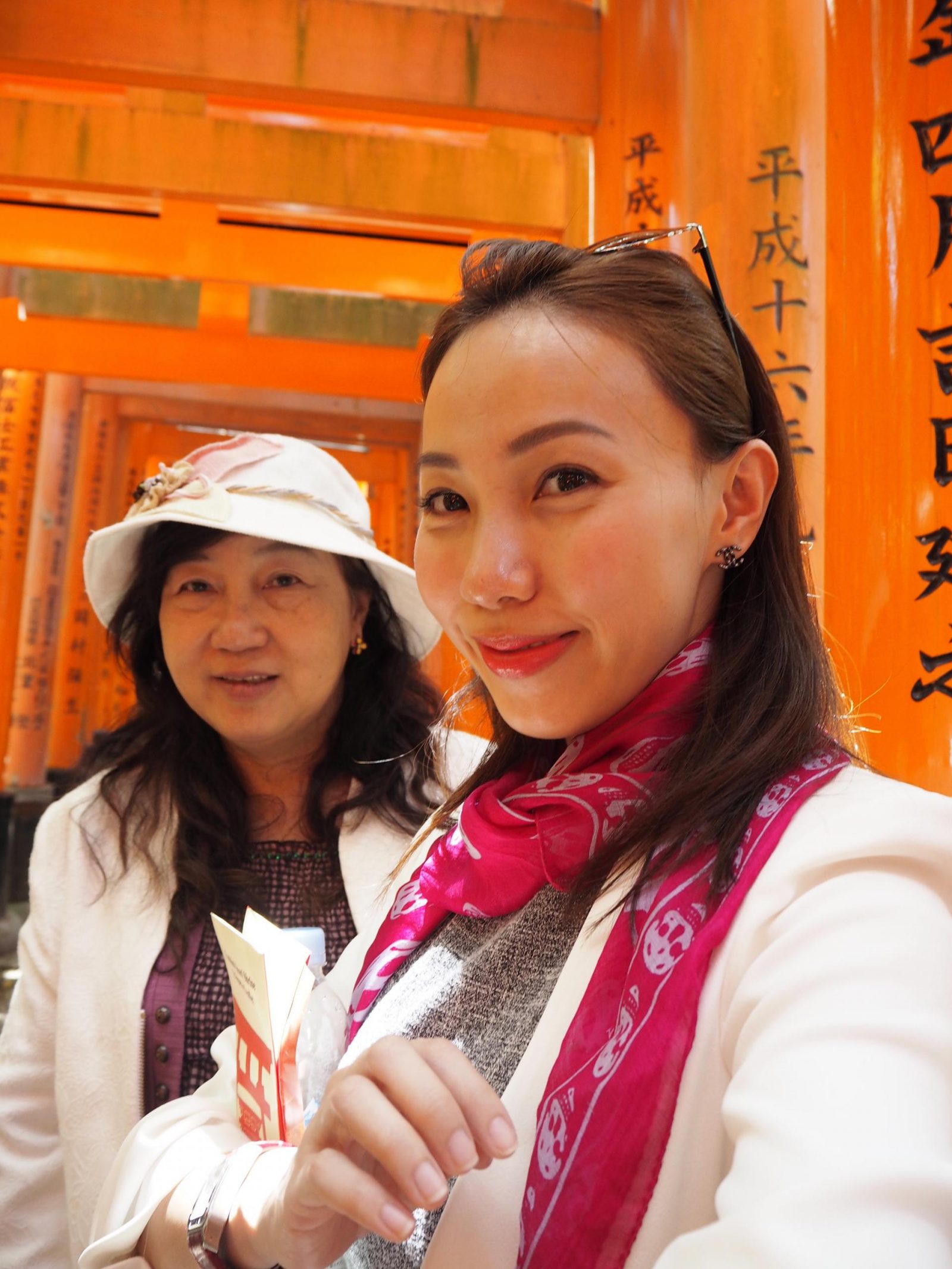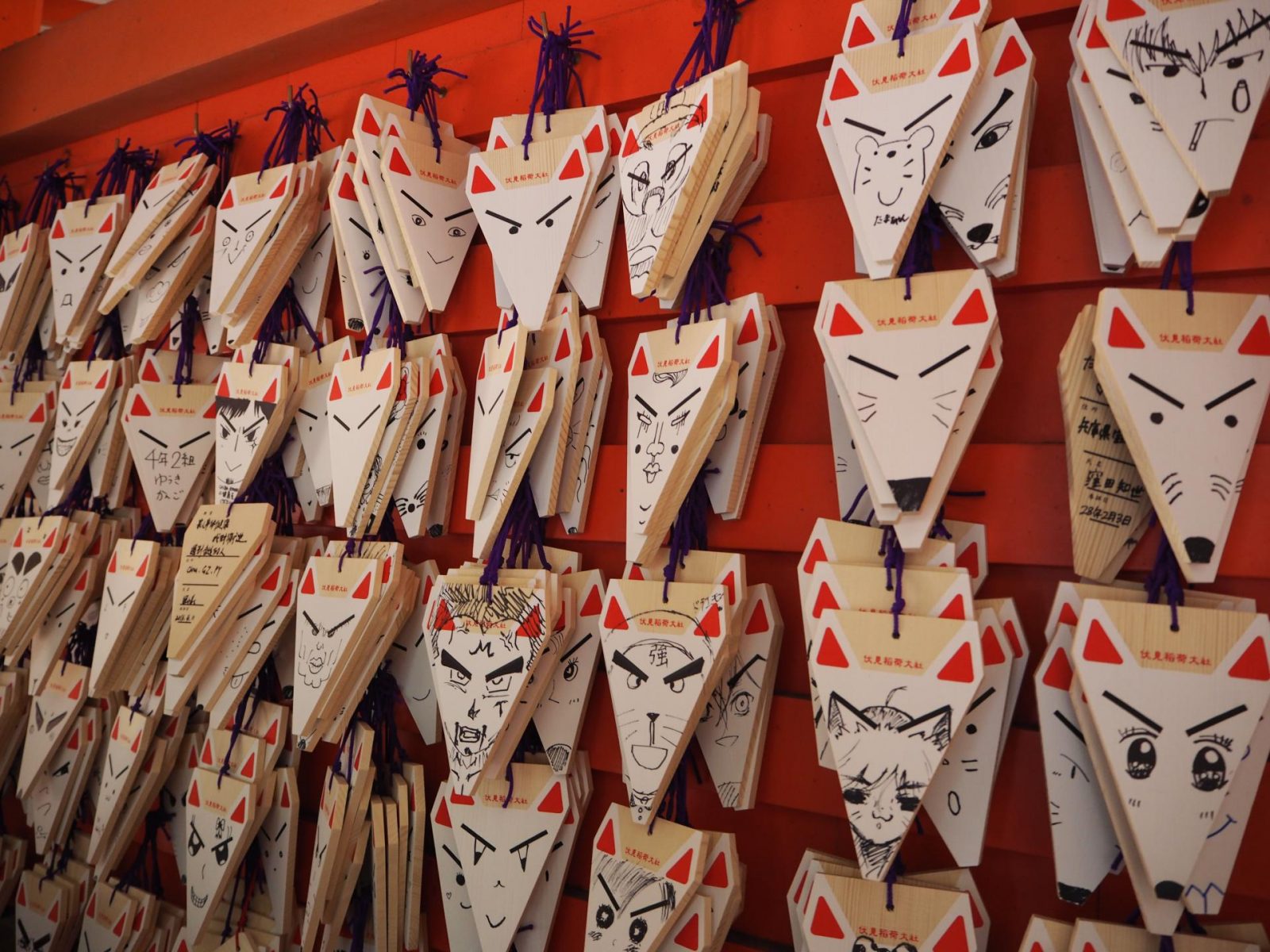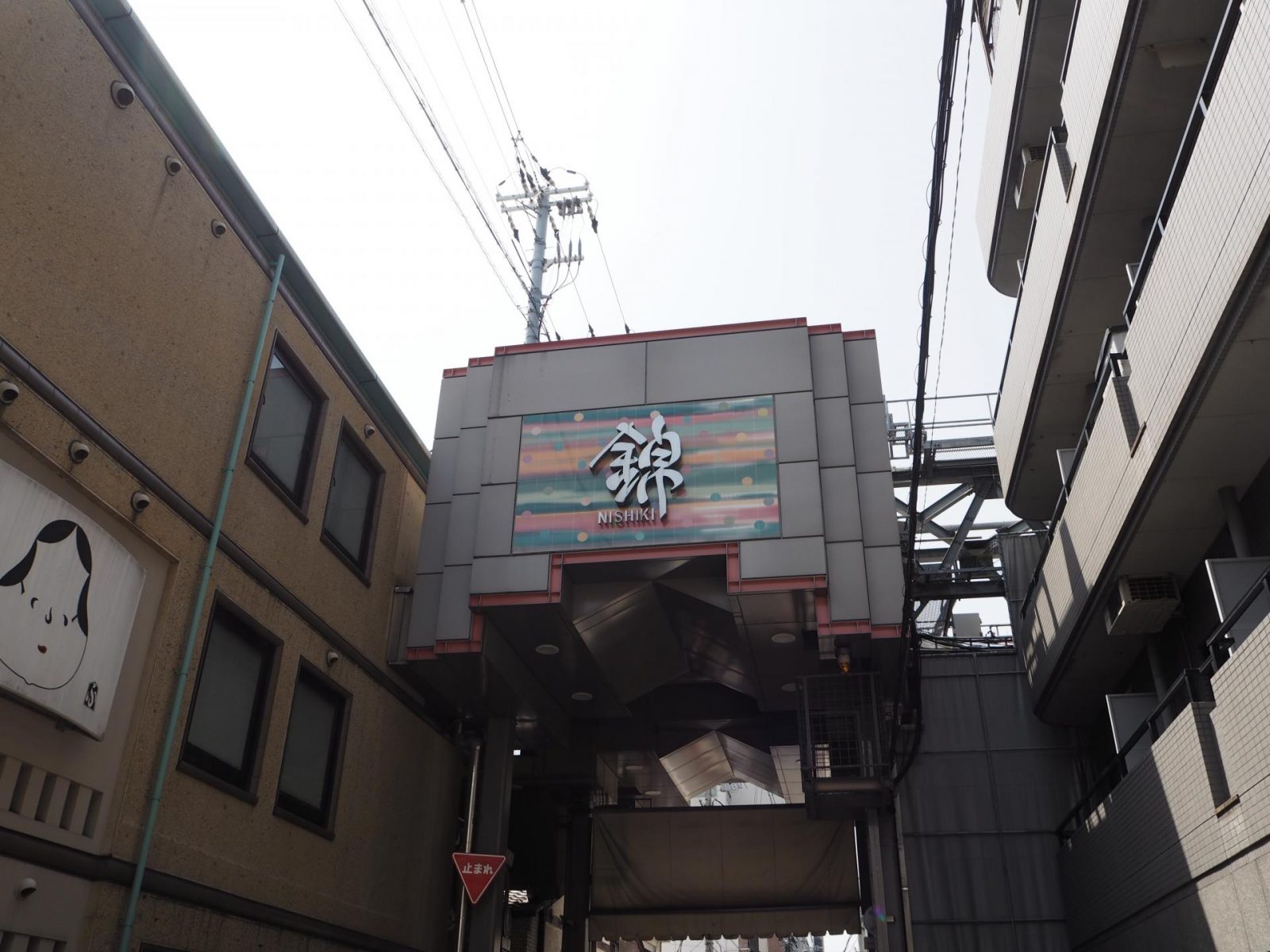 Day 5
Our land tour with Yokoso Japan. I booked the Mount Fuji 5th station, Shibazakura Festival and strawberries-picking tour as Mount Fuji was one of  the places in Mum's bucket list. Organised tour itinerary is really not a thing for me because holiday to me should not be restricted and defined by a timetable. The tour meet-up time was at 7.20am and because it was the golden week in Japan, the traffic was extremely slow. Due to that, the tour leader had to cancel the strawberry-picking session. 🙁 Not only that, our journey to Mount Fuji 5th station took 5 hours!!!! Thus, we only had less than 2 hours there; actually after minusing an hour for lunch, we only had about 50mins to explore. Honestly we did not need 50 mins because we were under-dressed. It was very cold and windy, and we could barely stand straight. Took a few shots and quickly headed inside, I sent a postcard from there to my hubby but till date still not received.  🙁  The coach drove for another 2 hours to the Shibazakura festival.  It was a field full of Shibazakuara/ moss at the base of Mount Fuji. The sight was beautiful, it would be better if it was not that cloudy that day and Mount Fuji could appear in the background.  There were many food stalls and we bought some finger food and headed back to Tokyo. Because of the bad traffic, we arrived at our hotel at 930pm.  Almost 4 hours behind schedule and without the strawberry-picking sessions. So moral of the story – avoid visiting during the public holiday in Japan.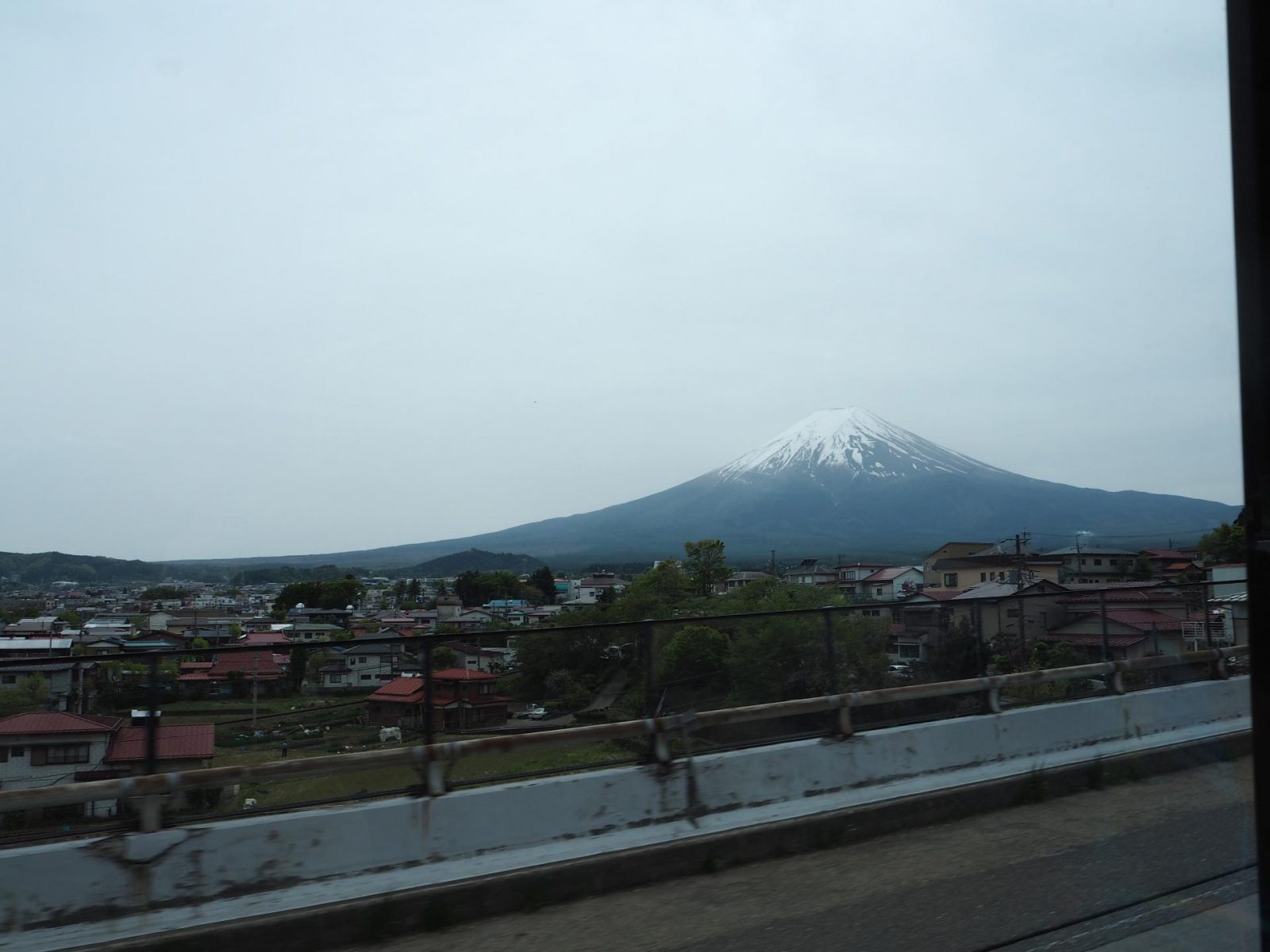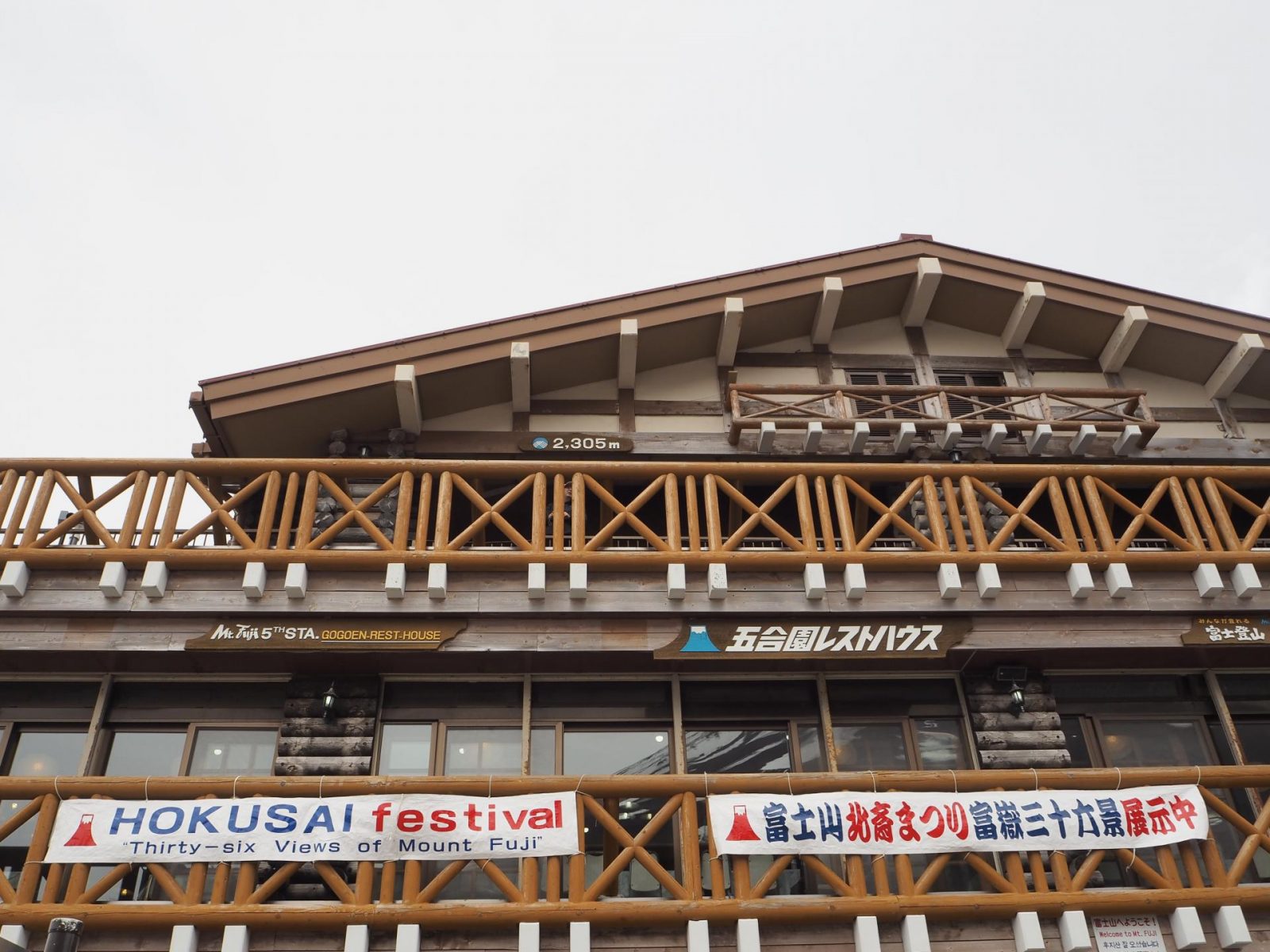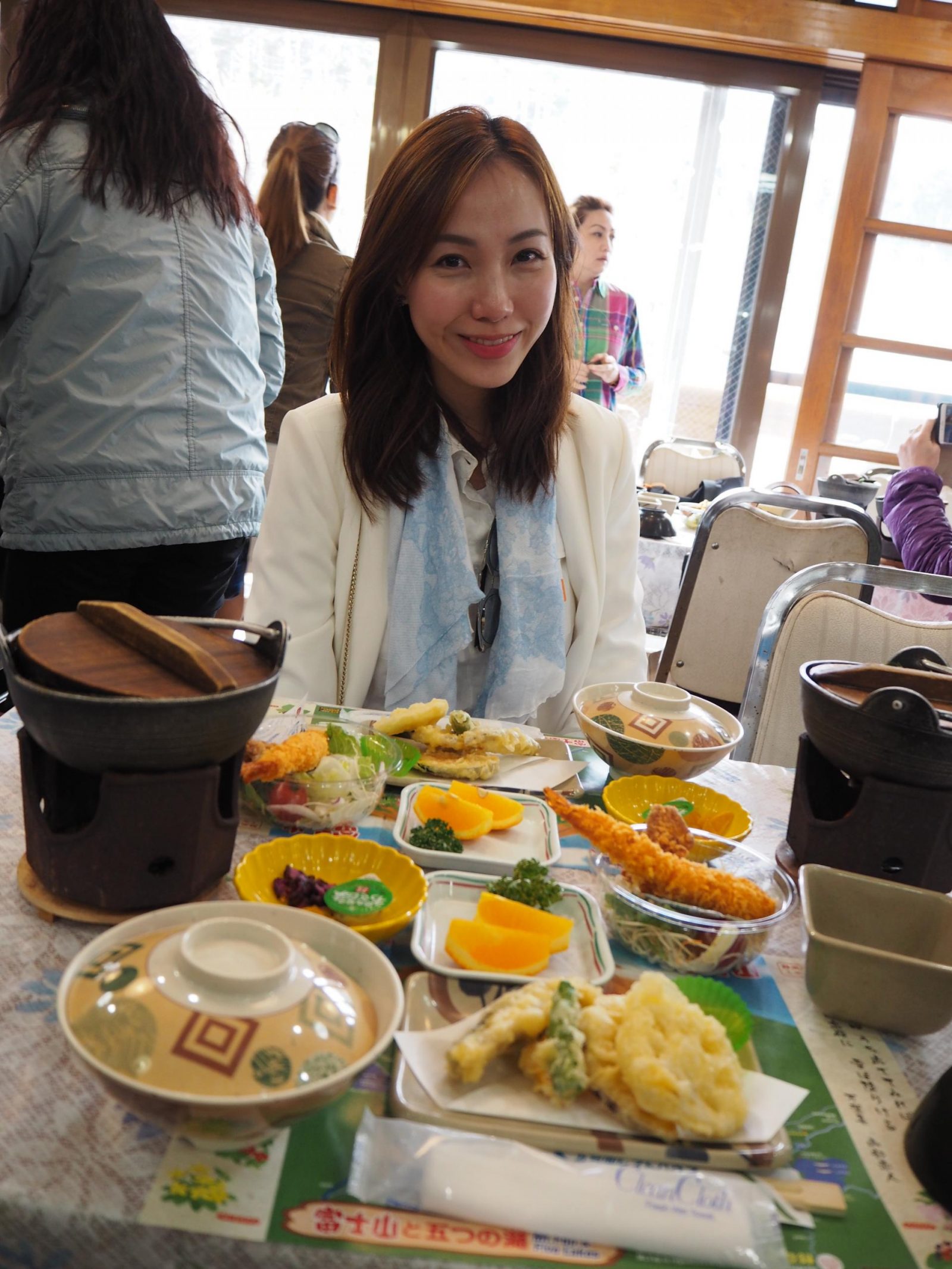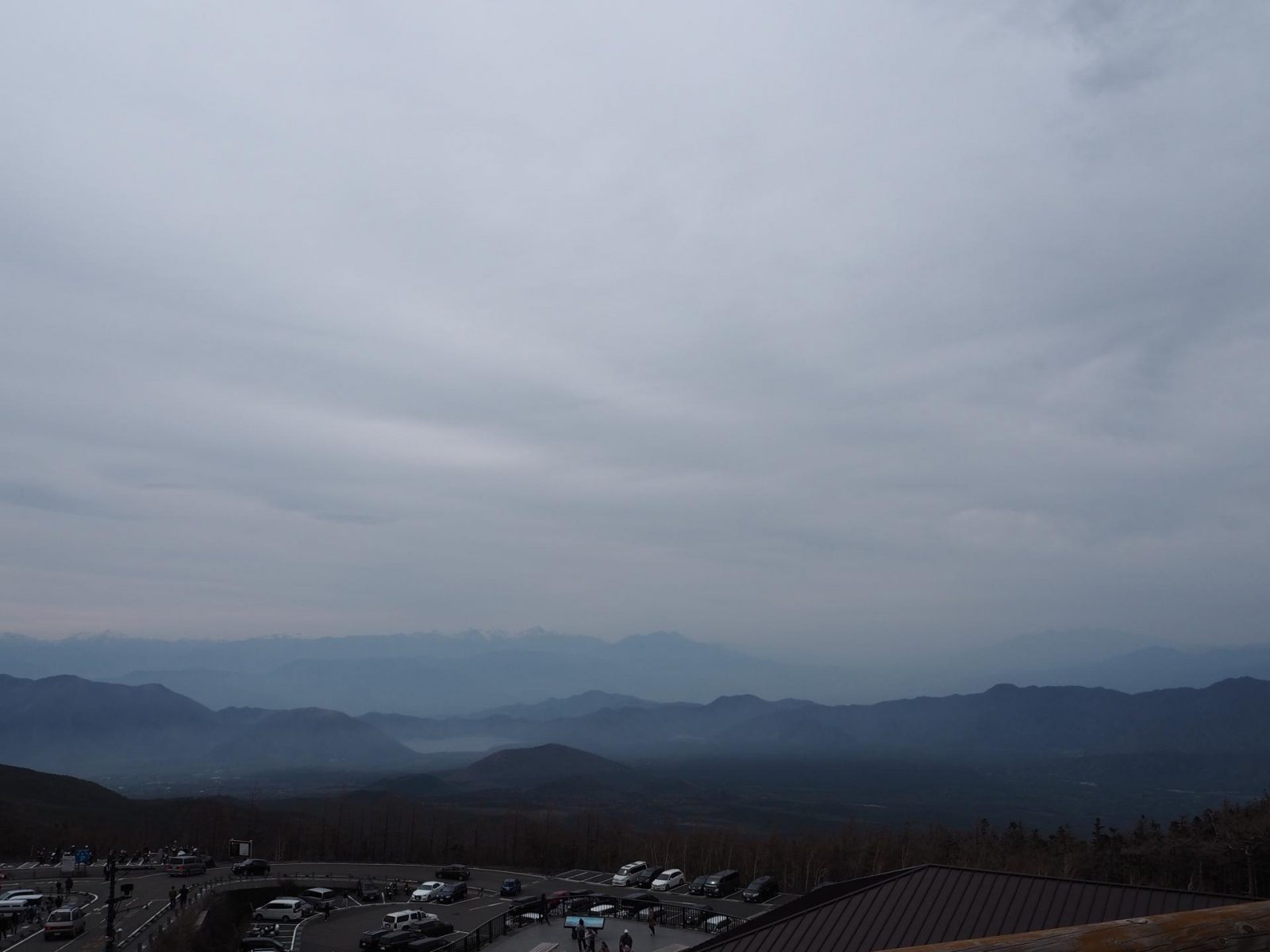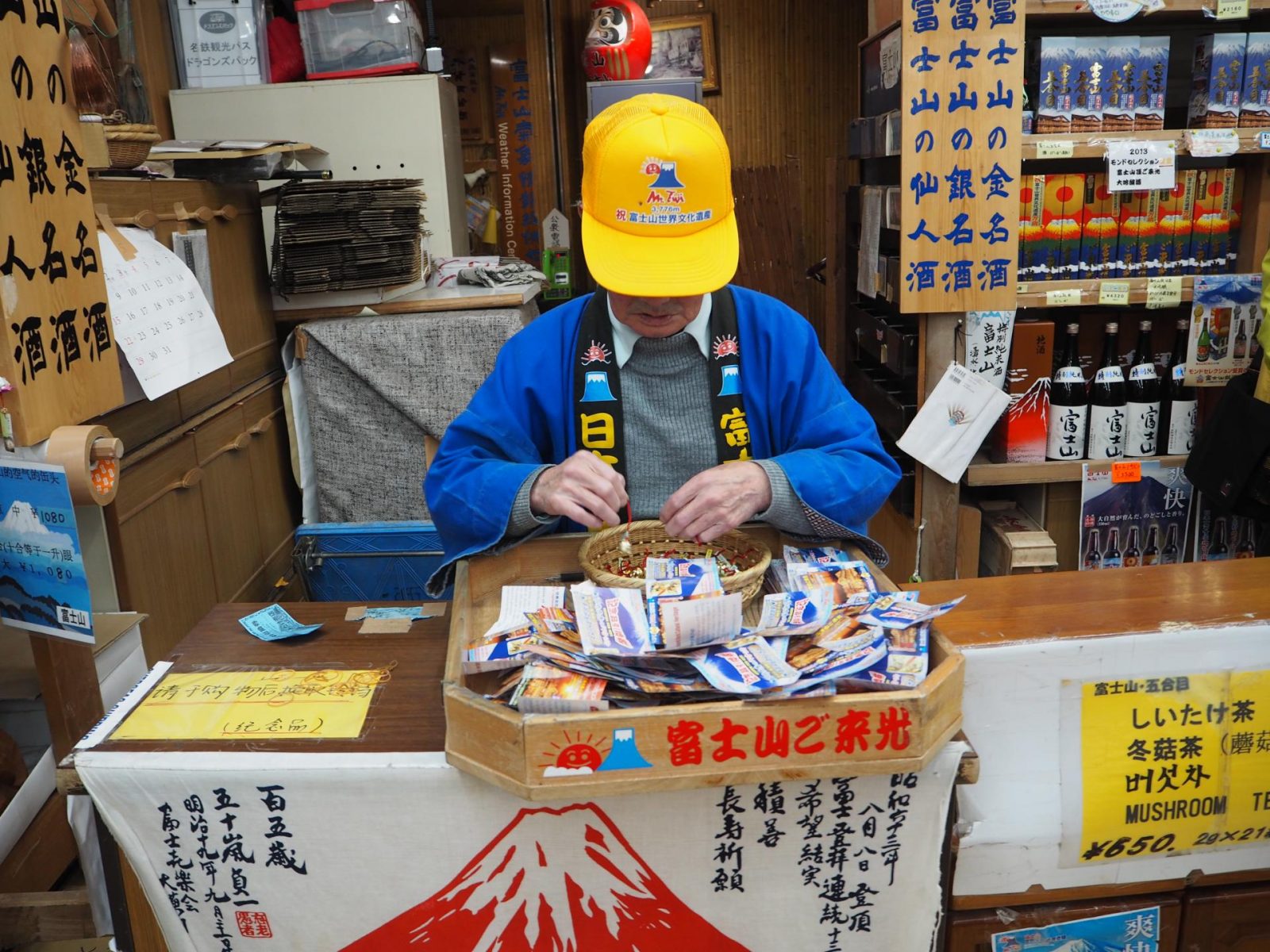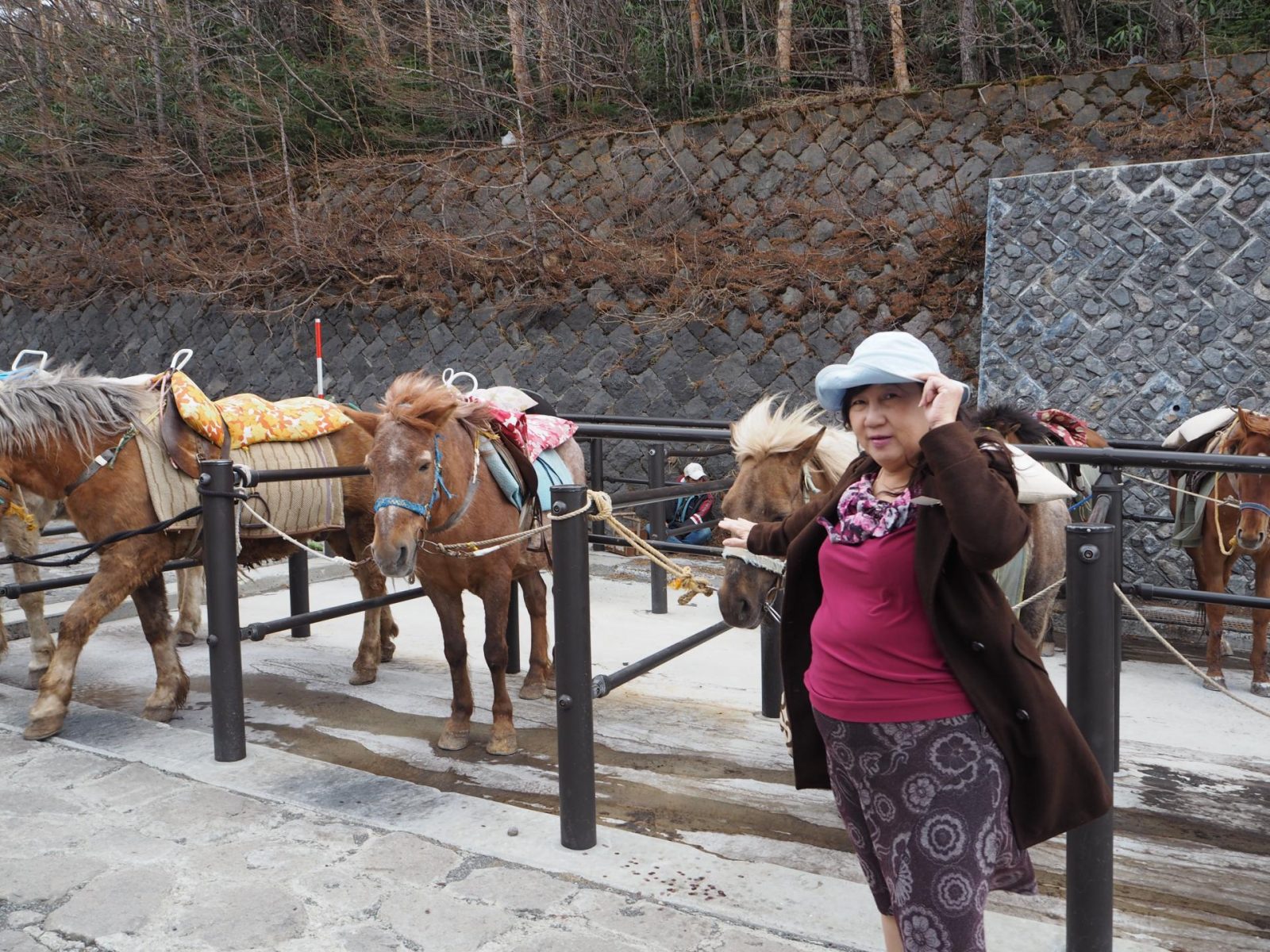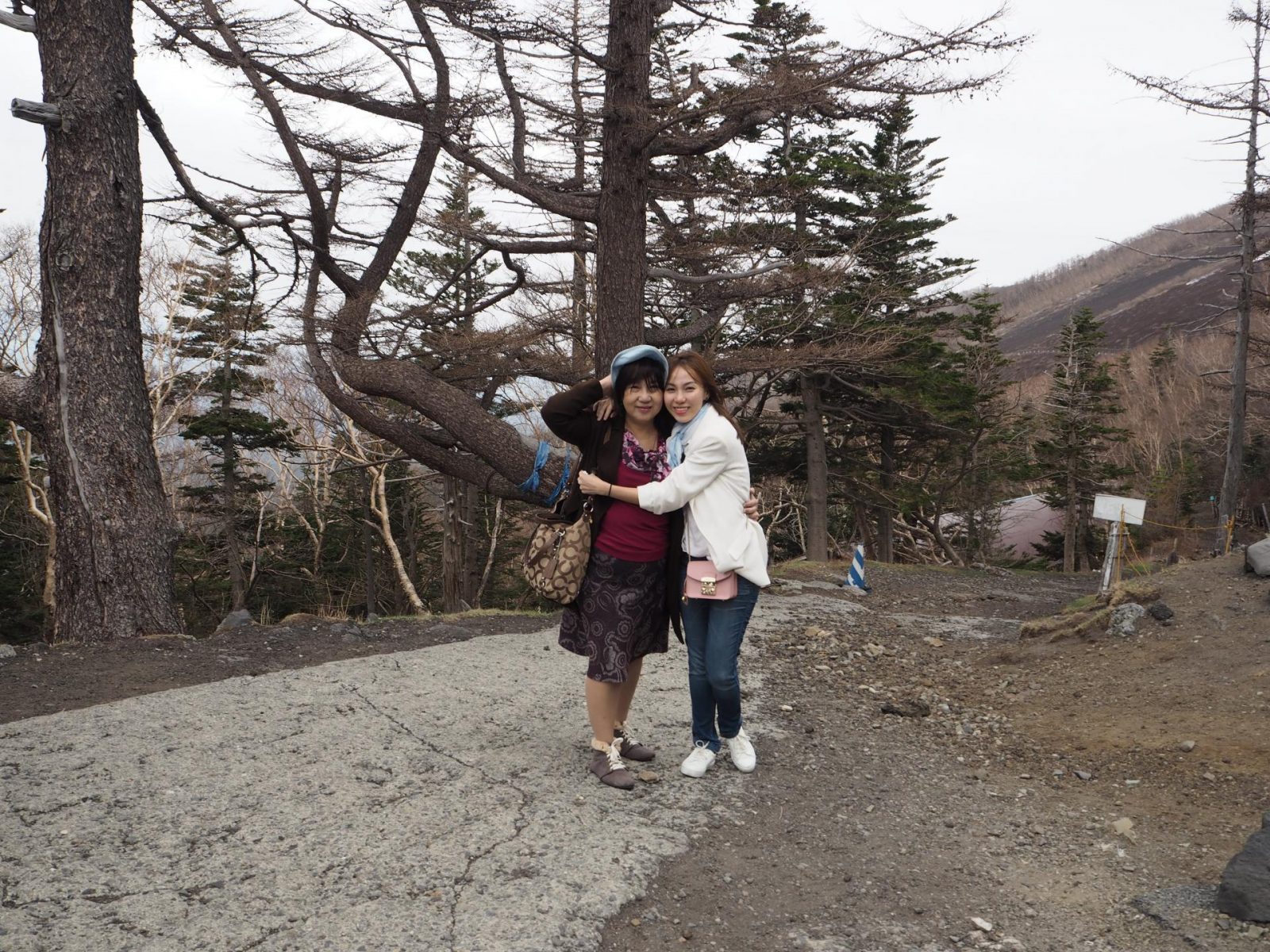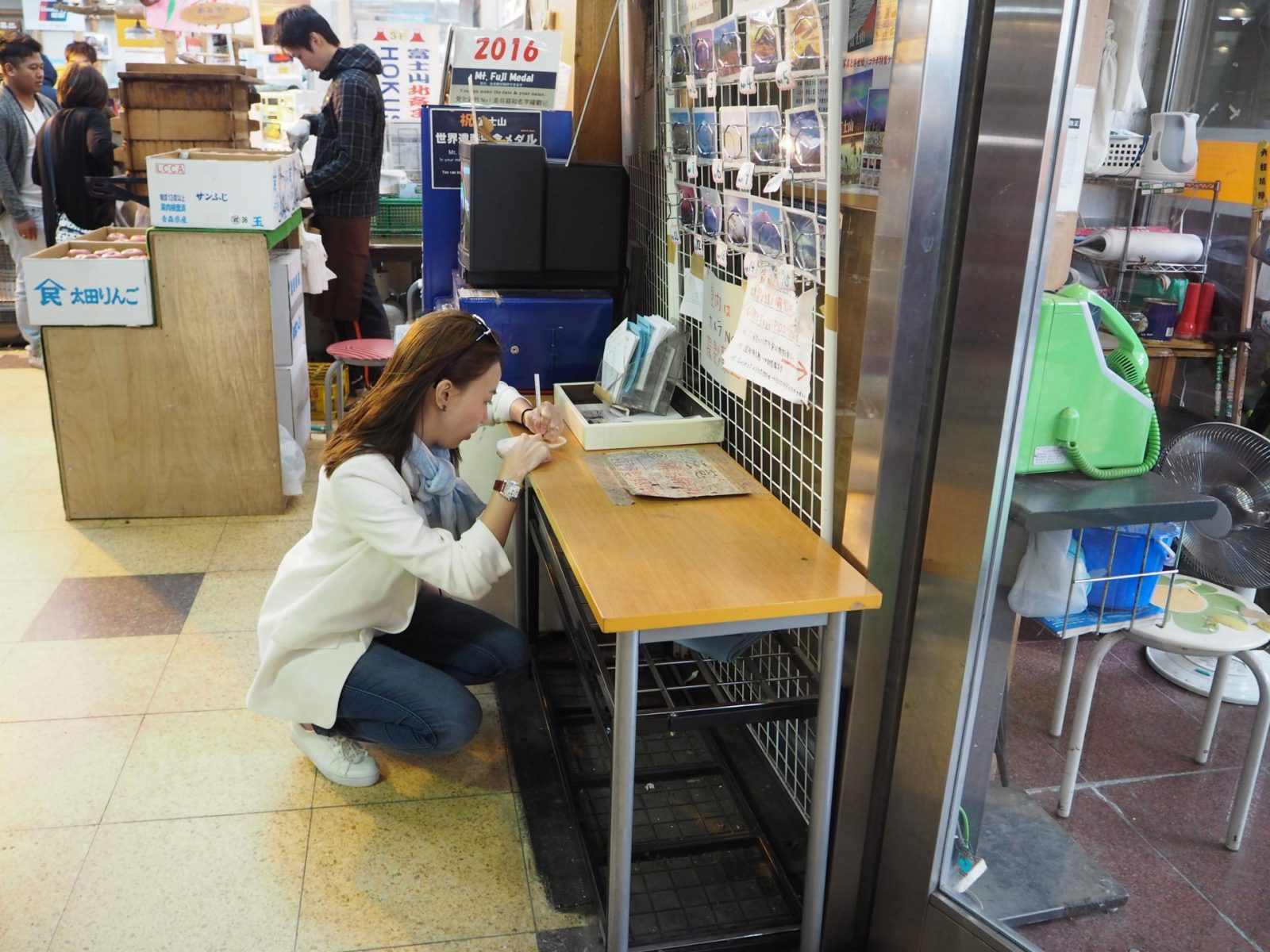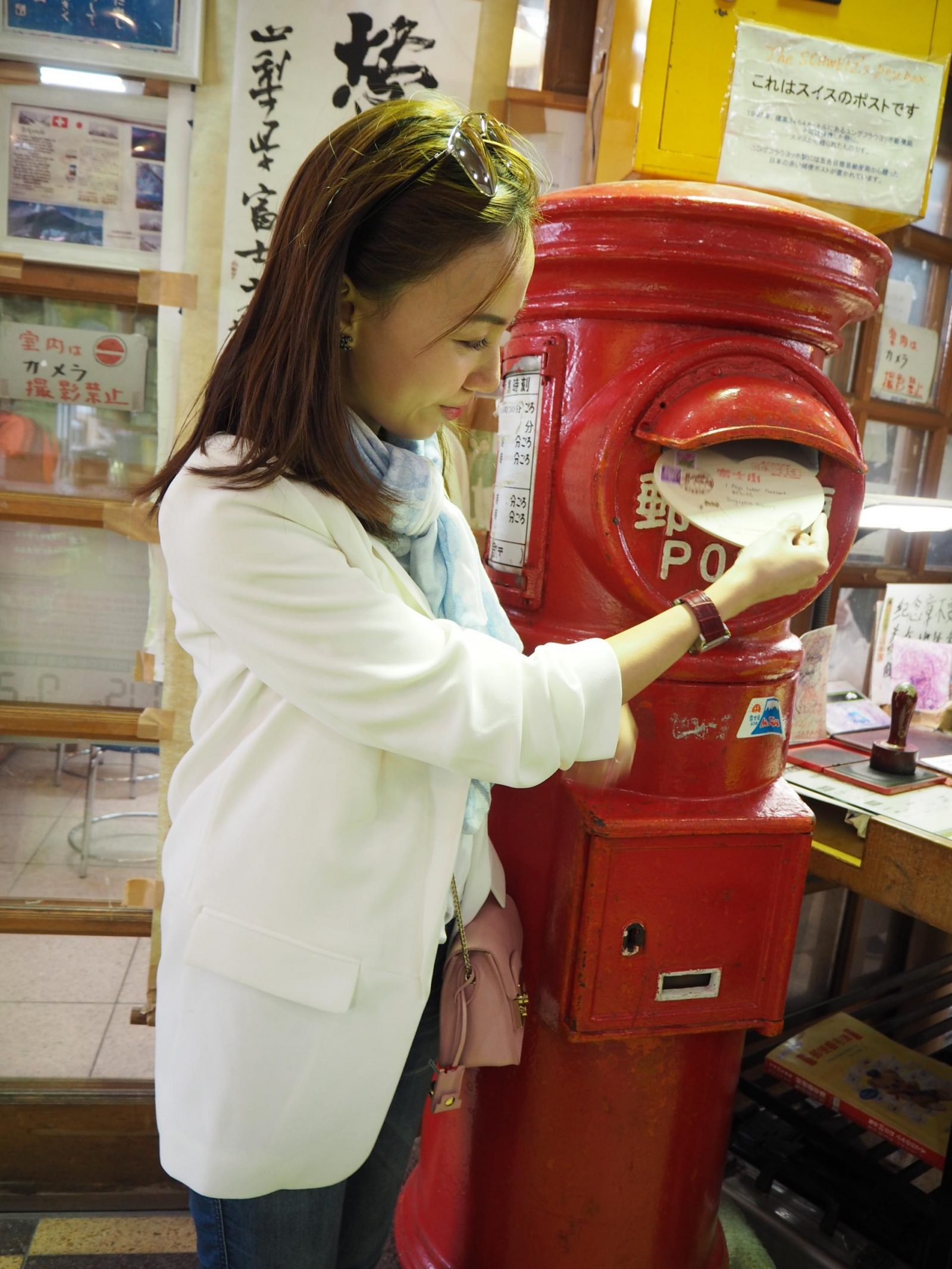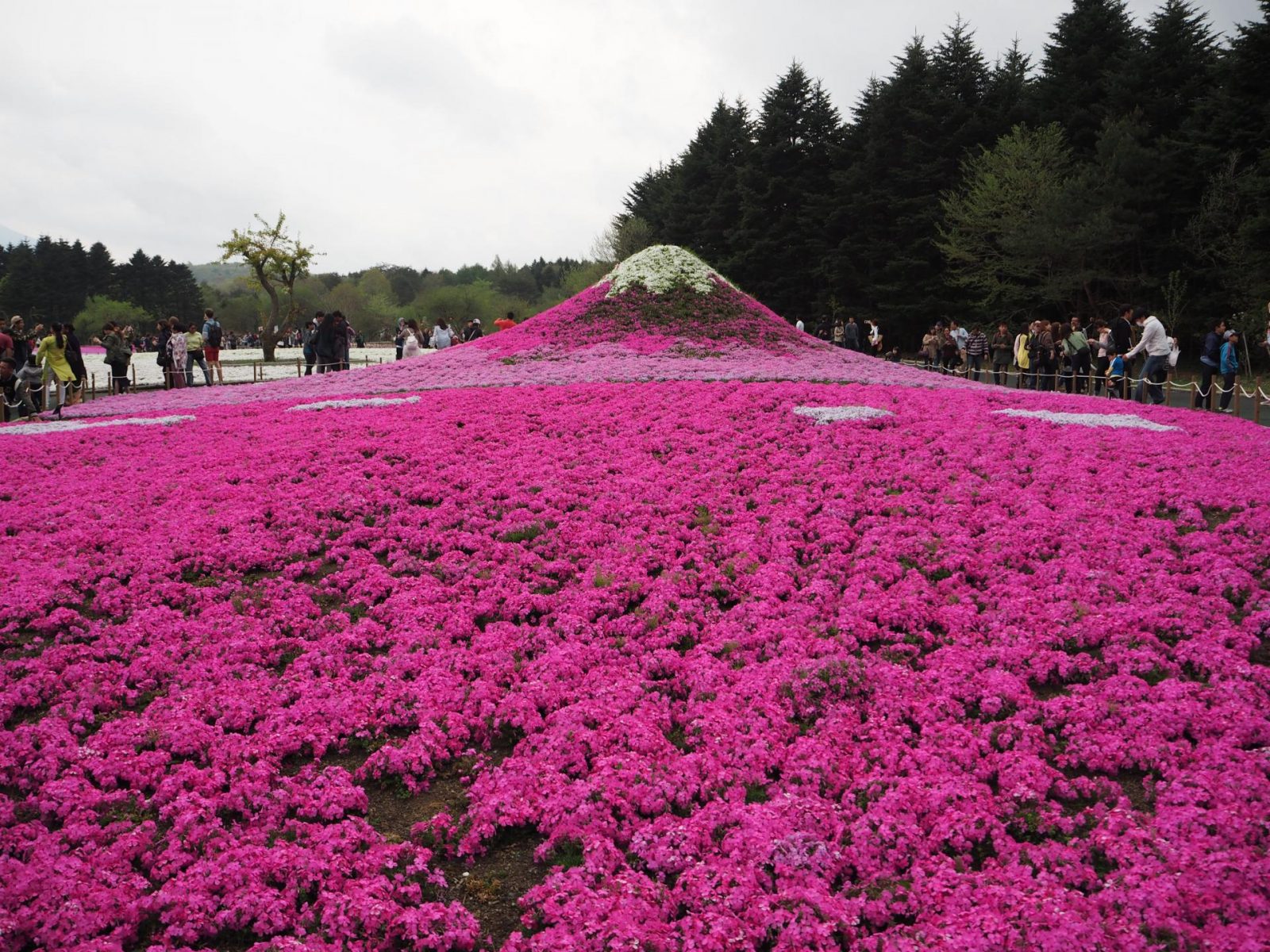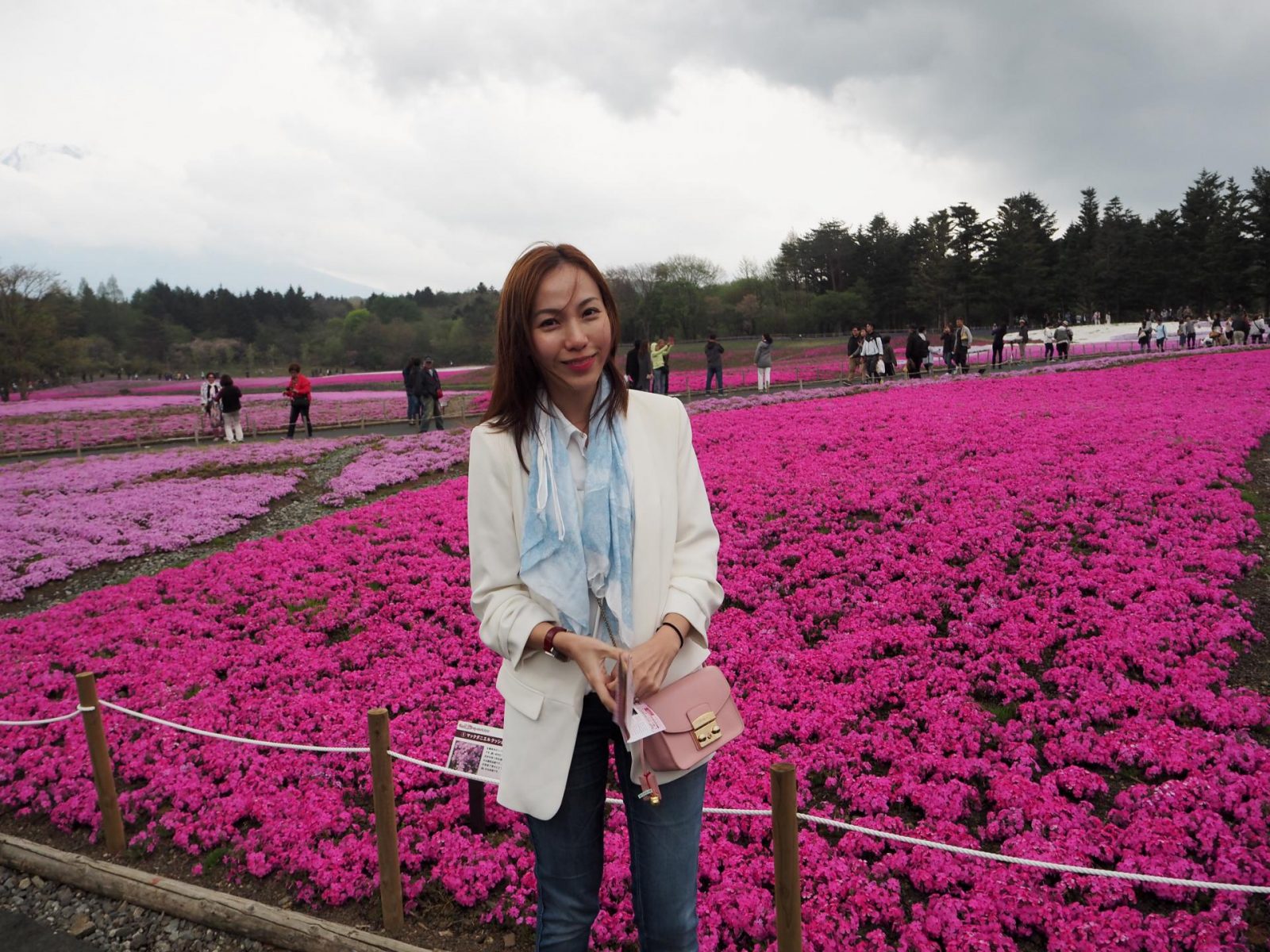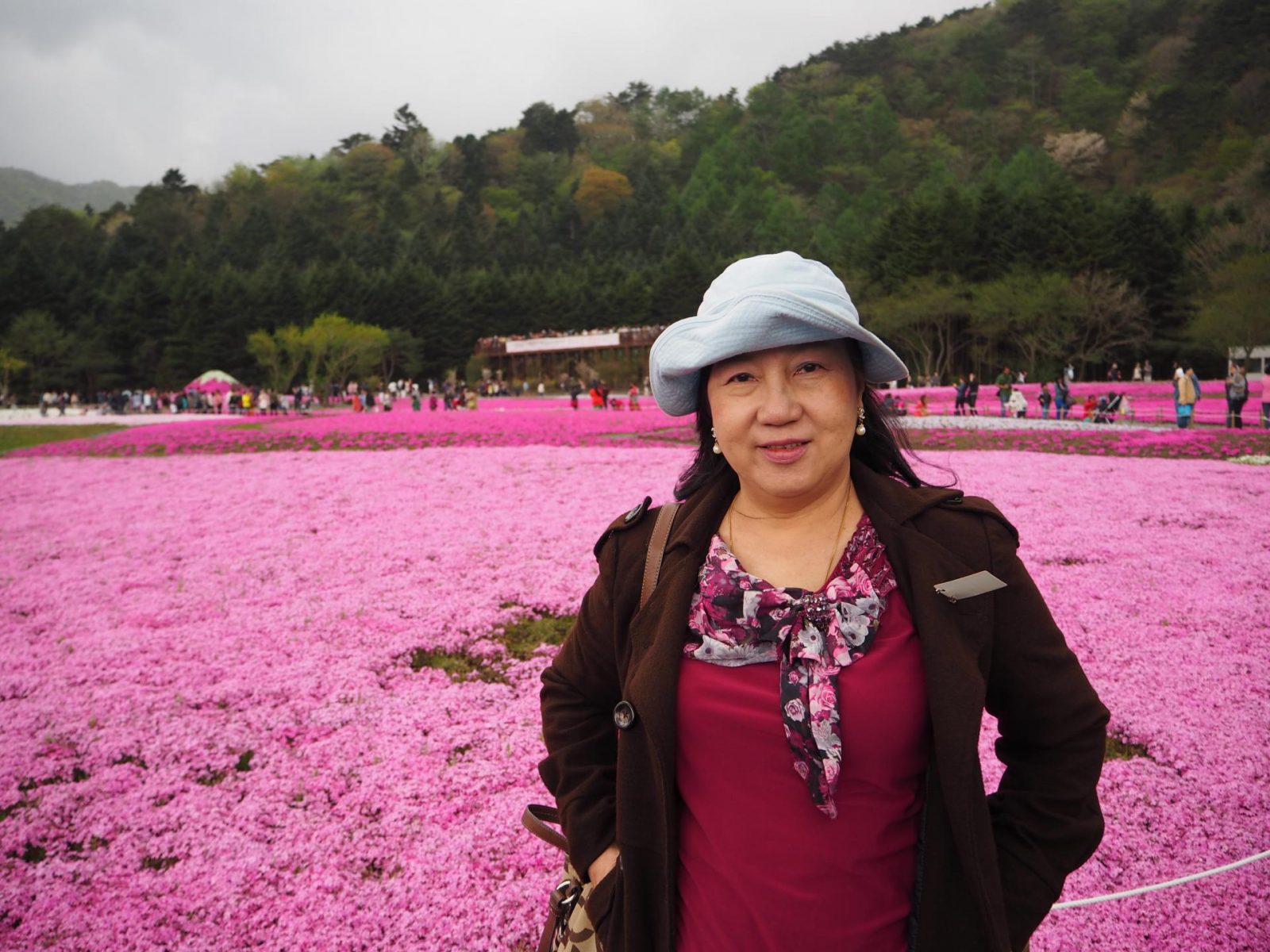 Day 6
Our last day in Japan. Actually we only had a few hours because we had to get to the airport by 4pm.  Explored Shinjunku and Kabuki, showed Mum the neon lights filled Tokyo before we took the airport limousine coach to Narita. OK.. because we arranged for it at the last minute, both of us had to take a different scheduled coach to the airport. I was so worried for Mum as I was assigned to go first because I had to return the WiFi device and to get tax refund for the goods we had purchased.  This taught me a lesson, next time I shold have reserved the seats early.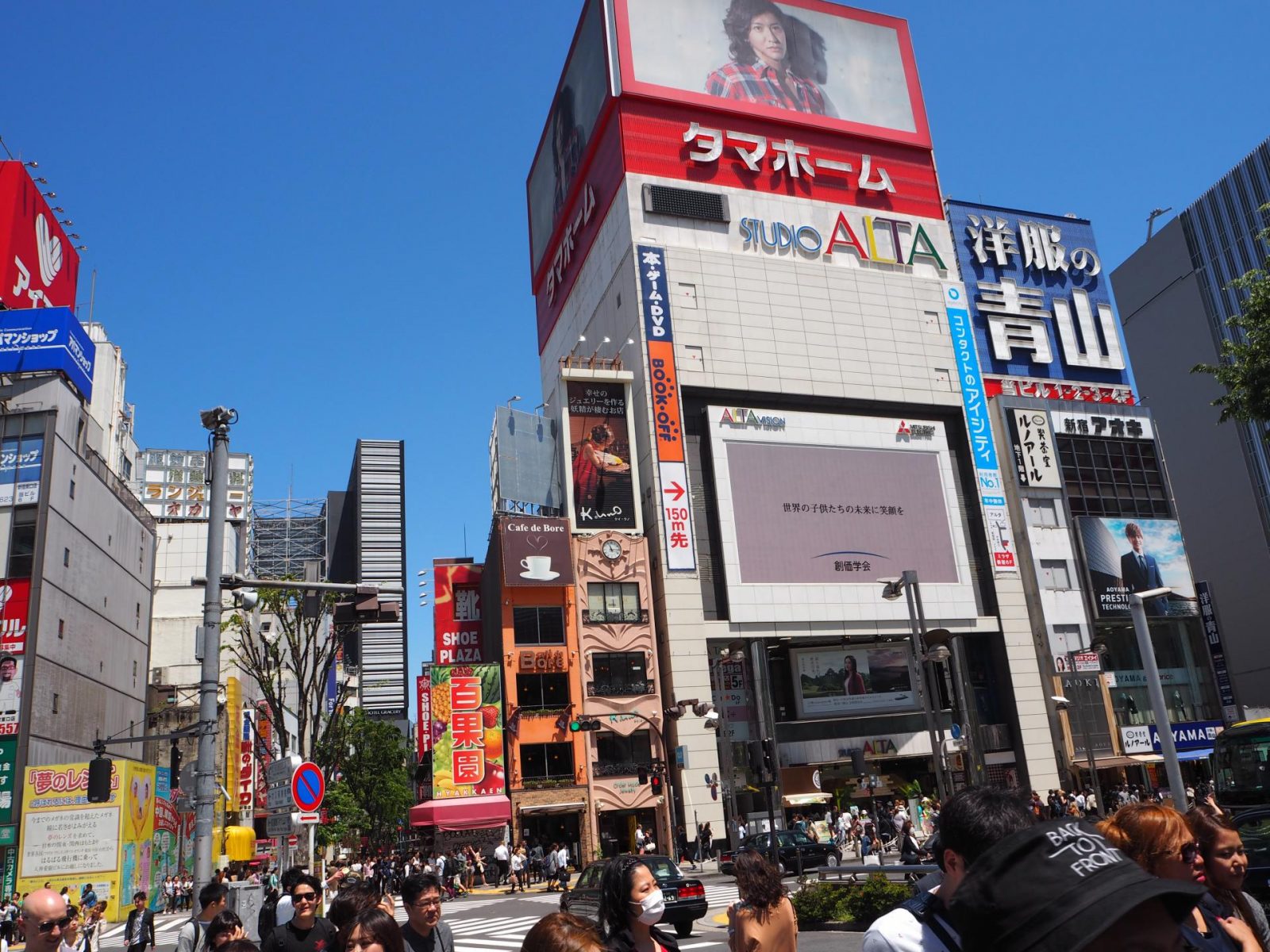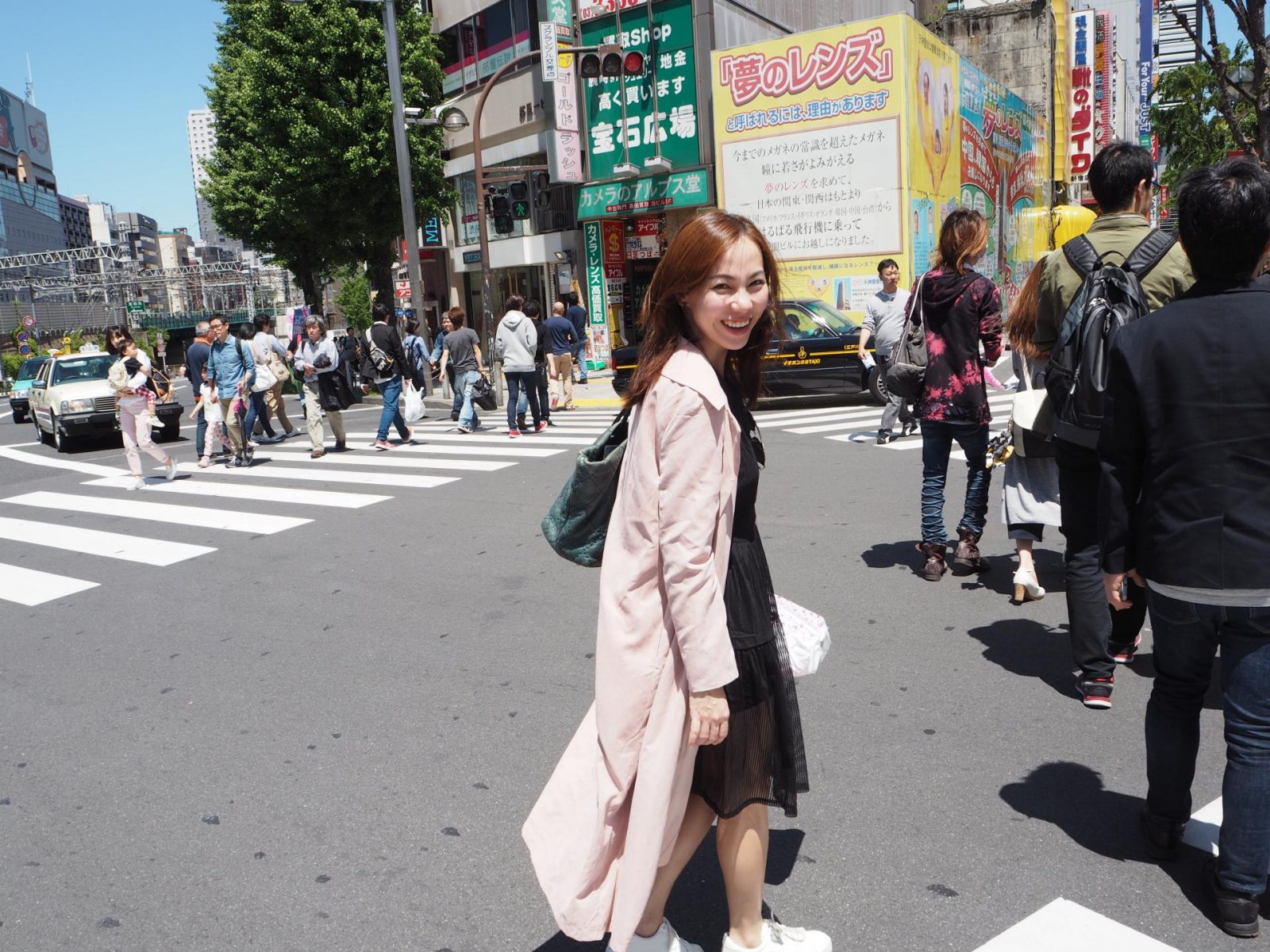 As I am writing this post, I feel really happy that I brought Mum on this trip. I feel so good to spend the 6 days with her. I am making a promise here so that all of you will be my witness. I will bring Mum for one holiday every year as long as she wants to.
P.S.  Mum, I hope when you are reading this post, that you too felt happy about the trip and all the love and effort from me because this was probably the most fulfilling trip for me this year. I promise the next trip will be one that is a fully organised tour and we will not have to walk so much. I love you, Mum.