March school holiday is approaching. No, there won't be any overseas holiday for us this year but to make sure Lauren gets to enjoy her 1 week of rest. I am going to plan fun activities for my girls. There are sooooo many activities available, too many for me to list down all. Thus I am listing down those that I think are suitable for my girls.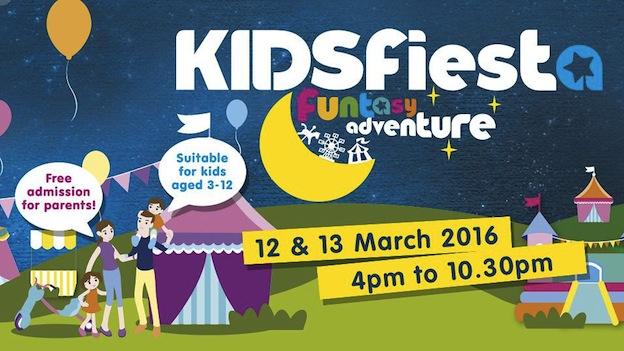 Kids Fiesta 2016: FUNTASY ADVENTURE
Hosted by SmartsParents, they are back bigger and better. This year, get to experience Singapore's 1st outdoor ice skating rink. Children will get to meet their favourite cartoon characters and to enjoy over 30 amazing activities like Electric Scooter Park and Mega Bouncy Castle.
Entry to event ground is free but children will need a fun pass to join the activities.
Venue: The Float Marina Bay
Date/Time: 12 and 13 March 4pm to 10.30pm
Cost: $25/pass
Get your fun passes here !
Gardens By The Bay- Children Festival
Head down to Gardens By The Bay this March holiday with your kids and be entertained by thrilling performances and fascinating stories, explore your creativity by taking part in hands-on craft and be a part of other exciting activities, suitable for children of all ages.
Sat, 12 Mar 2016 – Sun, 20 Mar 2016
2 pm – 6.30 pm (Weekdays), 10 am – 7.45 pm (Weekends)
Various Locations
All programmes are free, except for the battery-operated train ride and food. Admission charges to the Flower Dome apply.
Visit their website here for more details.

ACT3 Drama Academy March Holiday Workshop
Through the use of Drama, the workshops for 2 to 7 year-olds will connect your children to the Arts and initiate in them a love and passion for it. Also, together with Oliver's amazing and effortless stories as inspiration, the Drama Teachers will encourage your children to participate actively thereby empowering them and drawing forth an ability to think and create.
And for the older ones, they have a specially crafted workshop for the 8 to 10s that will surely bring out the winner in your children as they discover ways to speak effectively and logically to convince and persuade others!
Venue: ACT3 Drama Academy, 126 Cairnhill Road, Singapore 229707
Time/Date: From 14 March to 1st April. Various Timing
Cost: From $60
Register your child here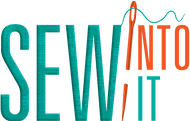 Sew Into It – Kids Sewing Workshop
Regardless of age, all of us have a favourite animal, be it a dog, cat or elephant. That is why Sew Into It has come up with a range of delightful animal softie workshops to cater to your specific preference and age (minimum 6 years old). Perfect for any setting and even on the go, these softies are sure to add fun and colour to your day with their quirky designs. What is more, you get to customize your fabric choices from their assortment of lovely fabric designs! They believe it is important that your softie bears your personal touch since it is likely to be your trusted companion for life.
You'll learn to operate a sewing machine, sew curved lines according to seam allowance, attach appliques (for softies with appliques only), stuff your softies as well as close a gap.
This a Level 1 workshop: no prior sewing experience needed.
Date: 16 March (Wed, 2pm)
Venue: Sew Into It (333 Kreta Ayer Road, #02-32)
Cost: $60-70/pax (Inclusive of all workshop materials)
Sign up for the workshop here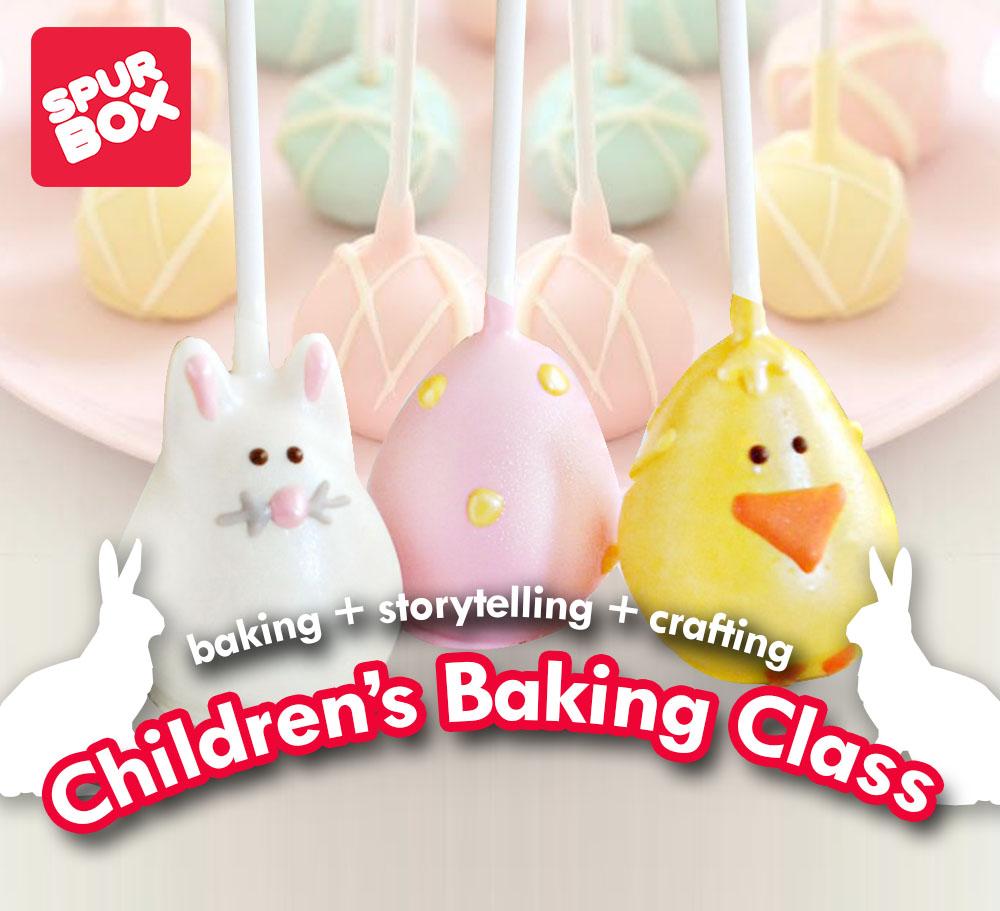 SPUR BOX  Festive Baking Class: Pop Pop! Cake Pops!
This 90 minutes culinary and crafting class is suitable for children 2 to 7.
All materials provided. Children below 5 should be accompanied by an adult. Accompanying adult do not need a ticket.
Venue: PoMo Shopping Mall #05-01, The little Arts Academy
Date available: 28th Feb, 6th Mar, 13th Mar, 14th Mar, 20th Mar
Time slots:
10:00am – 11:30am
1:00pm – 2:30pm
3:00pm – 4:30pm
Class includes:
1- Storytelling – Rabbits and Eggs
2- Cakepop moulding and decoration.
3- Craft – Easter bunny
Sign up here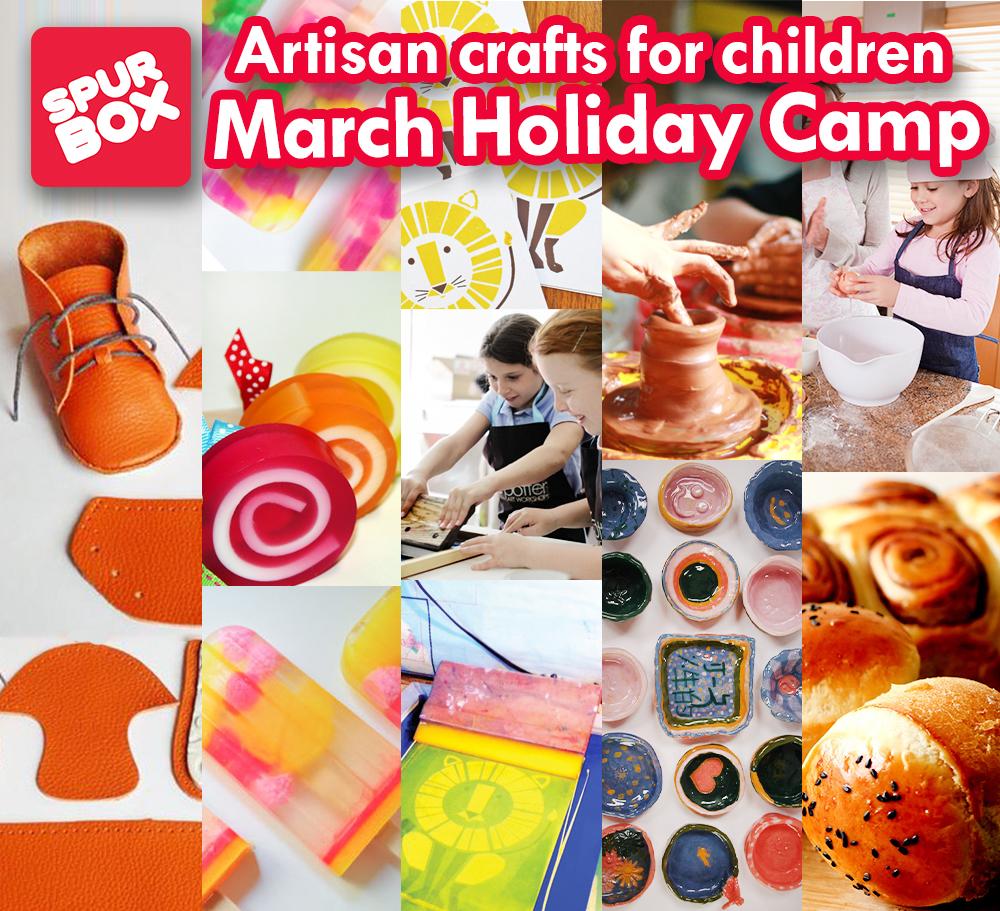 SPUR BOX Little Artisans March Holiday Programme
1 Shoe Making [14 March] – Learning of sewing techniques and how to create a pair of leather shoes!
2 Soap Making [15 March] – Learn about colours and scent. Learn about the different essential oils. Get to make fancy soap in popsicle shapes or rolled swissroll shape.
3 Pottery [16 March 18 March] – Learn about the different clay and materials. Learn how to operate a turntable and get a hands on experience on how to handle the clay to form pottery items such as plates, bowls and vase.
4 Silk Screen Printing [17 March] -Children get to learn about shapes and how to use shapes to form a print. They will learn how to silk screen print on a canvas tot bag.
5 Bread Baking [18 March] – Learn how to knead a bread and bake a delicious raisin bread to bring home.
---
This programme is suitable for age 4 – 9. Children below 4 and above 9 are welcome to join too! Children below age 5 should be accompanied by a family adult or you can opt for their craft elf services. No charges for accompanying adults.
Spur Box provides dedicated assistance service to your child should he/she requires it. A designated craft elf will be assigned to your child to ensure that he/she receives the help they need.
There will be a 20-30 minutes refreshment break in each class. Light refreshments will be provided.
This programme is held on 14,15,16,17,18 March. There are two time slots available : 9:30am – 12:30pm or 1:30pm – 4:30pm for all the 5 days.
Only bread baking is at PoMo Shopping Center #05-01, the rest of the programme will be held at Orchard Central, #10-01
Each class is $90. All 5 days @ only $400.
Sign up here at Spur Box website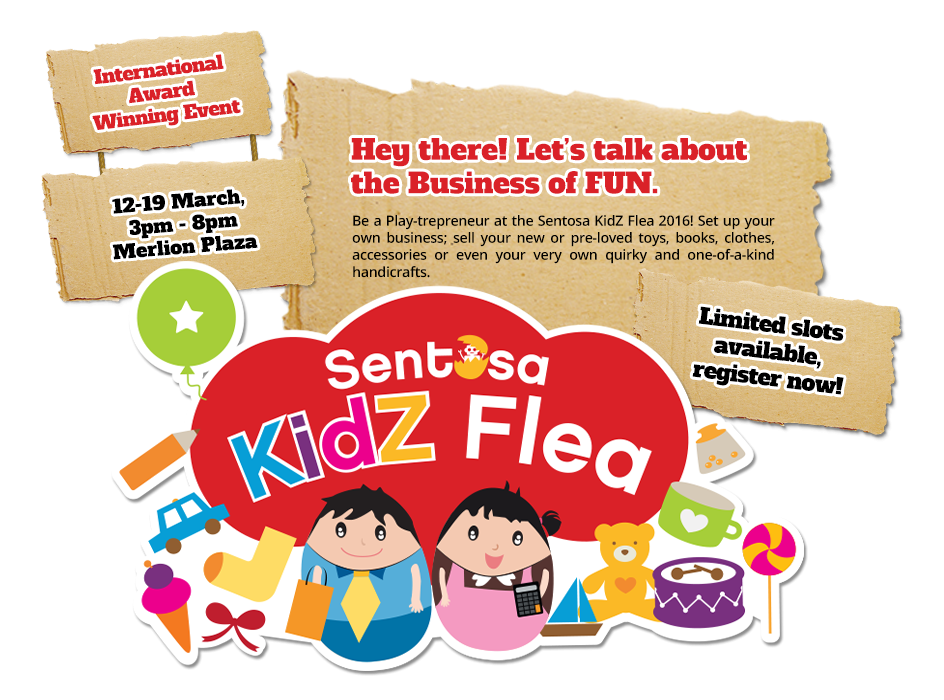 Sentosa Kidz Flea
Let your kids be a day of an entrepreneurs or  what they call PLAY-trepreneurs. Set up a stall and sell their preloved toys, books, clothes, accessories or even their handmade handicrafts.
Venue: Merlion Plaza
Date: 12-19 March 3-8pm
Register and find out more information here
Even if you are not going to set up a stall, it will be good to bring your kids down to Merlion Plaza this  March holiday to support other PLAY-trepreneurs.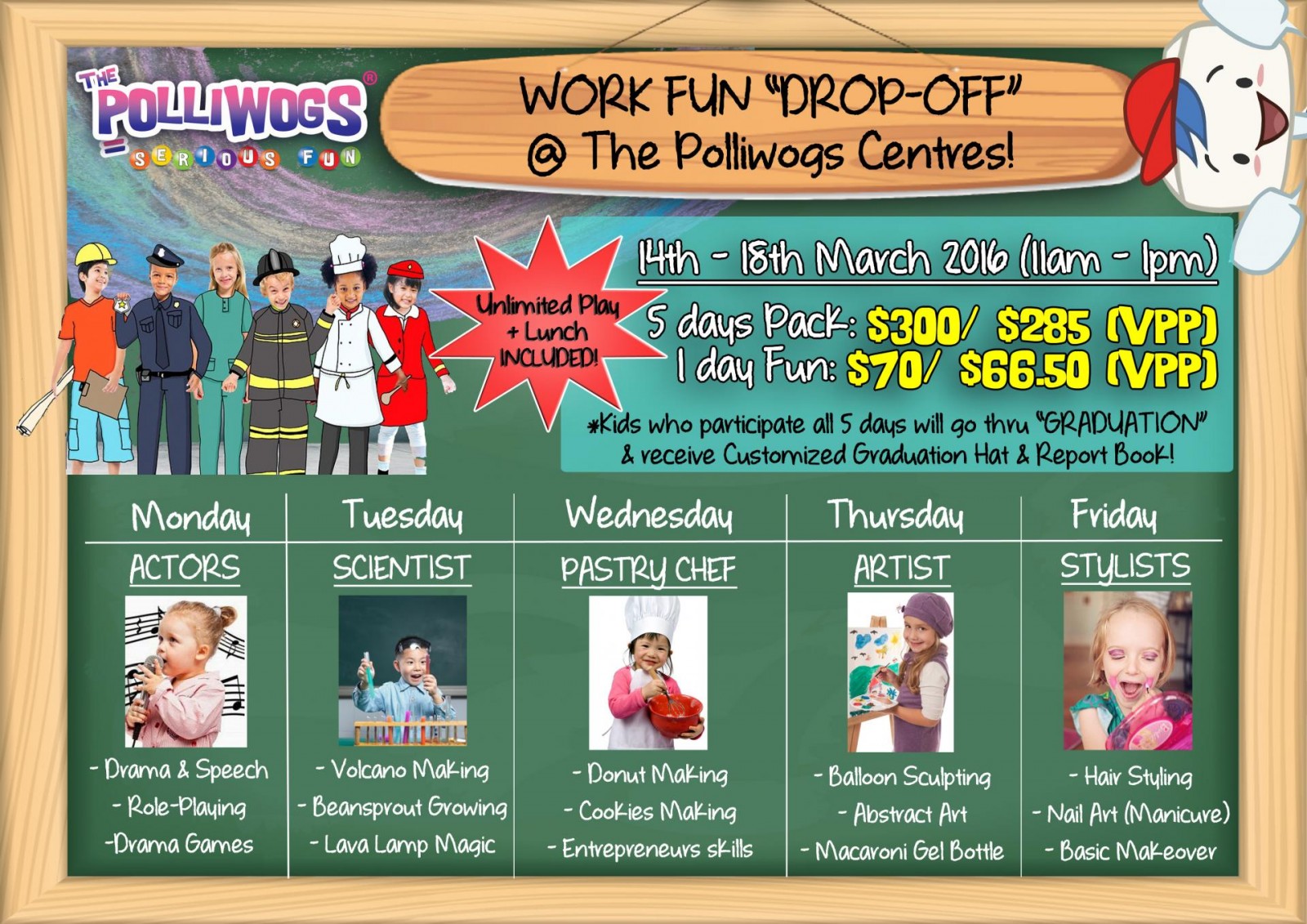 Polliwogs March Holiday Work Fun "Drop Off"
Calling all parents looking for some educational fun for your kids during the March Holidays!
Join The Polliwogs for a whole new experience where children are one step closer to achieving and discover their dream occupations! Bring home lots of HANDS-ON activity products and meaningful insights.
Double the FUN when kids also get to enjoy UNLIMITED PLAYTIME + BENTO LUNCH when they sign up for the workshop! *Ease your worries and leave your kids to them! Drop-off services available
Venue: Polliwogs Suntec/ Vivo City
Date: 14- 18 Mar 11am – 1pm
More detail of sign up here
Pororo & Friends Adventure to Asia 3 day Camp
Join Pororo and friends at the 11,000 sq ft Pororo Park Singapore this March Holiday for a 3 day camp. Learn about Korean and local culture and participate in lots of games and win attractive prizes. Lunch included.
Venue: Pororo Park 6 Raffles Boulevard, Marina Square #02-29 
Date: 14 – 16 Mar 9am -1pm
$280 for 3 days or $120 per day
Details on Pororo Park Website

SmartKids Asia Kids Fair
3 full days of activities, stage performances, trial classes and more across 5 SMART zones created to excite and entertain you and your family.
Lots of Trial classes and kids get to meet their favourite cartoon characters.
Venue: Singapore Expo Hall 6
Date: 18 – 20 March 11am -9pm
Register on their facebook page here
---
Some theatre productions for the kids: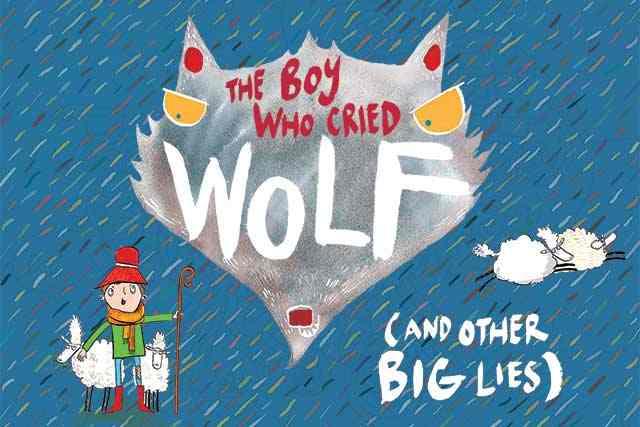 The Boy Who Cried Wolf
The Boy Who Cried Wolf is played out in an interactive and engaging style, with fun, music, puppetry and physical theatre.
Fast-paced and full of laughter and adventure, there's something here for young and old alike – with clear messages about the perils of lying, and maybe some unexpected twists and turns that will keep you on the edge of your seat.
Fun wordplay and subtext will appeal to and tickle the adults, plus clear storytelling for the younger ones, and broad comedy and interaction for the very small ones.
Venue: Jubilee Hall, Raffles Hotel
Date:
Mon, 15 Feb – Sat, 19 Mar 2016
Mon – Fri: 10am
Sat: 10.30am & 2.30pm
Cost: Standard Ticket $35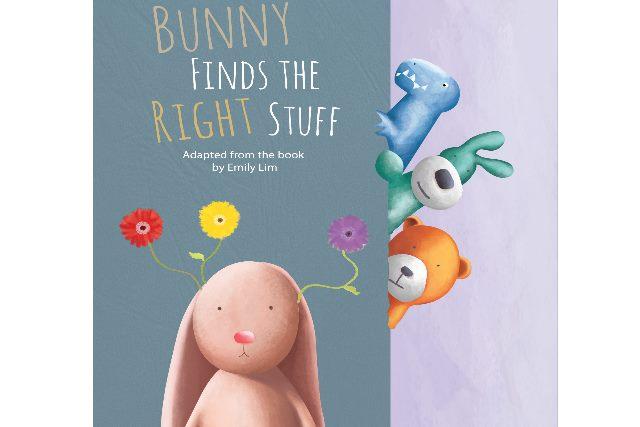 PLAYtime!
Bunny Finds the Right Stuff
directed by Daniel Jenkins
Let the little ones enjoy the magic of theatre through music, movement and interactive fun in this charming story of friendship. Bunny Finds the Right Stuff is an immersive theatre production especially designed for children aged two to four.
This production is adapted from the children's book Bunny Finds The Right Stuff written by award-winning author Emily Lim and illustrated by Neal Sharp.
Venue: Esplanade Theatre Studio
Date: Fri, 26 Feb – Sun, 13 Mar 2016
Mon, Tue, Thu & Fri: 9.30am & 11am
Sat & Sun: 11am & 4pm
Elephant & Piggie's "We Are In A Play!"
Elephant & Piggie's "We Are in a Play!" is an extraordinary piece of theatre for children, young people and families. It is stimulating, creative, and has social and literary breadth.Elephant & Piggie's "We Are in a Play!" incorporates strong visuals, creative puppetry, unique staging techniques, and rewarding interactivity.
Elephant & Piggie's "We Are in a Play!" is a play with strong educational value. It:
Deals with friendship, self-discovery, respect, team work and trying your best.
Encourages creativity in thought and action, as well as maintaining a positive outlook.
Stimulates imaginative play and thinking outside of the box.
Nurtures in your child the joy of books and reading by linking the page to the stage.
Introduces children to the musical as a theatrical genre, and vaudeville as a theatrical style.
Venue: Ulu Pandan CC Theatrette
Date:Sat, 27 Feb – Sun, 13 Mar 2016 11am/ 1pm
Get your tickets here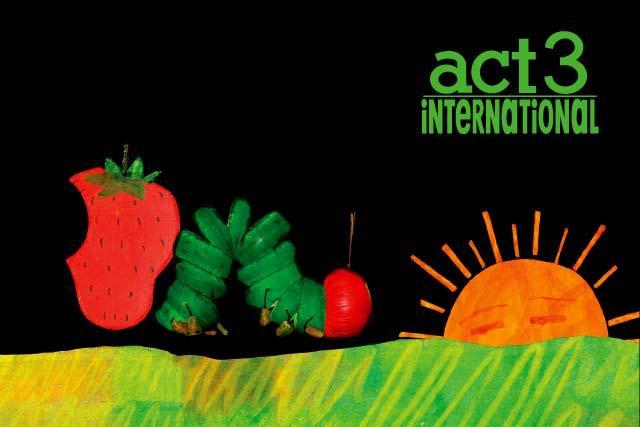 The Very Hungry Caterpillar & Other Eric Carle Favourites
Meet The Very Hungry Caterpillar as he chomps away on his journey to metamorphosis! Starting out as a baby caterpillar eating anything and everything along the way, he changes into a beautiful butterfly at the end.
Venue: Drama Centre Theatre
Date: Sat, 5 – Sun, 13 Mar 2016
Mon – Wed, Fri: 10am
Sat: 10.30am & 4pm
Sun: 10.30am, 2pm, 4pm
---
Woah… That's a lot of activities for a 9 days break.  Do follow us to see our updates on the activities that we have done. Ciao…