For those who has been following my instagram, you would know that Lauren and I just completed our 1st run. My Little Pony Run at Palawan Beach, Sentosa.  There were 3 catergories, 6km Besties Run, 4km Fun Run and 1km Pony Run. Of course I signed up for the 1km. Lazy Mummy has not been exercising for a loooonnng time. 1km was the best I could do.
Lauren was counting down the moment I told her we were going for a Little Pony event. She did not understand what a 1km run would mean and all she was looking forward was an outing filled with Little Ponies.
Honestly a few days prior to the event, I kind of regretted signing up for the run. Firstly because I was too eager to sign up then and forgotten to look at the time. I got to be there at 8am on a Sunday. Weep… Sundays are my only days to sleep late. Secondly, many years ago I signed up for a 200m run and asked my hubby (then BF) to go and watched. That was a HUGE mistake because I came in last and till date I am still being mocked over this incident. I got a feel I might be last again and the history will repeat itself.  But then even with all these deterents, I went ahead because Lauren was so looking forward.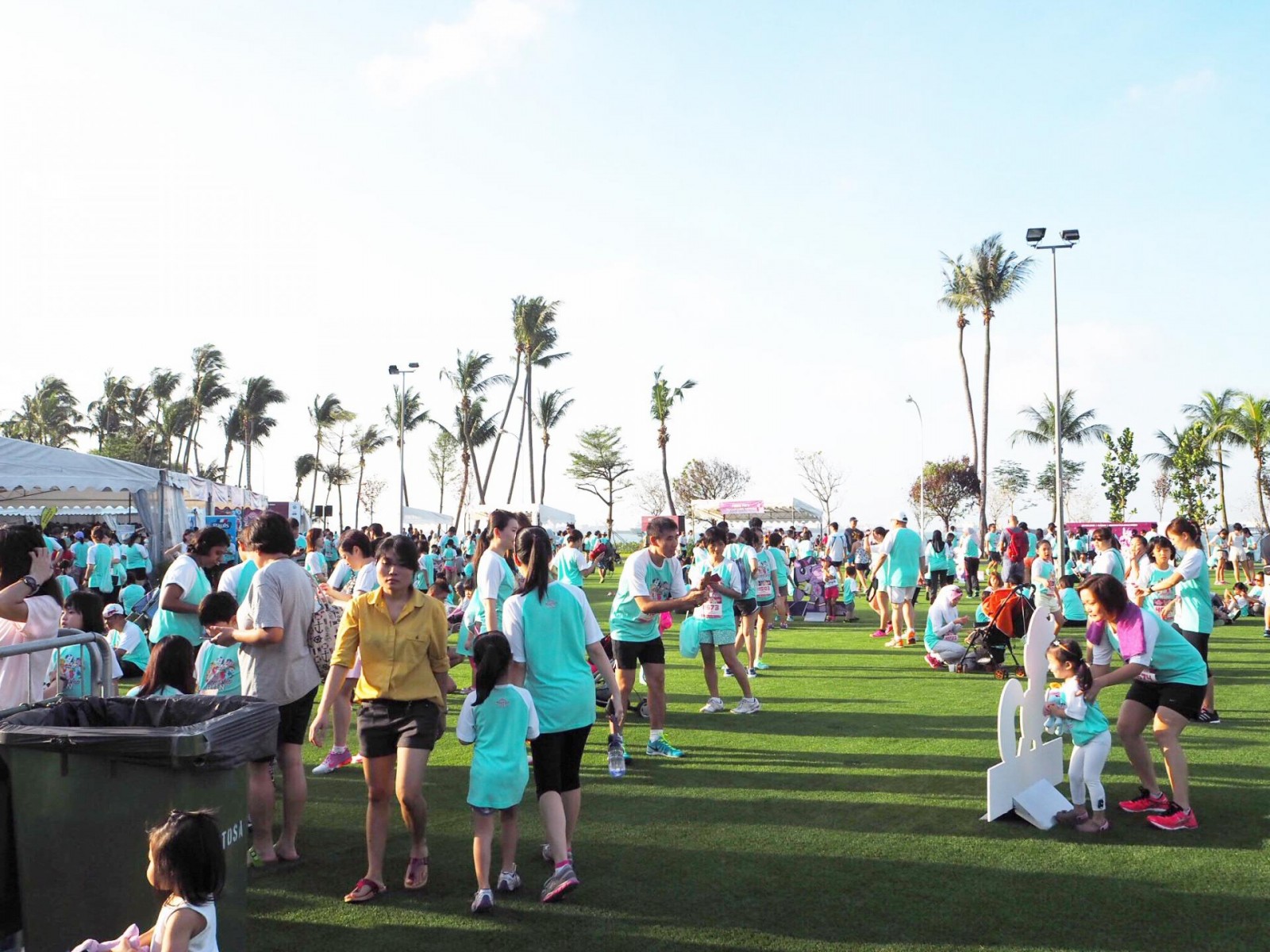 We arrived at Palawan Beach carpark to see everyone in the Green Tshirt. It was quite a nice sight to see so many families bringing their kids for such an event.  I was very impressed with the turnout and many parents were like myself who were there just because their kids.  I saw Mummies and Daddies dressing up for the event, that was really heart warming. Like a mum and daughter pair who dressed up in Little Pony theme (Imagine the heat) to run a 4km race. Thumbs up to the pair.  Especially the mummy who went through so much effort for your girl. There were also many parents running with infants and toddlers in their strollers. We will do that the next time with Papa and Alexis.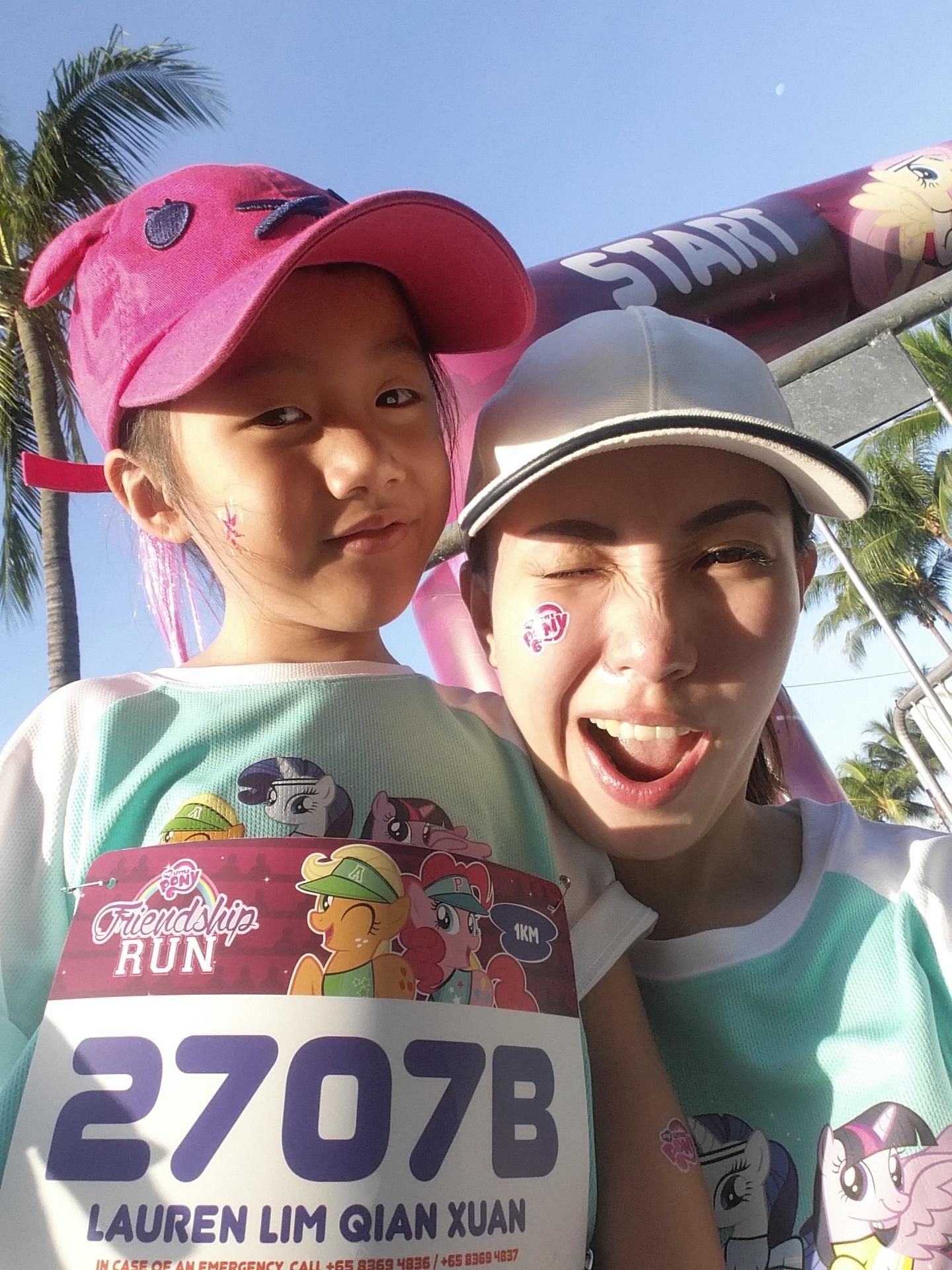 Our 1 km race was the last race so we had time to walk around the carnival. The event organiser had planned quite a fair bit of activities for everyone.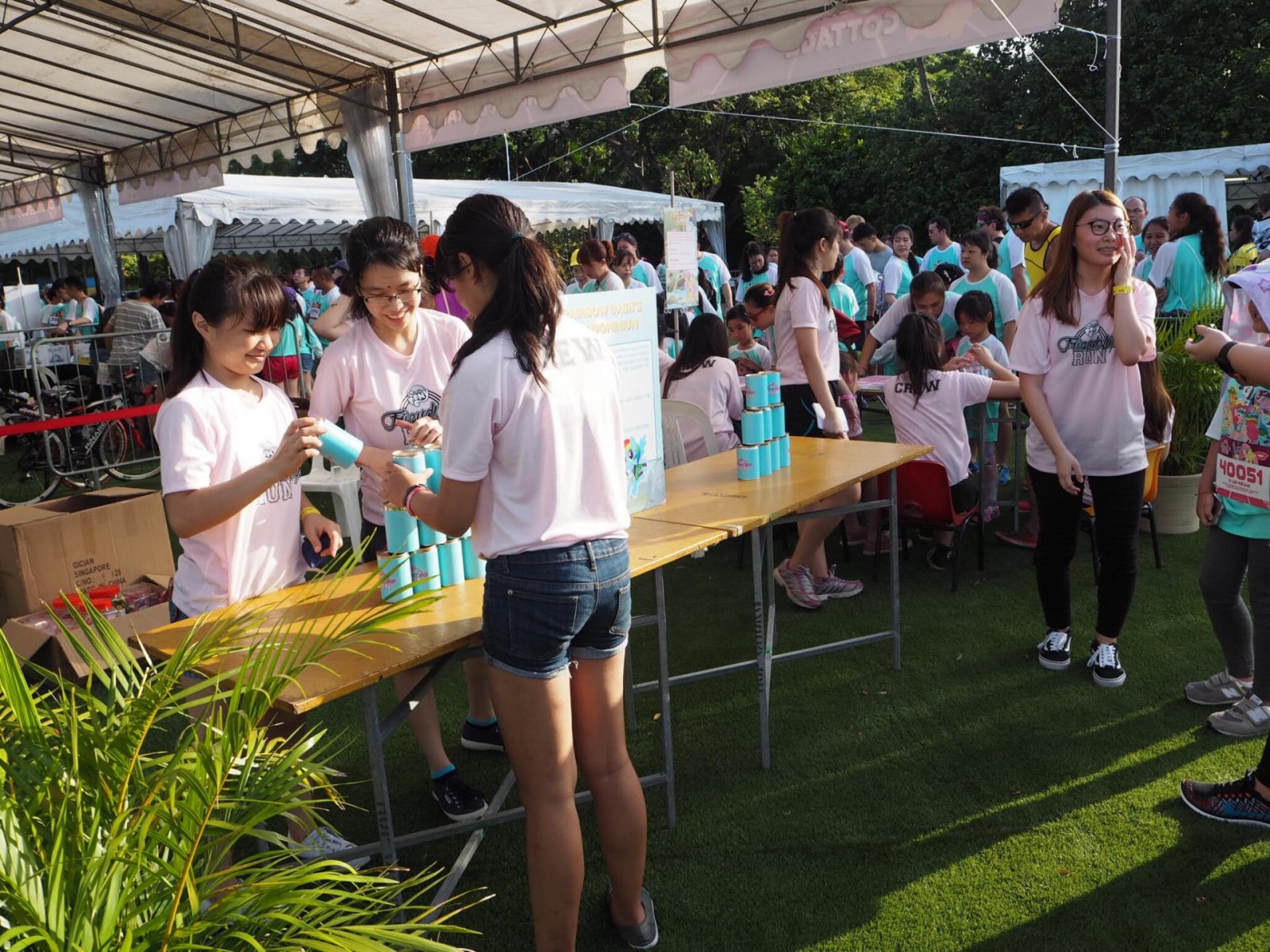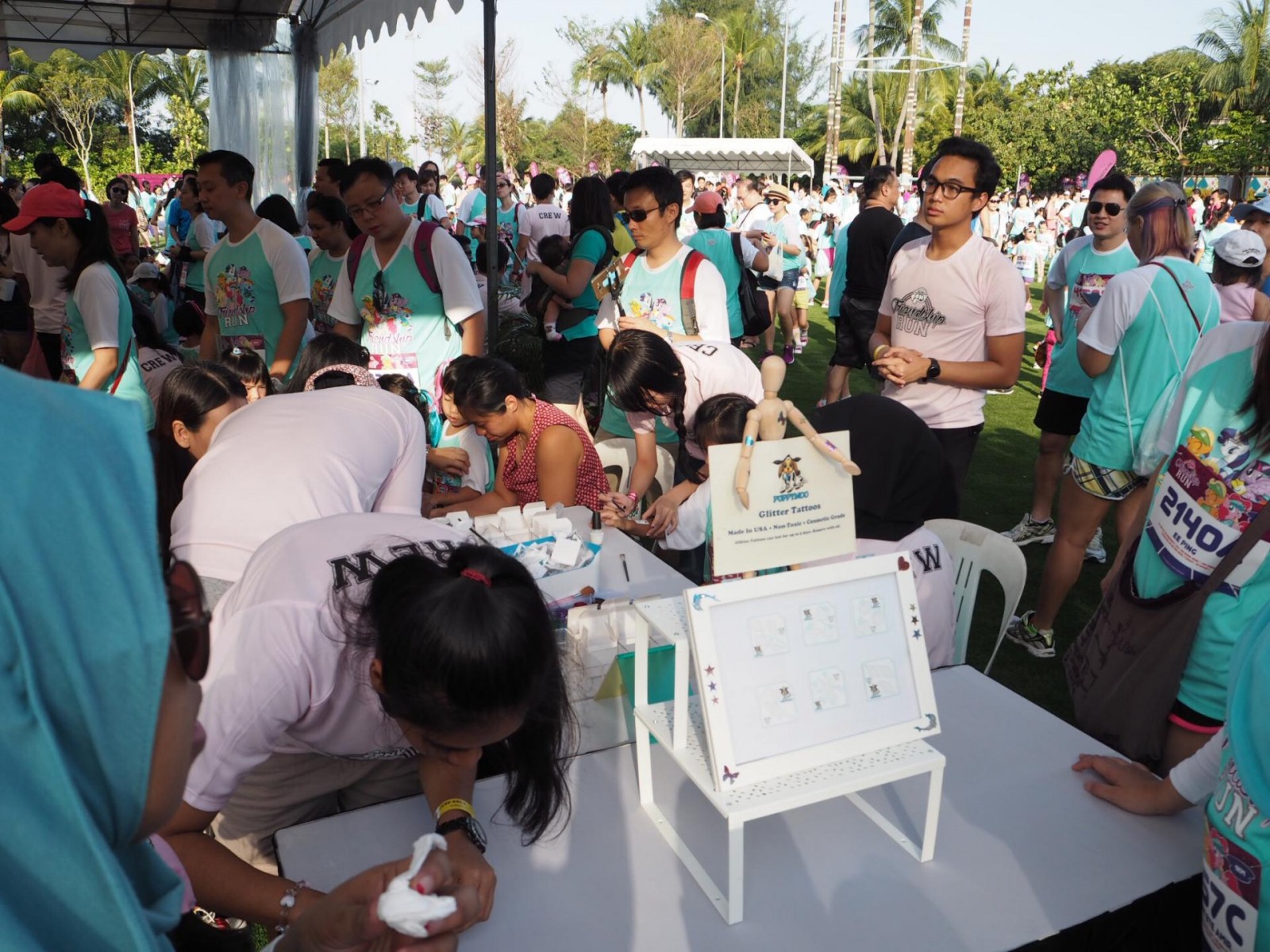 Lauren was glued to the Little Pony's cartoon being aired at one of the booth.. while Alexis walked around the carnival.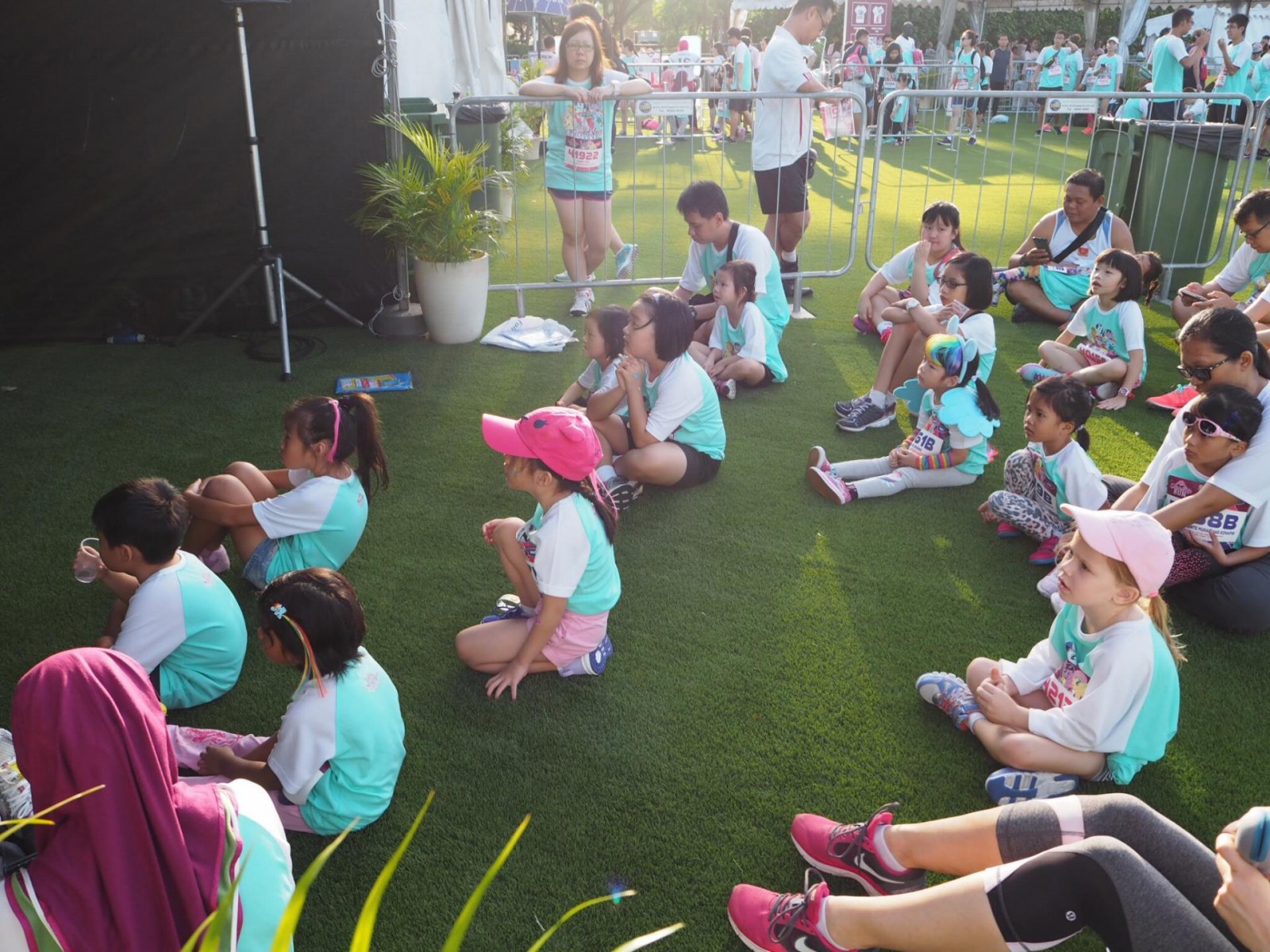 Finally when it was our turn to run. I was filled emotions when the emcee said everyone has to hold their child's hand and raised it up together when we crossed the finishing line. Lauren turned and looked at me and said "Never let go of my hands, Mummy. " I dont know why I turned into a Emo Nemo but probably the thought of kinship and what Lauren said.  I held her hand throughout the run, once in awhile I let go of her hand, thinking of a selfie but Lauren would insist that hands were not supposed to be let go during the race. Thus I do not have photos during the run.
I think because we did not prep for the run, Lauren was very nauseous after the run but she felt better after getting the medal. LOL.. It took her sick feeling away.  It was really a great experience and because of this we are looking forward to more runs and together as a family.
---
I did some reserach and found some upcoming kids friendly run.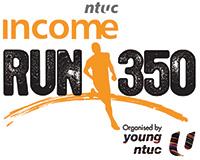 Sunday, 10 April
NTUC Income RUN 350 2016
5:00 am at F1 Pit Building
Half Marathon, 10 km, 800 m Kids Dash
---
Sunday, 24 April
Snoopy Run 2016
7:15 am at Singapore Sports Hub
5 km
---
Sunday, 8 May
Mileage Family Run 2016 (Part 1 – Mother's Day)
7:30 am at West Coast Park
5 km, 2 km (Strollers race), 1 km (Kids)
Sunday,19 June
Mileage Family Run 2016 (Part 2 – Father's Day)
7:30 am at Pasir Ris Park
5 km, 3 km (Strollers race), 1 km (Kids)
---
Saturday, 21 May
Bubble Glow 5K Run
06:00 pm at Gardens By The Bay
5 km
---
Sunday, 22 May
Cold Storage Kids Run 2016
Flag-off TBC at The Meadow at Gardens by the Bay
1.6 km, 800 m
Cold Storage Kids Run website
---
Saturday, 28 May
ISCA Run 2016
6:30 am at OCBC Square
10 km, 5 km, 500 m (Kids Dash)
ISCA Run website