Embrace today's technology to better my tomorrow and everyday thereon. Technology can help so much in our daily lives as sometimes even the simplest tasks do not get easy on bad days.  As a mother of two and concurrently juggling a business all on my own, time is indeed an essence. I need to work smart at home and in office to make my to-do list the most efficient it can ever be.
I attended the media event of LG TWINWash last month. LG TWINWash totally changed my opinion about smart washers as I learnt how it could be helpful to a busy mummy like myself.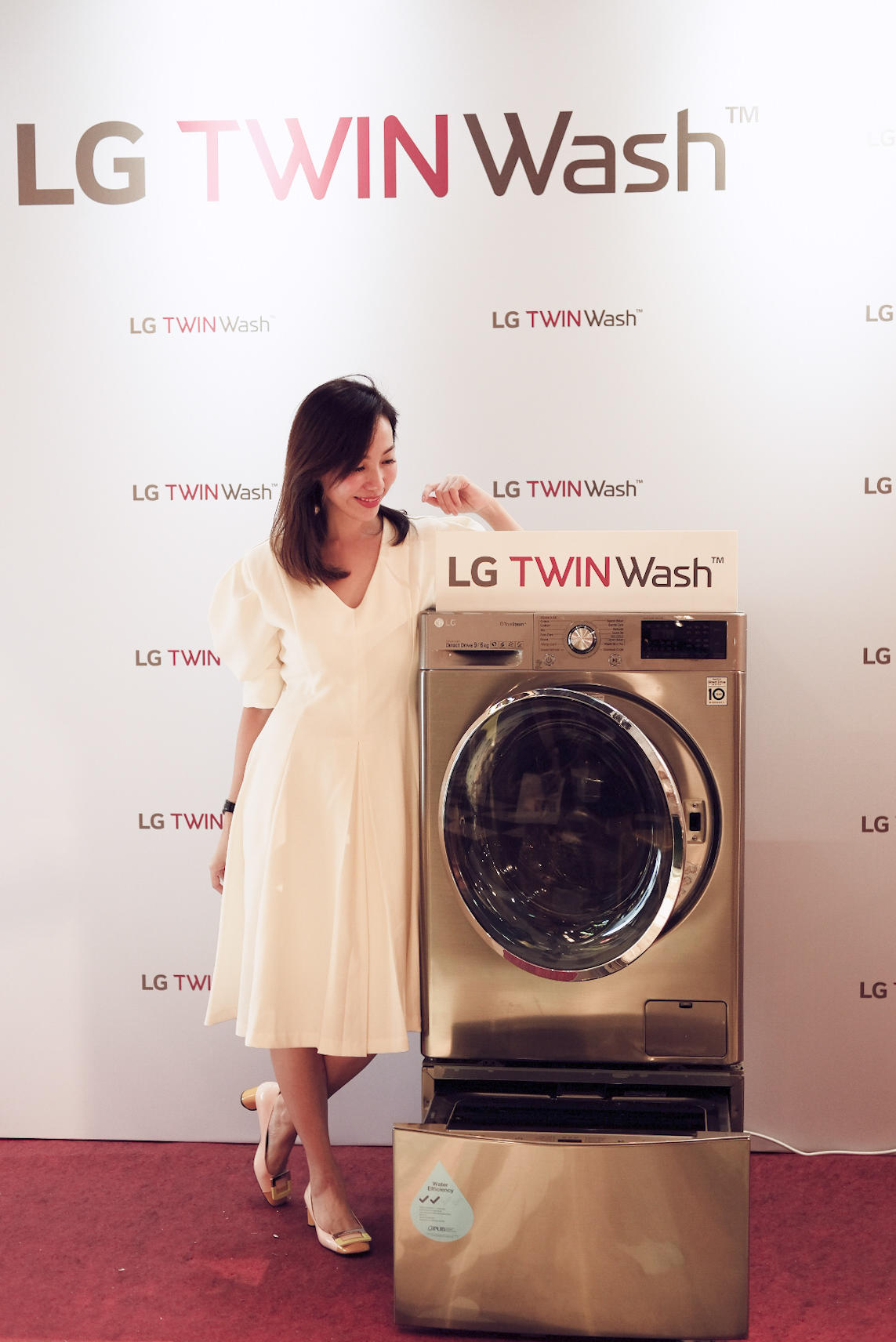 LG TWINWash totally swept me off my feet; not only did she check the boxes of what I thought front load washers could not achieve, the aesthetic feel of the washer is so chic. It just looked perfect for my new place. As the name of the washer suggests,  LG TWINWash washes two loads at the same time (yes… two loads at one time, no typo error here), how convenient!  Tell me mummies, how many times have you needed to put aside kids' laundry because of them soiling their clothes from spilled food and drinks on themselves?  I would usually get my helper to soak it first as 1 or 2 pieces of laundry would not warrant the need to operate a washing machine that is normally used to wash a whole load.  Now with TWINWash, not only have I solved this problem but also got super impressed with the many innovative features of this beautiful machine.
Here are the key features and benefits of LG TWINWash which I thought are important to us mummies.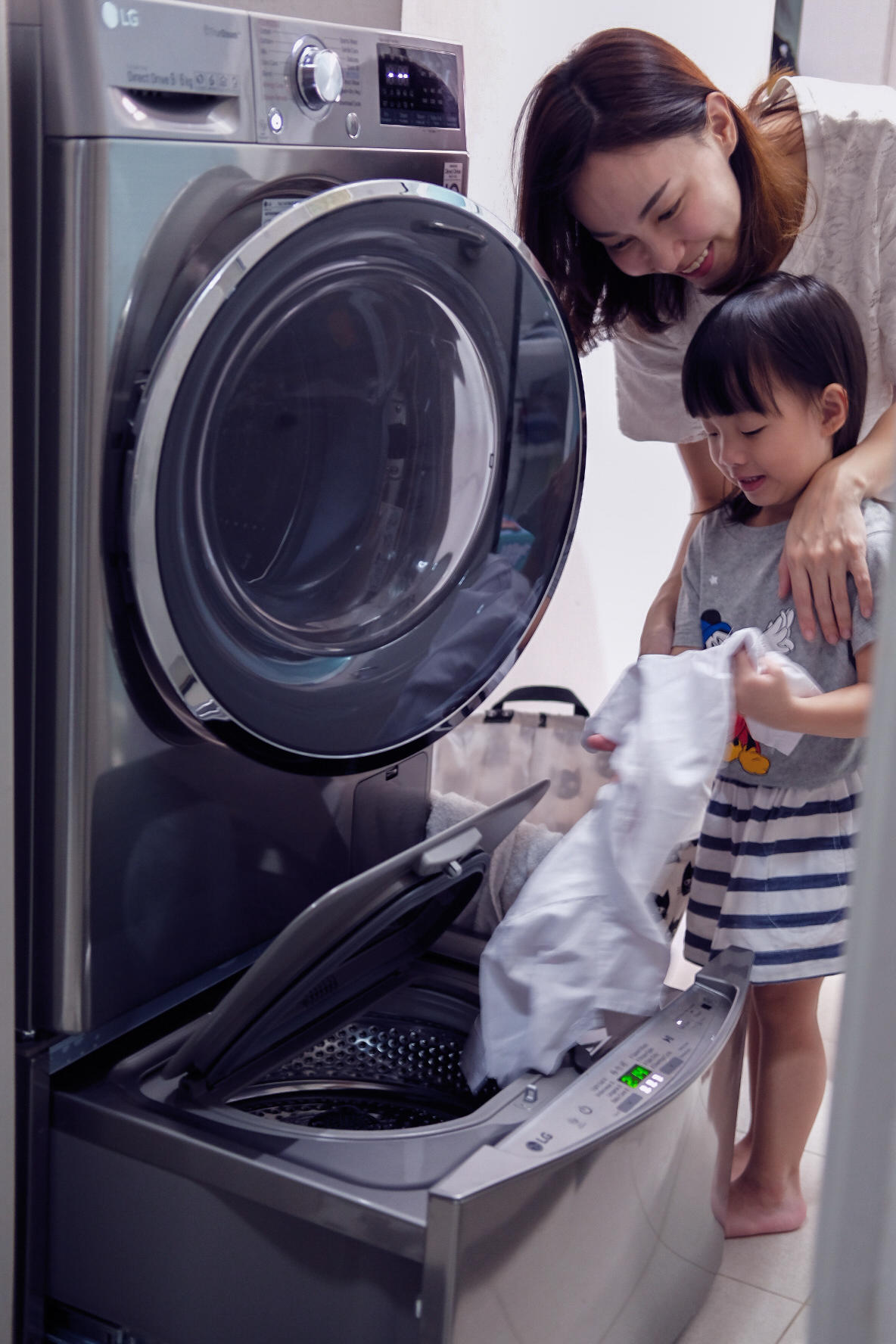 The number 1 benefit of this machine is definitely the ability to wash two loads at once.  Wash regular large loads in the main washer, and/or use the separate Mini Washer for delicates. I can now reduce our laundry time by half!  Because we can finish two loads of laundry in under 1 hour.  For the main washer,  we tried with our bedsheets and curtains. Wow.. big loads in less than 1 hour.  
For a mummy with a child that has a sensitive nose and skin prone to eczema, having their plush toys under the sun is a weekly routine. But now with the TrueSteam™ technology of this washing machine, I have replaced sunning their plushies to steaming them in the machine instead. I was able to steam their plushies in the main washer to get rid of 99.9% of allergens! How convenient!  And of course, I have the option of steaming their bedsheets and laundry as well. 
TWINWash Mini for Small Loads that Need Special Care. The TWINWash Mini is ideal for when I have 1 or 2 pieces of hubby's white shirt but am unable to mix them into the main load that contains coloured clothes. My sweaty gym wear which I do not wish to leave overnight to the next wash, some table cleaning cloth which you'd normally just hand wash, and many other small washes. Now with the TWINWash Mini, I never need to wait or time my laundry tasks ever again.  
Smart ThinQ is so helpful for mummies who are often on the go; you can load your laundry and start it only as and when you desire even if you are not right beside the machine. The Smart ThinQ App allows you to operate and monitor your laundry on the go! I received an update when my washer finished a cycle and I could start the dryer cycle while I was out with the girls! Saving time and keeping our laundry fresh and clean!  
If you are shopping around for a washing machine please do check out the LG TWINWash here. I am pretty sure you will be very much in love with this beauty just like me.
*This is a sponsored post by LG but all opinions are my own