I remember clearly when I was younger and just had my first child, I did not believe in taking tonics as  I was more westernised during my younger days. Not to say that now I am not but I realized how the body had weakened since not doing any confinement after my 1st child was born.  Thus I told myself when I was pregnant with Alexis, that I was going to take good care of myself to recover the state of my general health.  During the time of my pregnancy, I would drink only warm water; even the times when I craved for something sweet, I would go for room-temperature Soya Milk.  I would also drink chicken essence and other tonic. Of course I completed my post-pregnancy confinement thoroughly and completely. I did not even wash my hands with tap water as the water I used was boiled and cooled. I felt totally different. I no longer fell sick as often and I would always have a little rosy cheek. I truly believed these were the results of taking good care of myself.
When Hao Yi Kang approached me to try out Lao Xie Zhen Premium Boiled Essence of Chicken, I was very happy to accept the offer as I am now a true convert of tonics consumption. What impressed me was the the delicious taste and natural yellow colour of Lao Xie Zhen Chicken Essence that made it very acceptable for Lauren and Alexis to love it as well.  The girls refused to take other brands of chicken essence due to the darker colour and the taste.  The girls called Lao Xie Zhen Chicken Essence, Chicken Soup.  As their school term had just restarted, I got Lauren to start the day with a sachet of Chicken Essence every morning before her breakfast.  I strongly believe this would help to boost her energy level and strengthen her immune system as my mum and grandma did the same to me when I was young. The only difference is Lao Xie Zhen Chicken Essence looks and tastes so much more appealing now compared to those days. Alexis being the usual copycat of Lauren at home, insisted she needs her "chicken soup" every morning too.  LOL.  Oh, you will be able to feel a little sticky texture after consuming, a little just like when we go for those Collagen soup Hot Pot, this is because of the collagen in the Chicken Essence.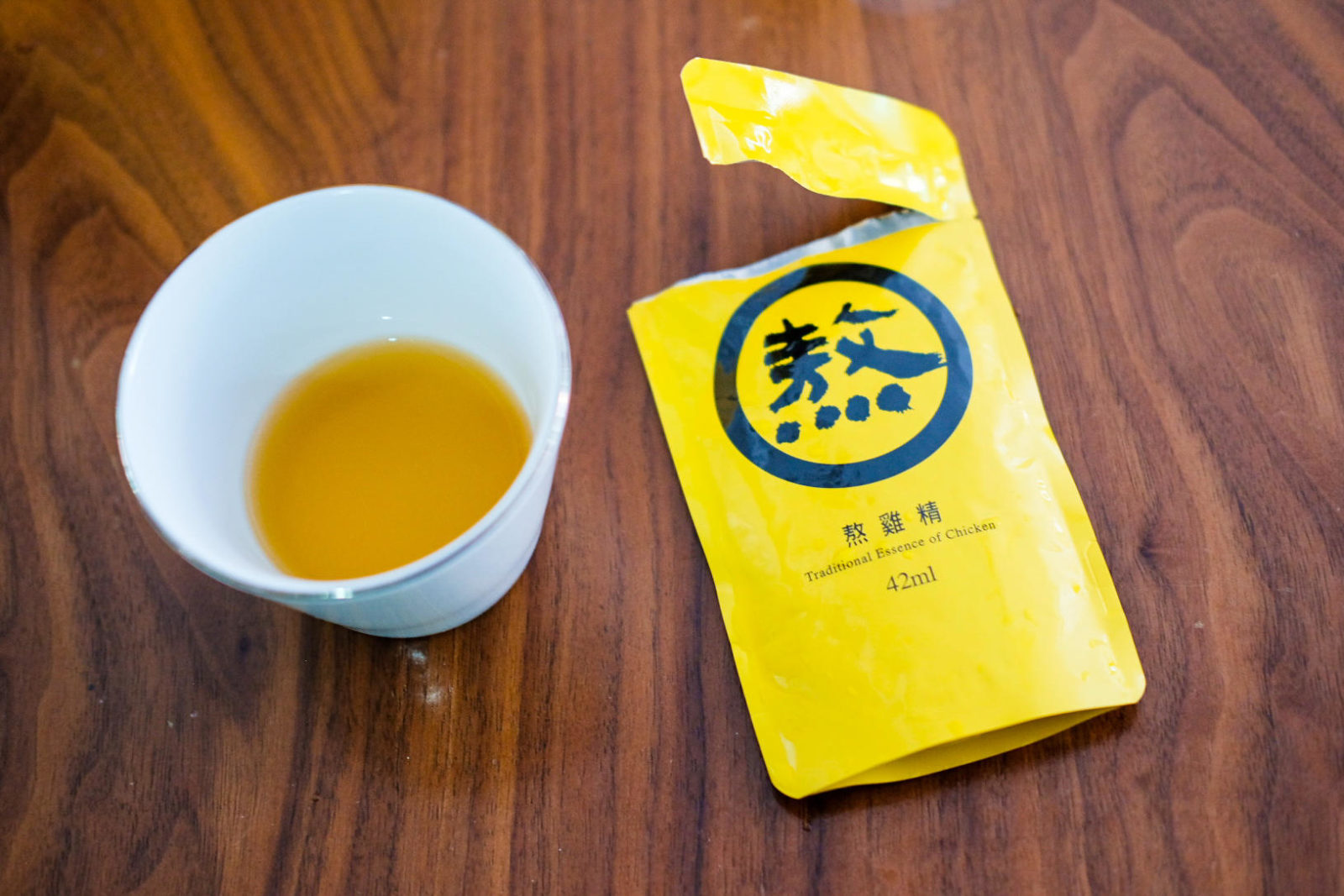 I spent some time to find out more about background of Lao Xie Zhen Premium Boiled Essence of Chicken. Wow.. they had a long history of 80 years in Taiwan and has a favourable and trustworthy reputation!   They were also voted Best Chicken Essence in Taiwan! They are 100% natural with no preservatives, no additives and no cholesterol.  Wow Wow Wow.
I also found out that the Essence of Chicken was made with 2nd generation hens that were at least 12 months old.  The chickens were boiled with premium pork ribs for 8 hours and through their unique method of boiling, a more complete extraction of nutrients were made possible.
I also noticed that their packaging are very different. It is not in the traditional glass bottle but in sachet form; making it more ideal for storing! The 4-layered opaque sachet are directly imported from Japan, thus it is very safe to consume.
Preparation is easy. Just place the unopened sachet into a cup of hot water for 3 minutes, tear open the sachet and it is ready to consume! You can also consume it at room temperature and the sachet pack makes it so easy for me to carry around. I drink them in my car too!
So whether you are young (as young as 2 year old), elderly, pregnant, doing your confinement or just planning to use it as a daily nourishment. Give Lao Xie Zhen Premium Boiled Essence of Chicken a try! I am pretty sure you will be sold like me.
Here is a good news folks. You can get Lao Xie Zhen Premium Boiled Essence of Chicken at 5% off with code Msclak5 at Hao Yi Kang 好易康 online store www.so-well.com.sg Promo code is valid till 20th July 2018. Please do give it a try!
[This is a sponsored post but all opinion are my own.]