Think Thinkasaur, think fun science experiments for the whole family sent to you right at your door step.  Designed chiefly for children between the ages of 5 to 10 years old, Thinkasaur comes in the form of a science kit that provides the full spectrum of materials, equipment, instruction manuals and learning points for up to four experiments per box. Each box covers a specific scientific theme, such as chemistry, physics and Earth science.   Thinkasaur strives to bring back the wonders of Do-It-Yourself fun by providing a monthly subscription-based service that delivers boxes packed with science experiments straight to your doorsteps!  In this modern era, kids are now overly dependent on electronic gadgets for entertainment.  I have to admit that we as parents are guilty of doing that too, quite often we are always on our devices even though we are seated together.  We are very blessed when Thinkasaur approached us for a review of their products.  I knew straightaway that it would be a hit with Lauren.
Experimenting Thinkasaur with Lauren and Alexis brought back memories where I was so eager to collect all the Science card badges during my primary school days. I remember going around my neighbourhood with my classmates exploring different tasks and we were always amazed by the outcome of the experiments.
We received 3 boxes from Thinkasaur.  The girls were so excited to see the boxes and curiosity was instantly aroused from that moment.  Each box contains 3 to 4 fun-filled experiments. We started with the Wonder of Colours box. I have to compliment Thinkasaur for such a well thought and planned experiments.  Aprons and gloves were provided for experiments that were a little messy.  Each experiment was individually wrapped in ziplock bags with all the materials needed so we did not need to fumble for anything when working on the experiments.  There were detailed step-by-step pictorial instructions to guide us through the experiments, a learning guide filled with fun facts to explain the science behind each experiment.  I love the quality bonding, and yet educational, time I had with the girls.
It was so fun that Lauren begged for another project the next morning.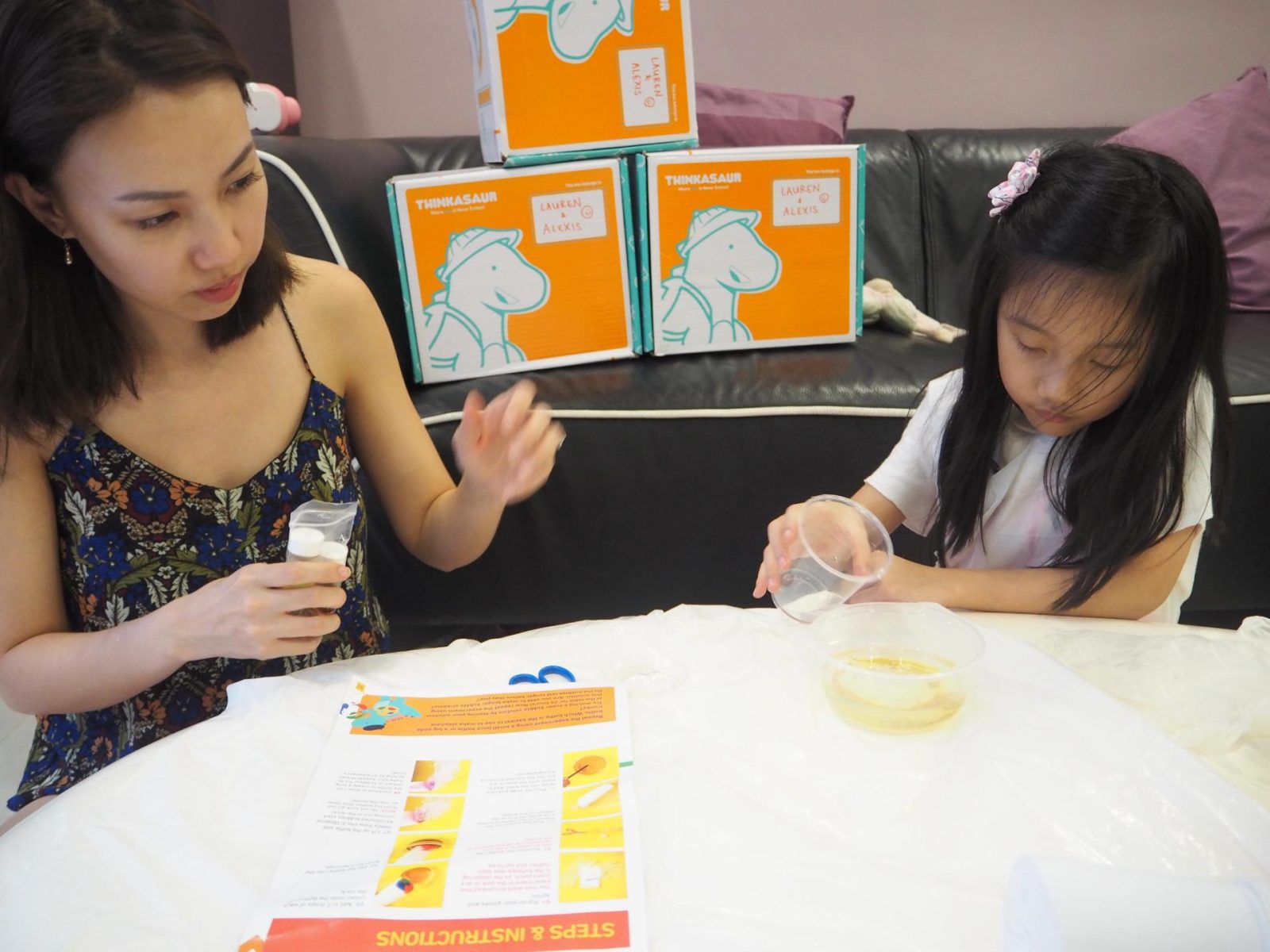 We tried projects from the other boxes too and the girls were totally intrigued with the effects of reaction which were well documented with scientific facts. Lauren has not started science in her academic curriculum but this had certainly  triggered her interest in chemistry which I am very glad. Early exposure to science, made in a very fun way.
What I love about Thinkasaur:
Time efficient and hassle-free: As a full time working mum and wife to a frequent flyer.  Time is an essence for me. Thinkasaur solved this aspect by sending me fun activities which I can spend quality time with my girls right at home. I do not need to crack my brain about sourcing the materials needed to do any experiment.
Cost effective: Each box comes with 3 to 4 experiments.  I told Lauren that we will do one experiment weekly.  Mum does not need to fret over where to bring the girls on a Saturday now as they are so looking forward to going home for fun science experiments.
Quality family time:  It was heartwarming looking at the photos of us doing the experiments together. Everyone was so happy and involved. Furthermore, everyone learnt something new.
Last but not least, Thinkasaur made learning science a very fun process. Extremely effective for children of young age. These tools EDUCATE yet do not extract the FUN from the process. I had never thought that Learning and Playing could be integrated.
Thinkasaur subscription programmes are offered either on a 6-month period at $43/month or a 12-month period at $40/month and are available for purchase online at www.thinkasaur.com. Alternatively, single boxes are available for purchase at $48/box. These could make a great birthday gift, more in fact an "anytime" gift!
Thinkasaur is offering CLAK readers a 5% discount on your orders with code "BACK2SCHOOL" . Following terms and conditions apply.
Limited to 1 use only per customer
Limited to 100 redemptions
Only valid for orders above SGD$40
Discount code is valid till 28 Feb 2017
Discount code cannot be combined with other codes and promotions
Reviews provided are totally independent and non-biased.