The best way to travel around Italy is by train. I prebooked all my train tickets through Trenitalia website before the trip. Although reserved seats are a much preferred choice. I realized along the trip that majority of the travellers sat wherever it was convenient. For us, going to Florence was still 2 luggages. We went to our assigned seats on this sector. (Later on, we hopped on to any seats that were near to the door or area where we could chucked our luggages)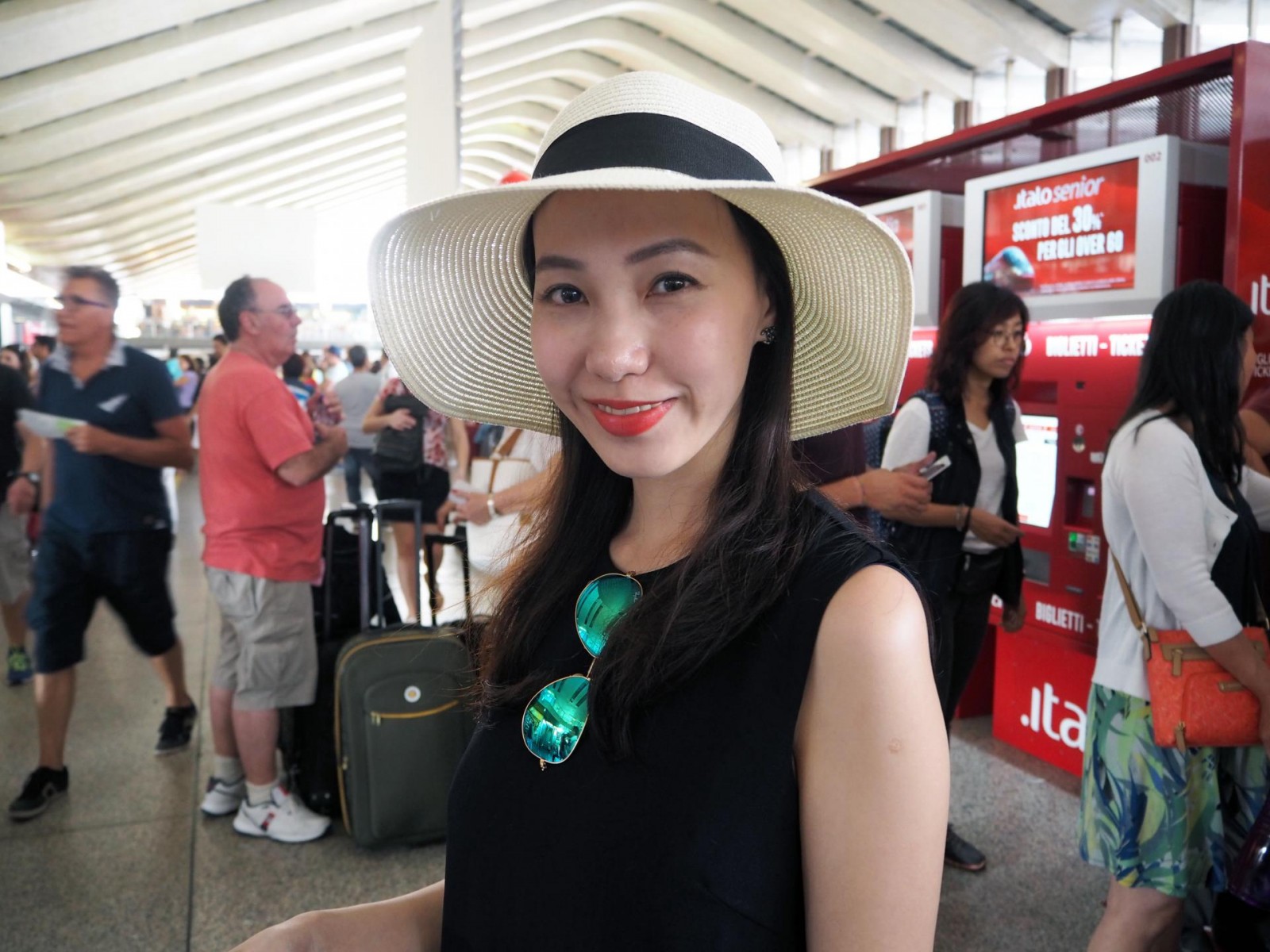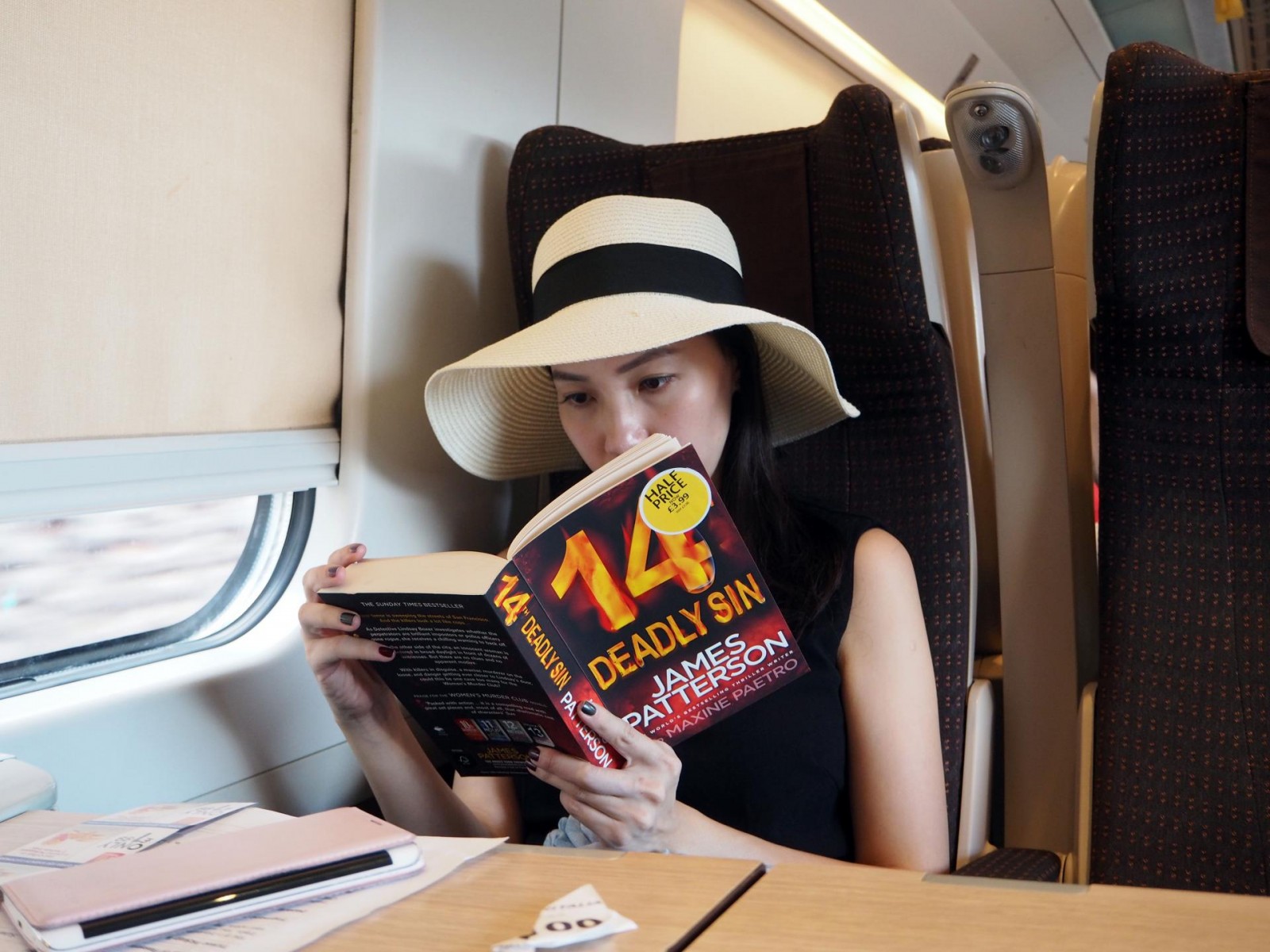 The journey from Rome to Florence took around 1 hour 30 min. As our tickets were prebooked with assigned seat. We do not have to validate the ticket. If not please do remember to validate the ticket or you will get a fine from the conductor going around.
We walked from Florence station to our hotel, Mercure Florence. The hotel is newly opened and ideally located. We were just 5 min walk from Florence Santa Maria Novella station and 15 min walks to the heart of Florence.
Our room was huge!! That was because we got upgraded to a bigger room because of Mr Lim. 🙂 We walked to the city centre and had lunch at Ristorante Caffe Giotto  right in front of the Duomo cathedral. Honestly I always find eateries that are located near famous places not fantastic but the place that we went served pretty decent pizza and they have one of the nicest pistachio gelato we had in Italy. The waiter was very friendly and accommodating to us, assisting us with a change of table as we were seated right under the hot sun.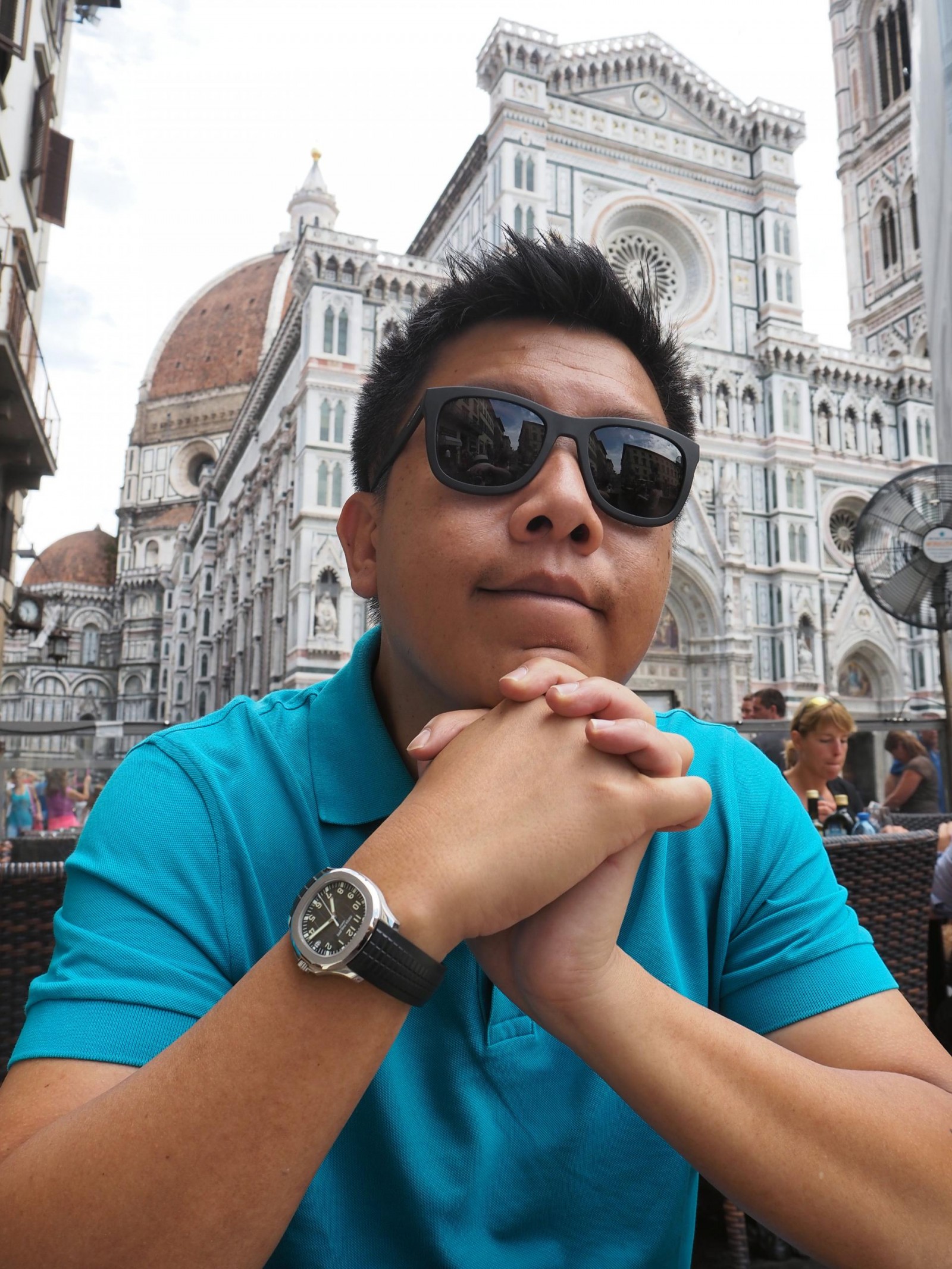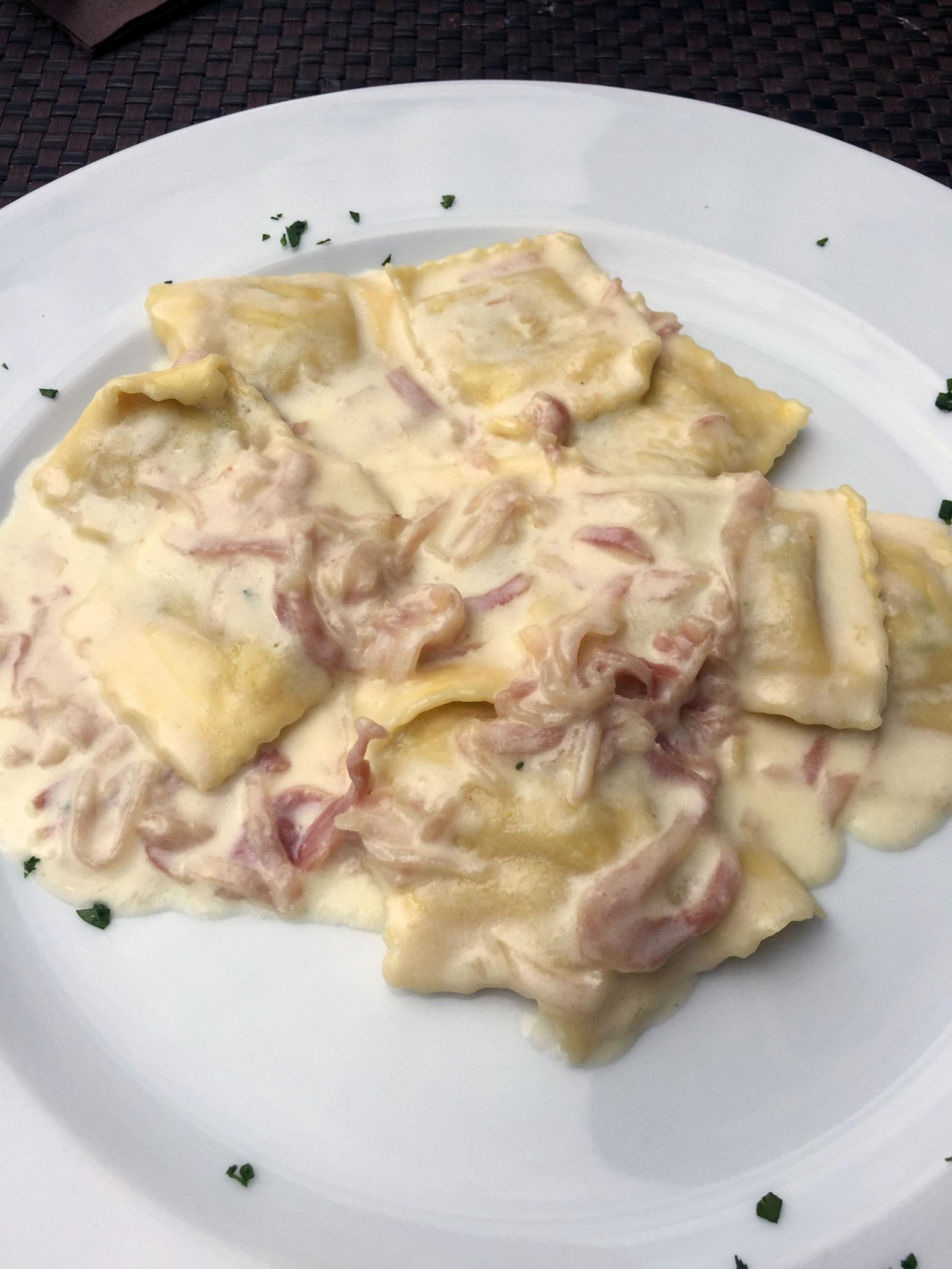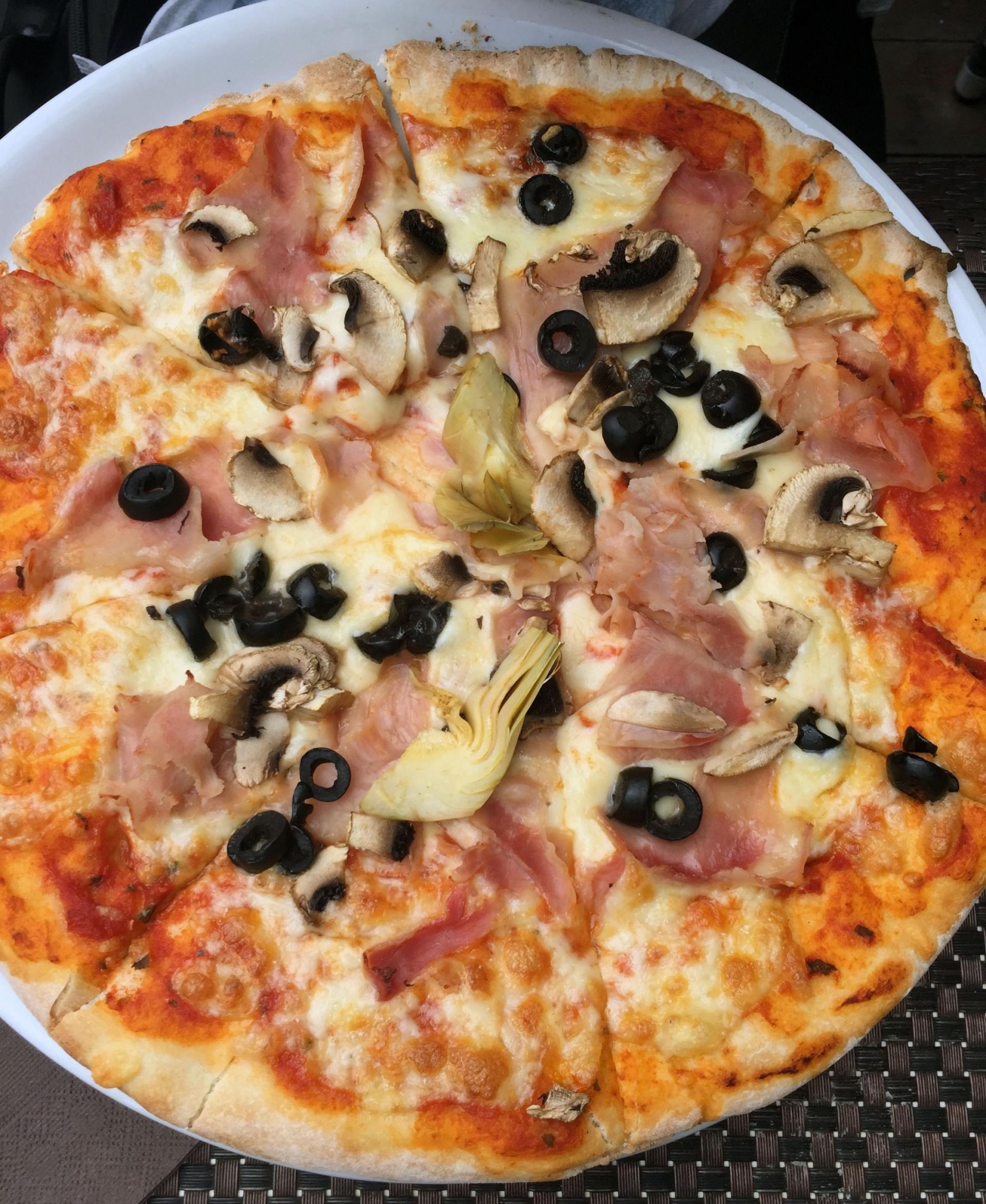 We spent the day walking around the city and exploring all the small shops.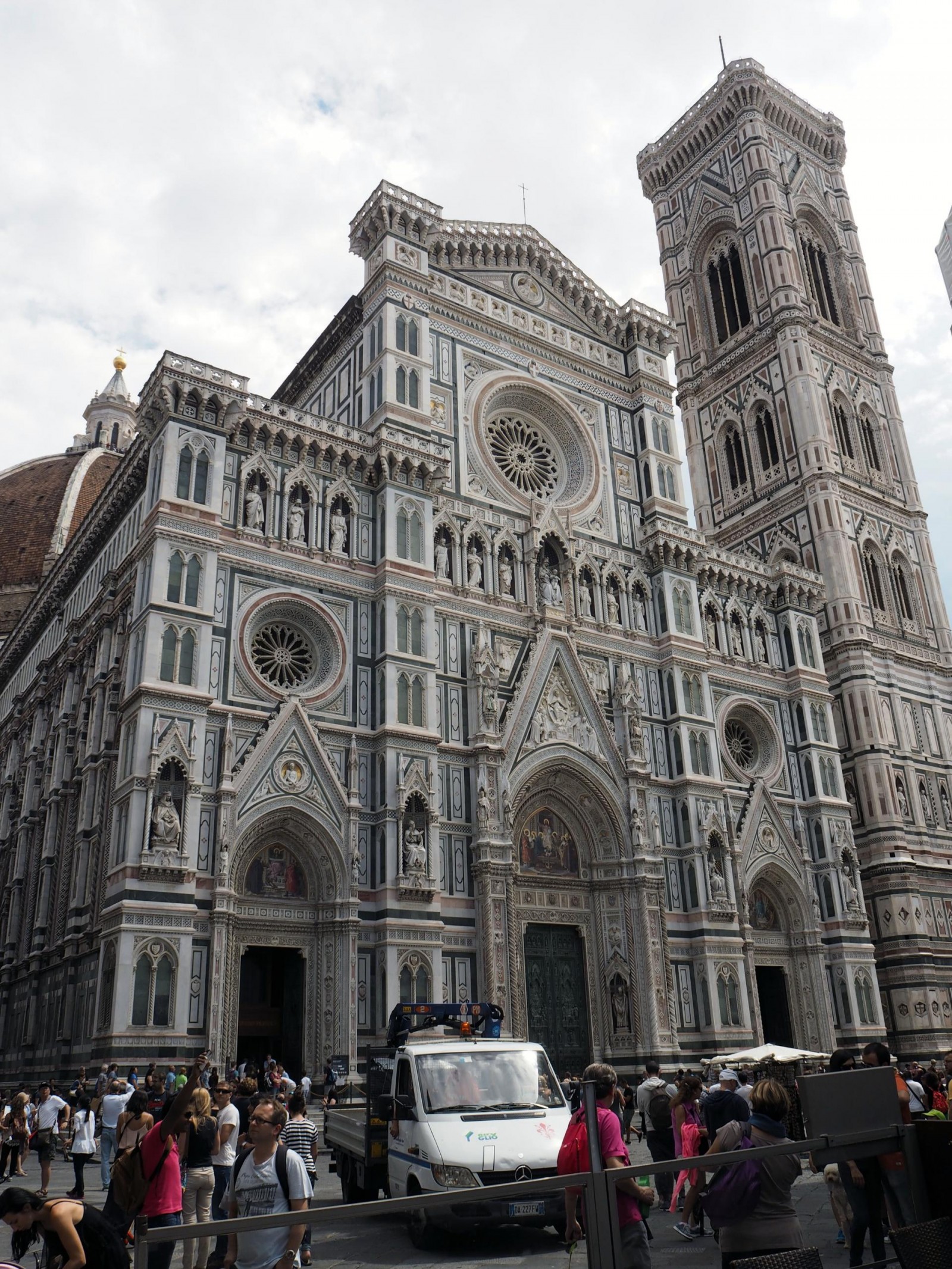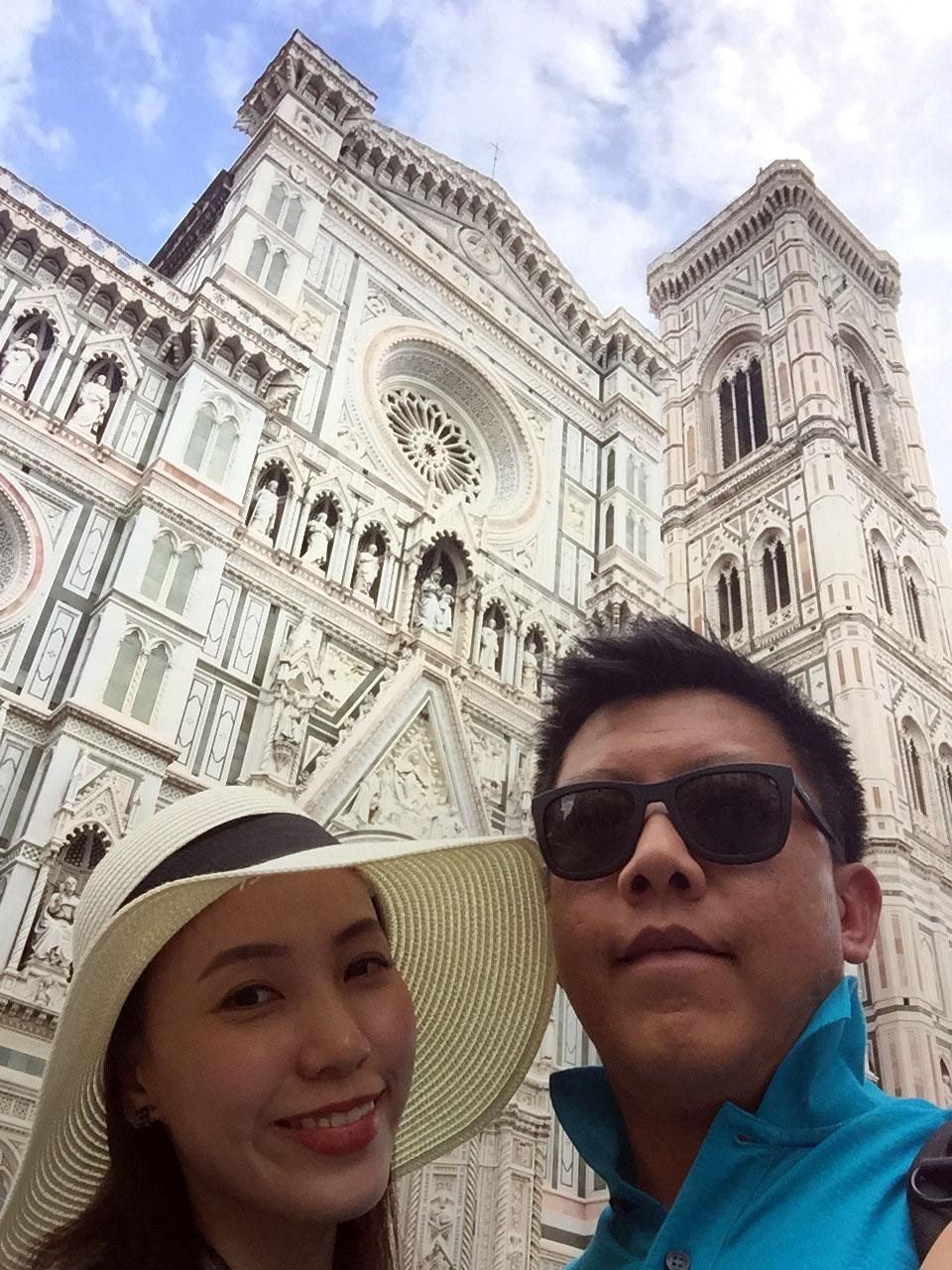 We were supposed to go for a dinner at Michelin starred  Il Palagio inside 4 Seasons hotel Florence. But…. we got abit lazy  to walk there and we cancelled the reservation and ended up having dinner somewhere near our hotel. Florence's restaurants are all to my liking so far.  The street where our hotel were located were really lively, lots of restaurants and street performers. We had dinner at a small restaurant serving simple menu of pastas and pizzas. I had Aglio Olio and it was amazing. Much better than the one  I had in Rome.
Day 2
Its shopping day!!!! Actually we planned to go to Prada Space early in the morning then from Prada Space to THE MALL.  Unfortunately we woke up late and we were afraid we might not have enough time to cover both thus we decided to go to THE MALL first and Prada the next day.  There are direct bus to and fro THE MALL from Florence bus terminal. (5 min walk from train station) It cost €5 per way and the journey there is about 50min.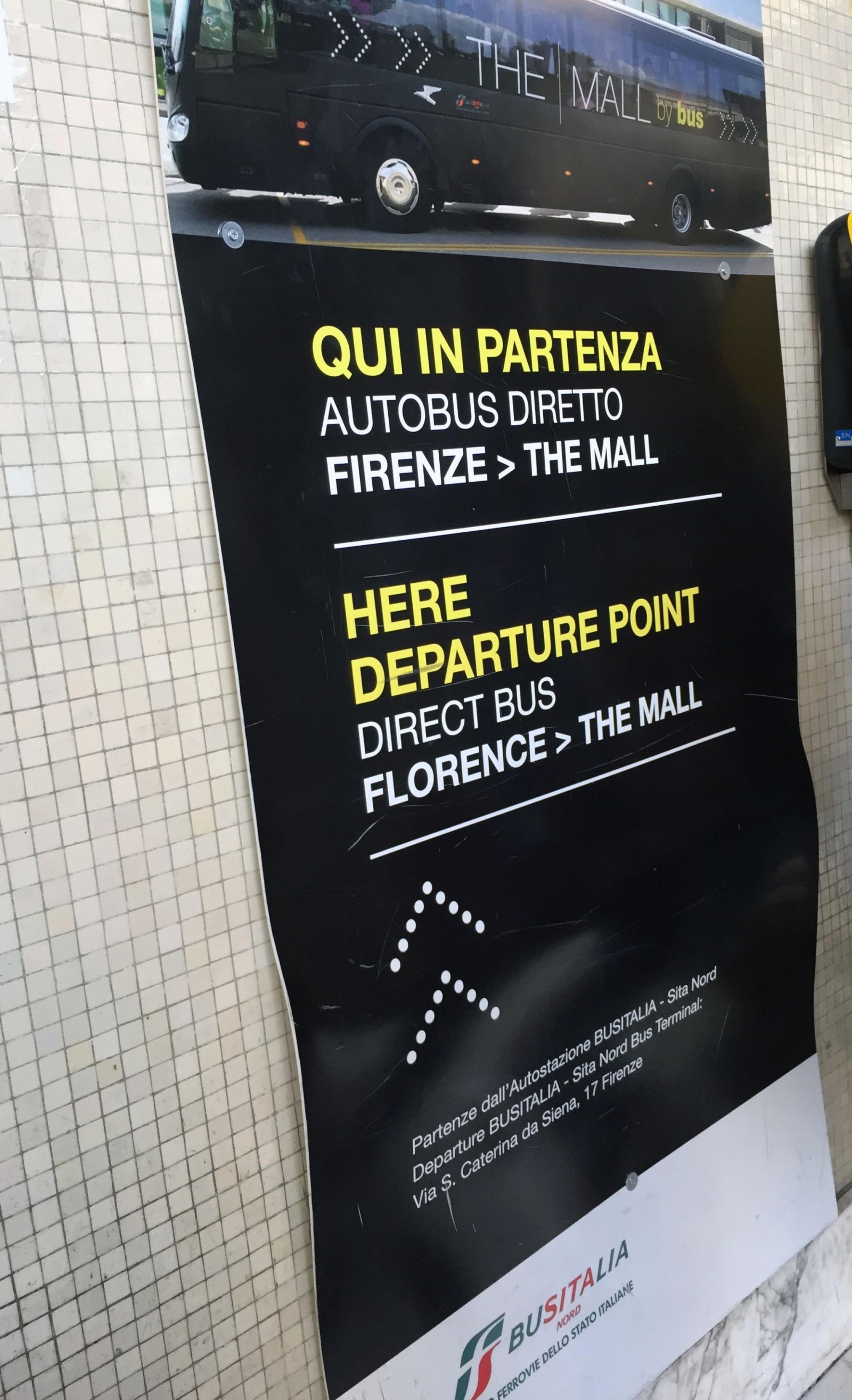 You can find many designer brands at 70% off. We went to GUCCI straight and I got myself a nice bag at €870 ( The same bag in Singapore cost $2480 but in different colour) I bought a few scarfs, a cap and a passport holder. Our shopping king got himself a GUCCI suit, a few ties and t shirt. Inside Gucci, you just have to inform the SA the items you want to buy and they will issue you a card with the number on it. You just have to bring all the cards to the cashier at the end of the day and they will bring out all the items that you had selected. You can still change your mind then.
We then hopped over to Prada across the street. The concept of shopping at Prada is almost the same like at Gucci. We were given a no at the entrance. Quote your no to the SA whenever you are buying something and they will tag the item to your no. At the end of the day, all the items will be there at the cashier. We did not get much as we were supposed to go to the Prada Space the next day thus we wanted to keep our Prada purchase till then. I wanted to get a handbag for my mum but I could not get the one I like in black.
The Saint Laurent store also had good selections of Tribtoos and Tributes. They had quite a few clutches but do check the stocks as most do have some scratches. Sad to say there wasn't Sac De Jour in smaller sizes. Thus I will have to get my Sac De Jour when I hit Milan.
Some other stores worth visiting are the Alexandra McQueen where you can get nice shoes at €100. The TODS store are also well stocked and the price ranges from €195 to €350. I went to probably 90% of the stores at THE MALL. You can forget about getting rockstuds at the Valentino there, only saw the rockstud Havaianas slipper but there wasn't my size. 🙁 Actually the price there was not as good as the one I saw on Inbeast.com
I was a little disappointed as I wanted to get a few items at Bicester Village in London but I told myself that I should wait for THE MALL due to the currency. The items that I wanted to buy in Bicester Village were not stocked in THE MALL. Balenciaga at THE MALL did not have the scarf that I saw in Bicester, the Saint Laurent also did not have the shoes in my size. 🙁 The price in Bicester is also around the same. Should have just get it in London.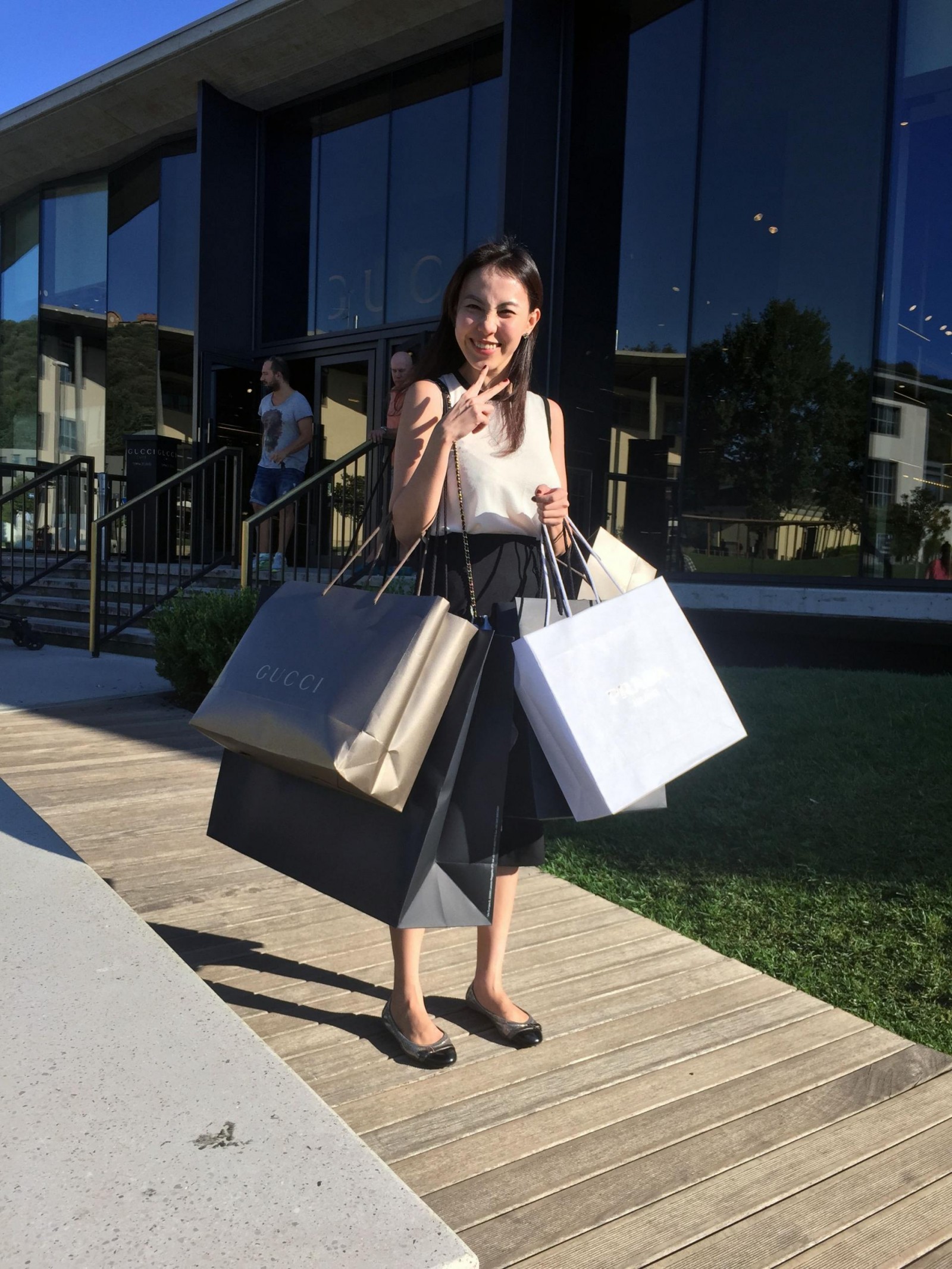 There is a global blue office in THE MALL, you can get your tax refund there in cash. Do note that you still have to get the form stamped before you leave the country if not your credit card will be charged. You need to leave EU within 21 days of collecting the tax refund. Thus if you still have a long stay, I will probably think that getting the tax refund at the airport might be a safer alternative. Kel got charged for his purchases in London, I guess the custom forms took too long to reach London.
We had lunch at Gucci Café located on the upp level of Gucci Boutique. The café was tastefully decorated. Food were decently priced. Taste wise.. There were no better restaurant inside THE MALL so just had to make do with this.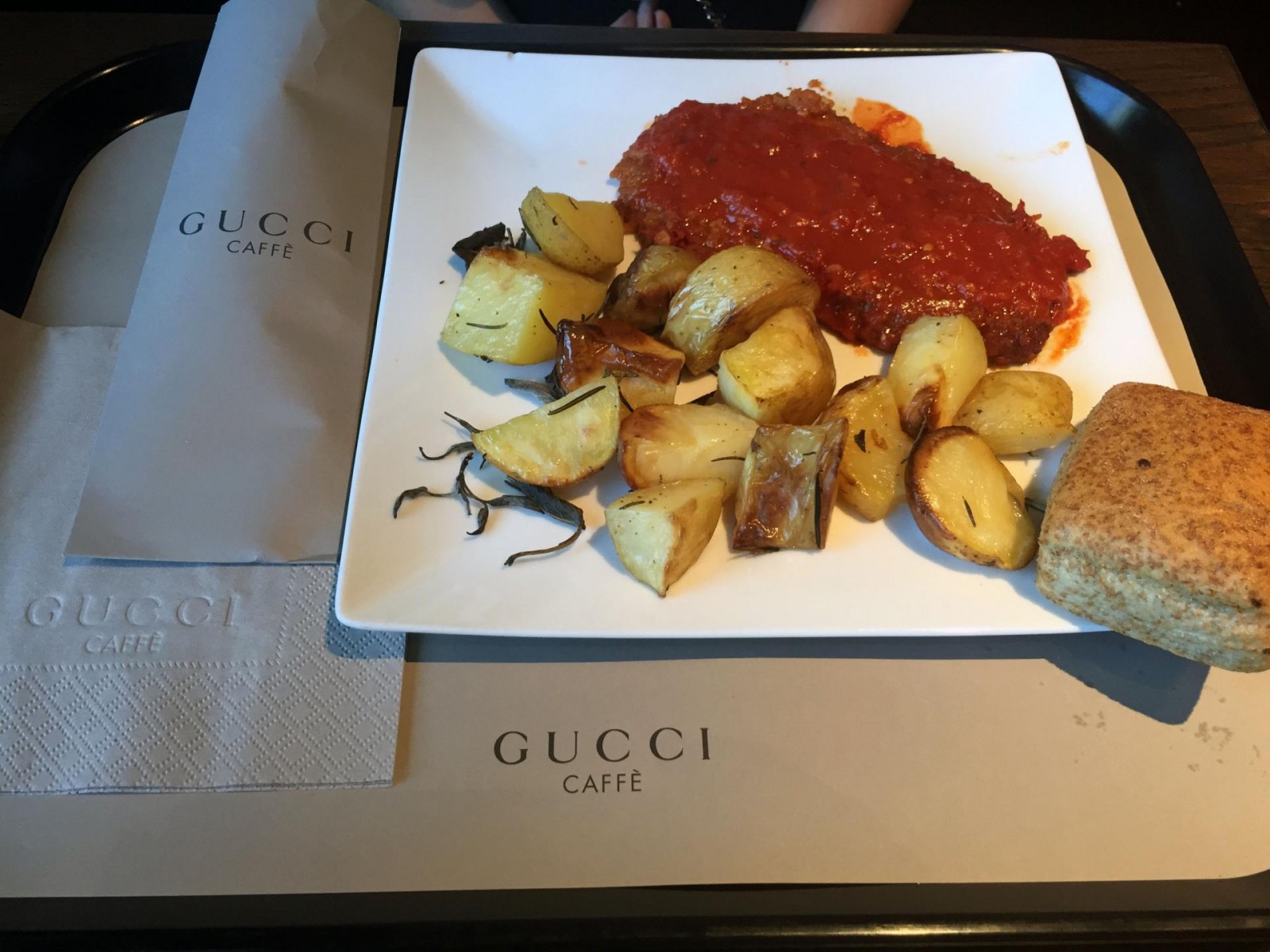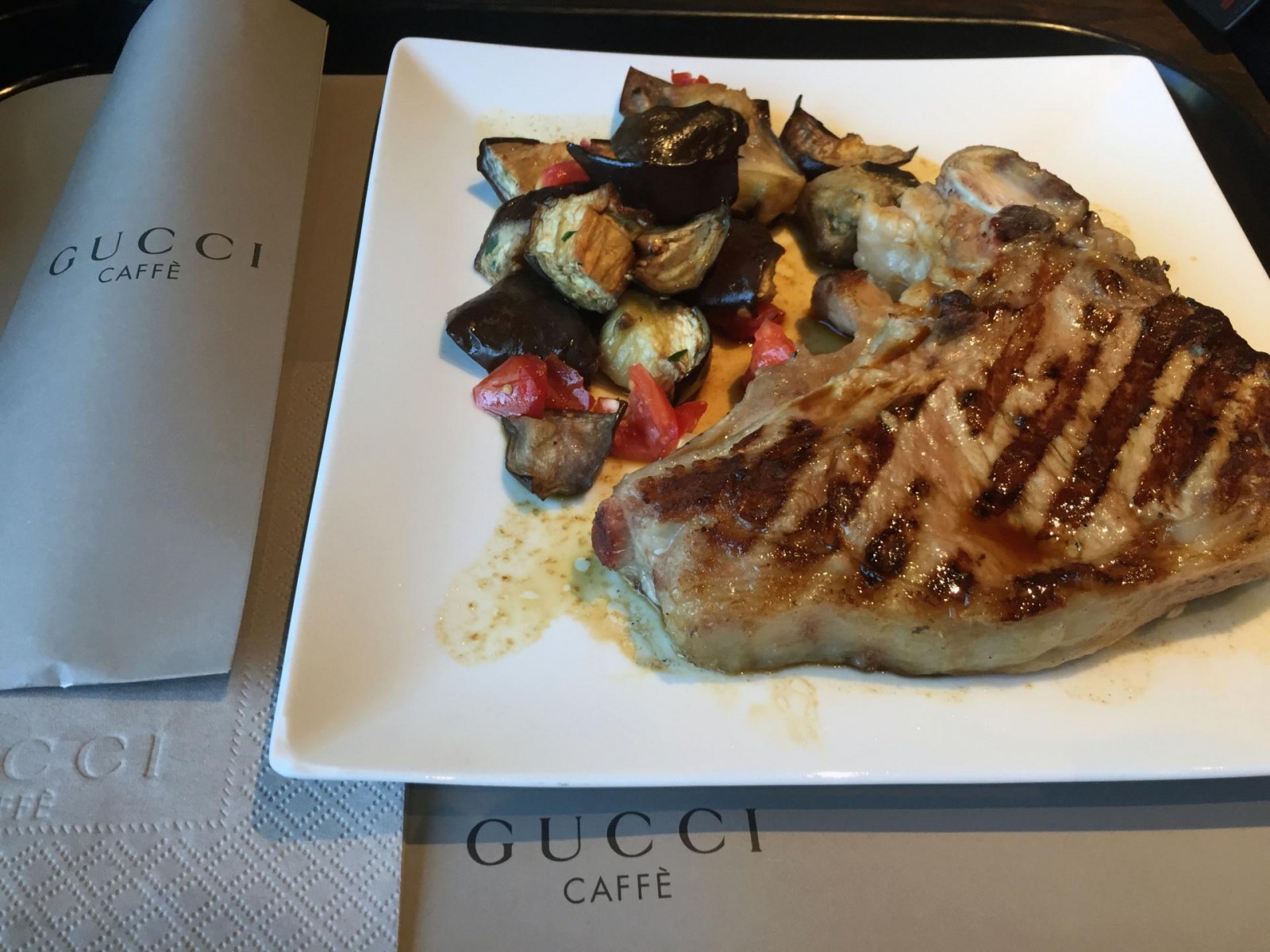 We spent the entire day in THE MALL and took the 7pm bus back to Florence. We went to the train station to get the train tickets for tomorrow Prada's trip in case it got sold out again like today.
We found a nice restaurant that served aluminium foil wrapped  seafood linguine. I gave it 10/10 and even told Kel that I wanted to return the next day to eat again. The restaurant only had 2 staffs but they were very patient and good with recommending food and wine to us.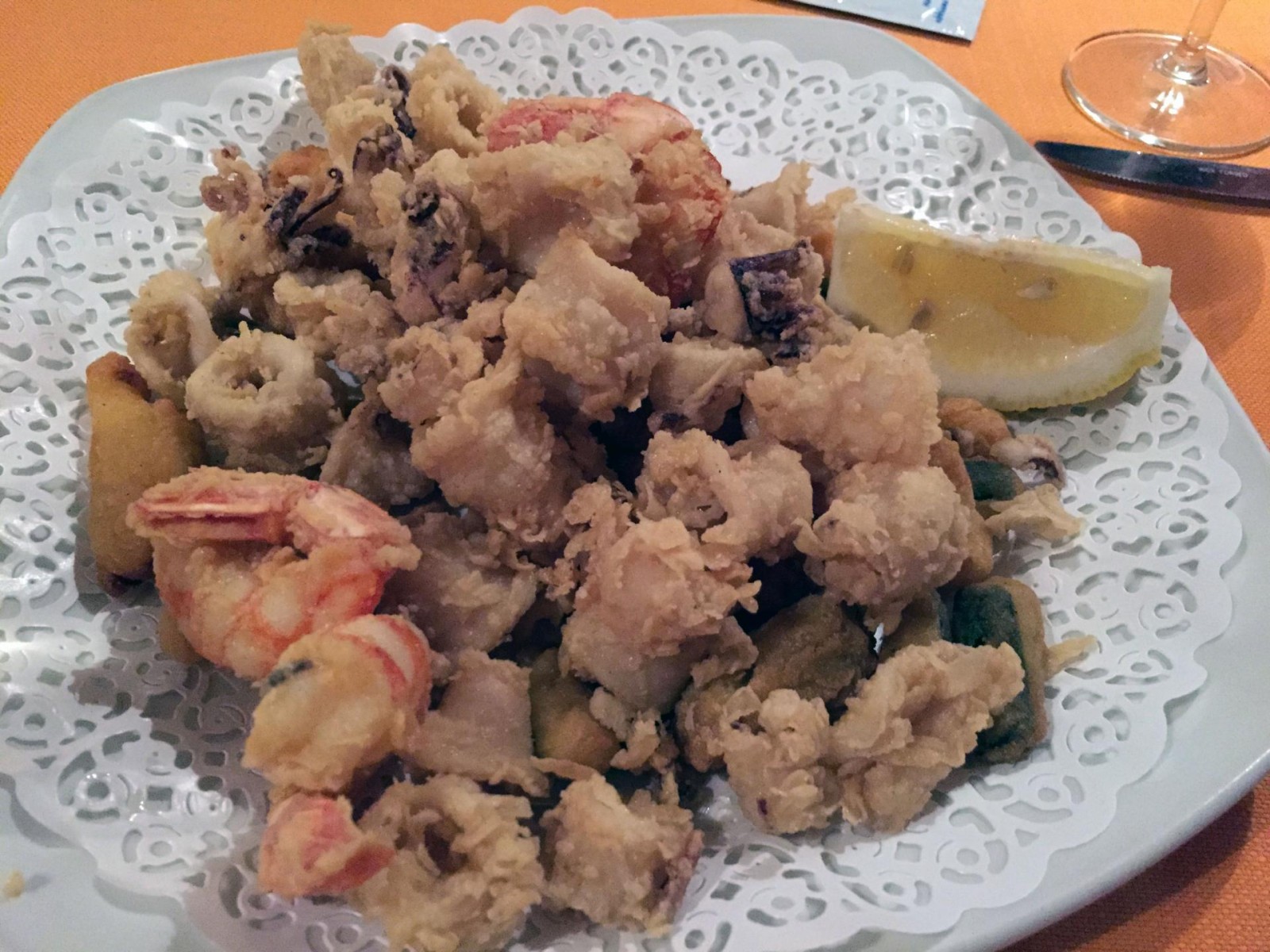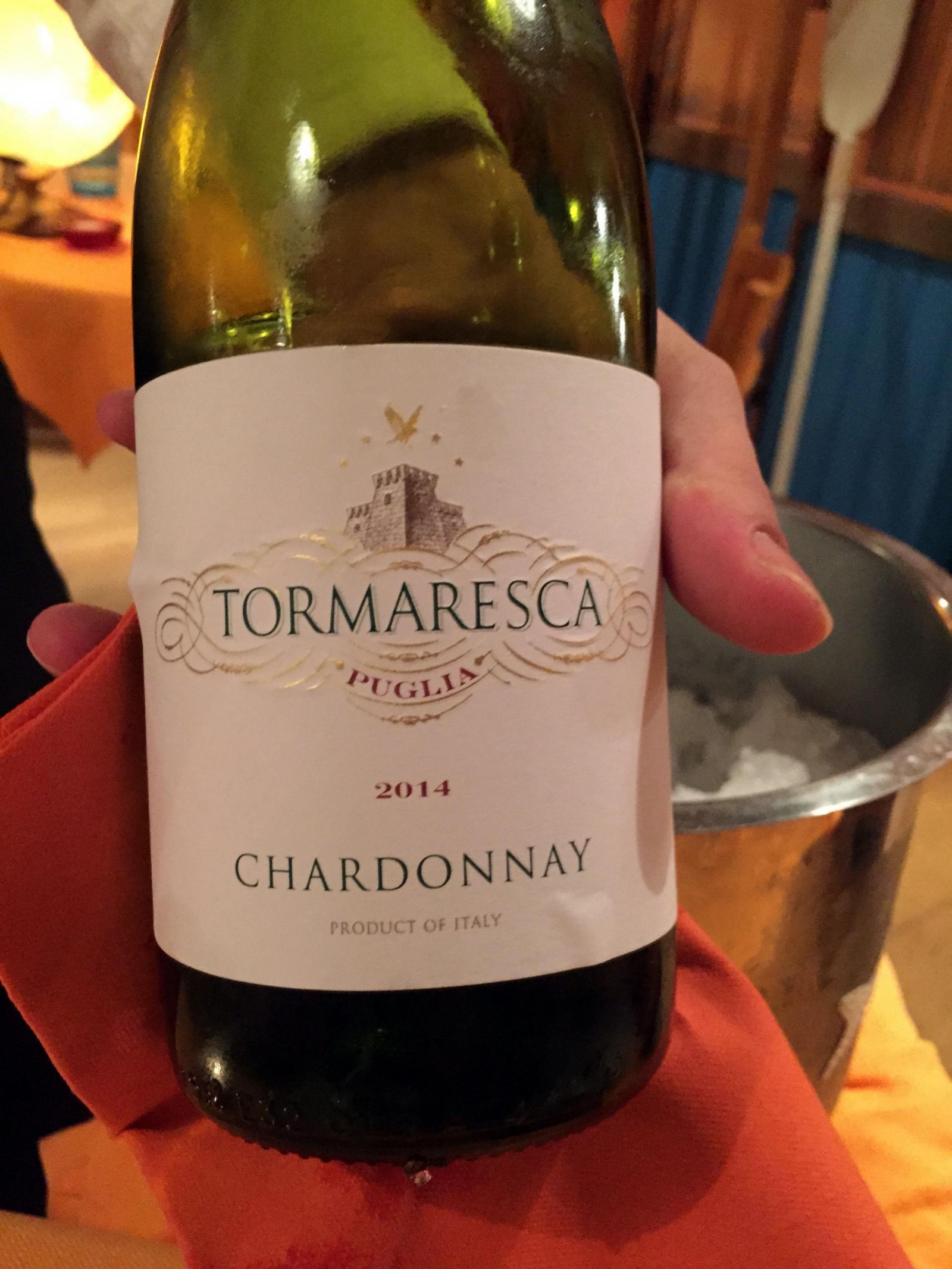 Day 3
We woke up earlier and headed to the station for our ride to Montevarchi, the station of the Prada Space Outlet. When we asked the customer service if we got the right tickets, he straight away said "Prada Prada Prada" when he saw we are going to Montevarchi..  Do note that it is not a direct train from Florence to Montevarch.  Montevarchi is just one of the stop along the journey. So you have to take note when to alight. The journey took us 50 min and cost €5.90 per pax.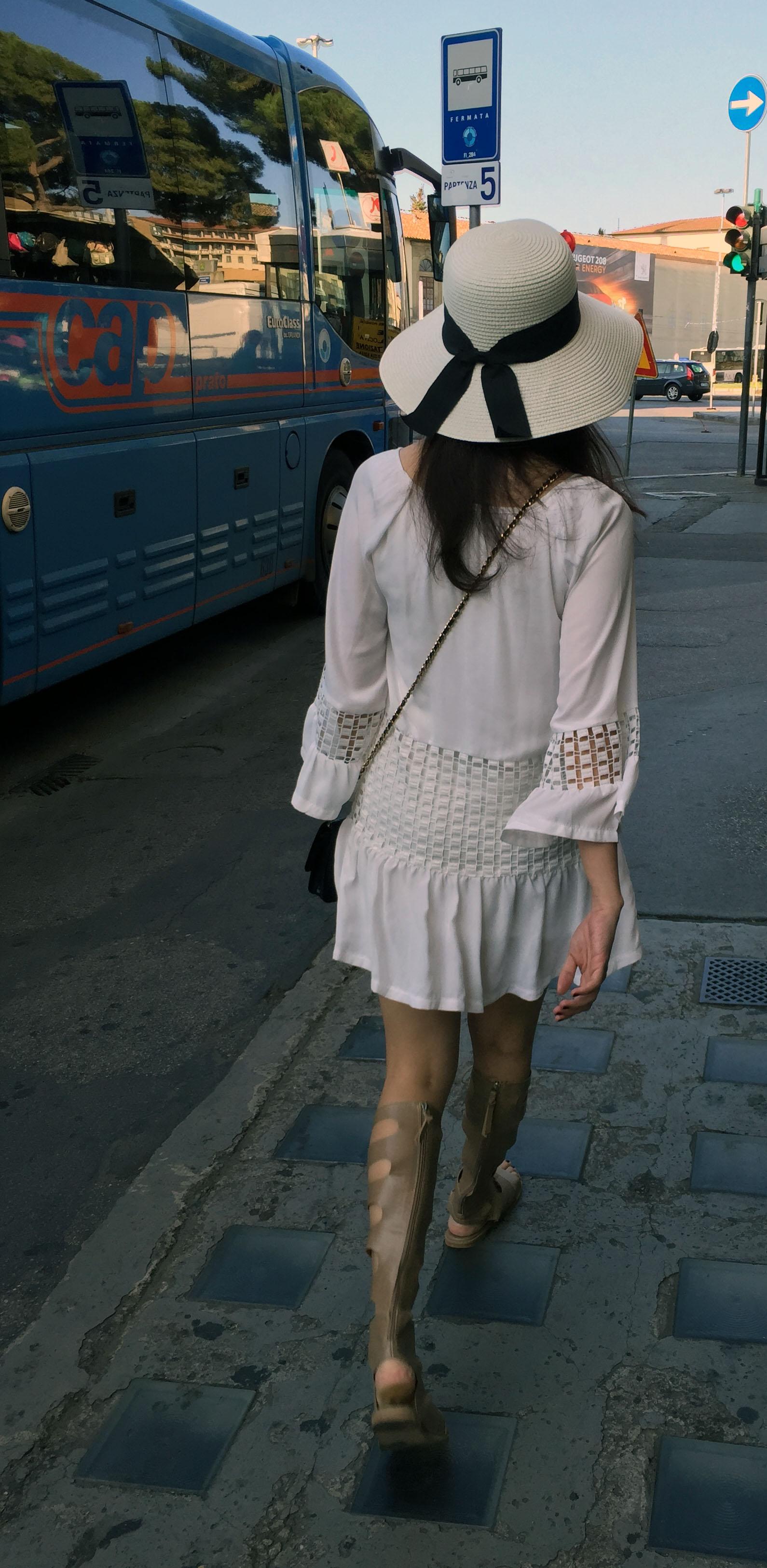 Once you are at Montevarchi station, head to the exit and you will see taxi service to Prada Space. There is a guy by the name of Stefano. He does this service for many years and each trip to Prada Space without sharing is €12. If you are lucky and there are other commuters, you only need to pay the share rate. We had 6 others to share with us thus we only pay €3 per person. Stefano's taxi is a Mercedes Maxi Cab. It can take up to 8 pax. Do take his name card so that you can get the Prada staff to call for him to pick you up at the outlet when you are done. Stefano also does ferry customers from Prada Space to THE MALL and it will cost €60. Alternatively, just go back to Montevarchi and take a train to Rignano Sull'Arno. From Rignano Sull'Arno take a  5 min taxi ride to THE MALL. It will cost probably around €20 to €25. If you are in a bigger group then it will probably make more sense to book Stefano's service.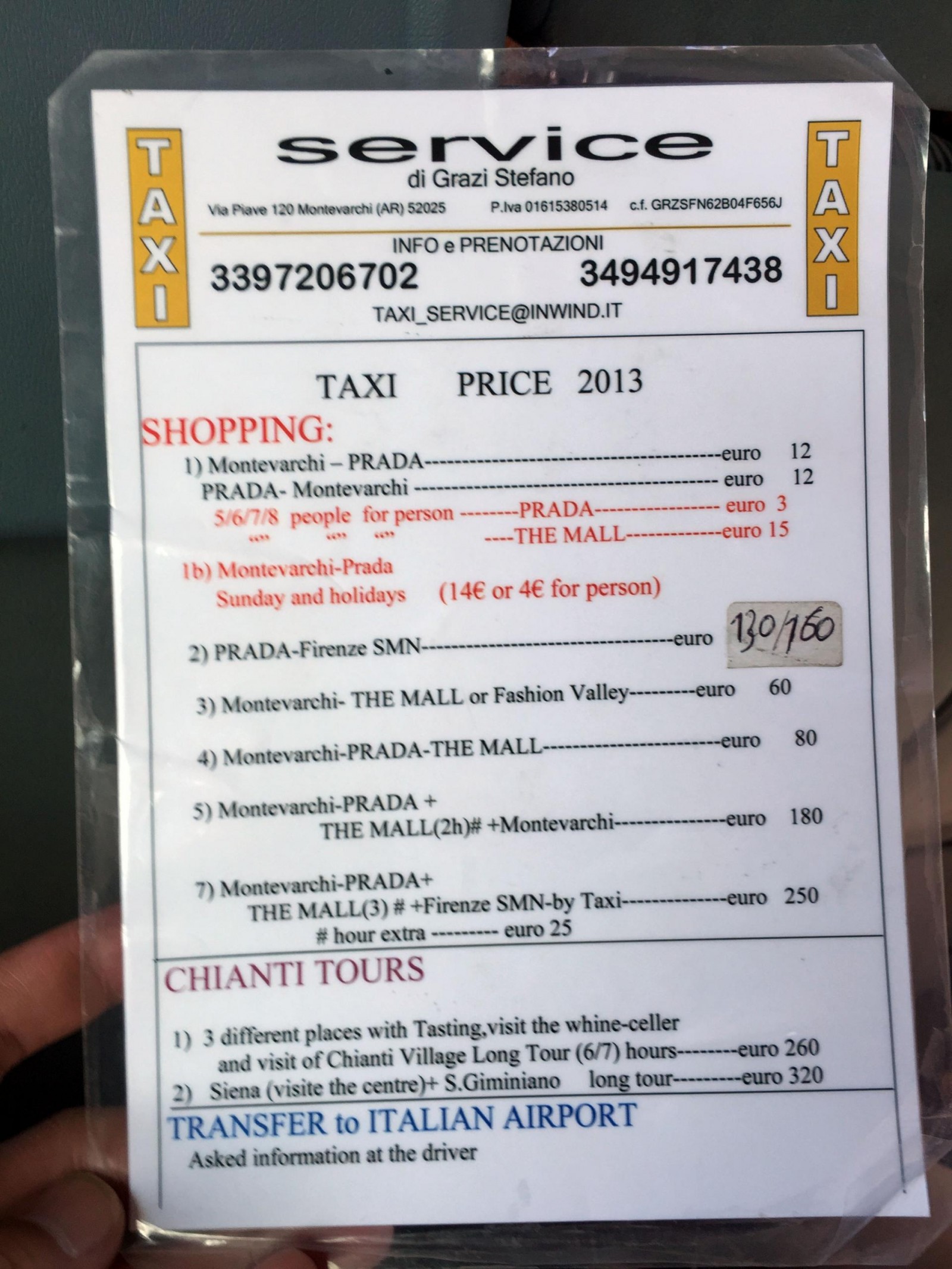 We reached Prada Space at 10am and there were already a queue forming outside. (Store opens at 10.30am) You need to get a number stub from a ticket machine located outside the entrance. The same concept as the Prada store we visited at THE MALL.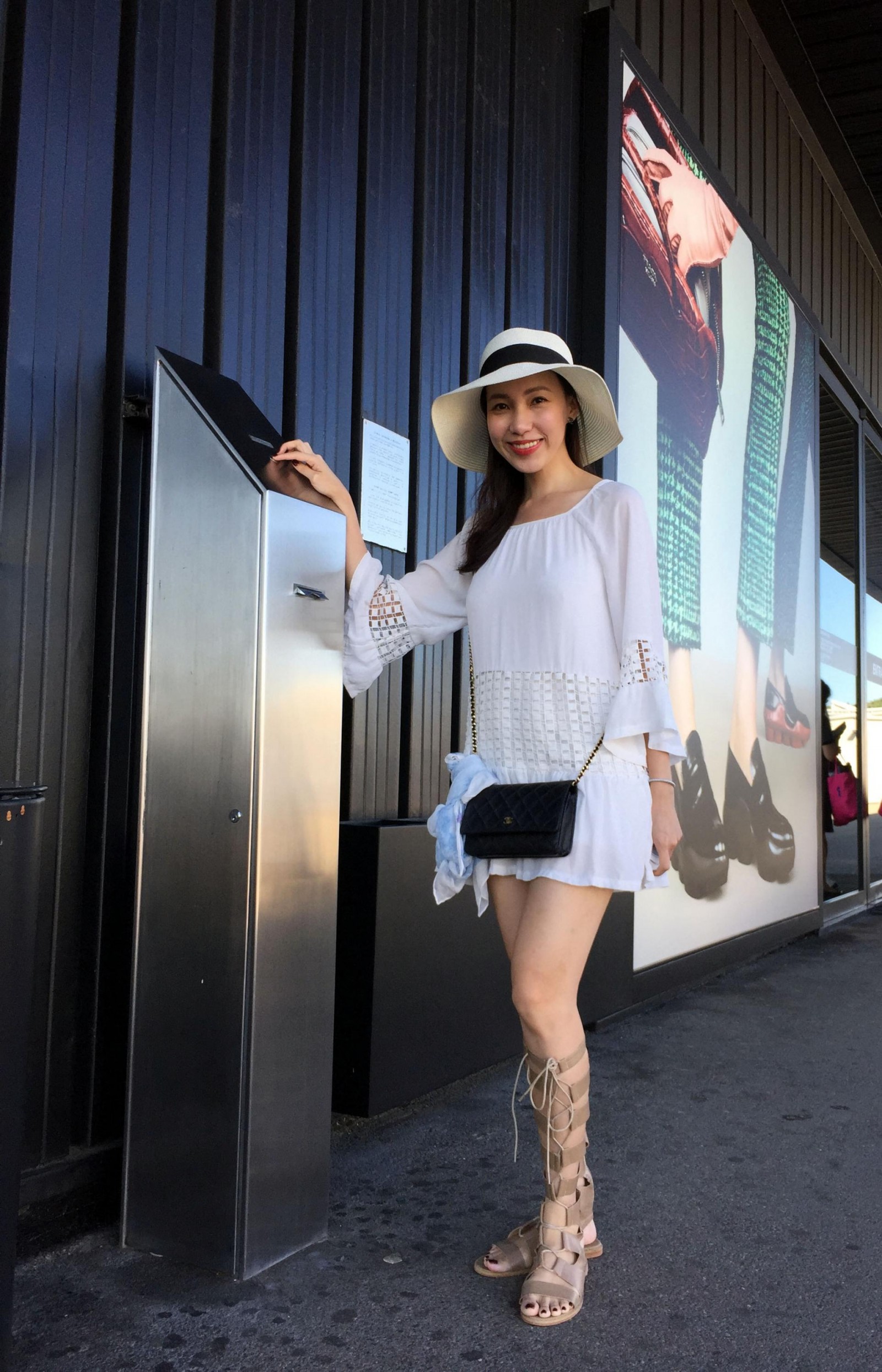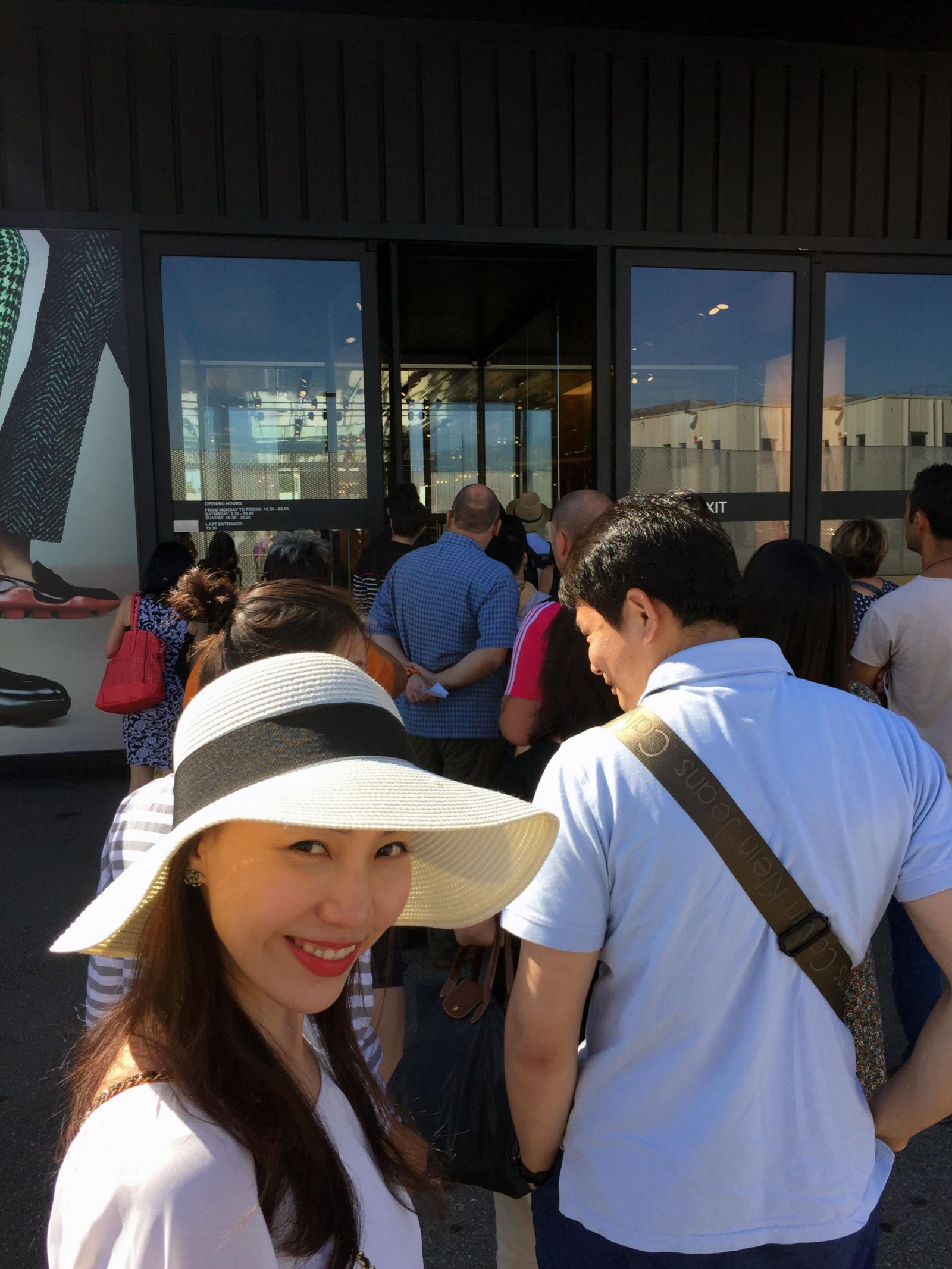 It was a fruitful trip for me to Prada space.  I was very happy because I bought a very nice  Prada handbag for my mum ( the exact one I saw yesterday at THE MALL but in black) and a nice  Miu Miu tote bag for Granny (hahah ya Granny… ) The Miu Miu tote bag was €€320. There were more selection of bags and shoes here compare to THE MALL. I ended up with 4 bags, 4 shoes, belt and accessories. Most of the bag are between €500 to €700. I am talking about the leather bags not the canvas thus it was pretty decent price for a branded bag.
We knew we were in deep shit when the staffs handed over our shopping bags. I told them to remove all the boxes for the bags.
While waiting for Stefano to pick us up, we stood outside Prada,  repacking the items. We threw away all the shoe boxes and squeeze all into 2 bags.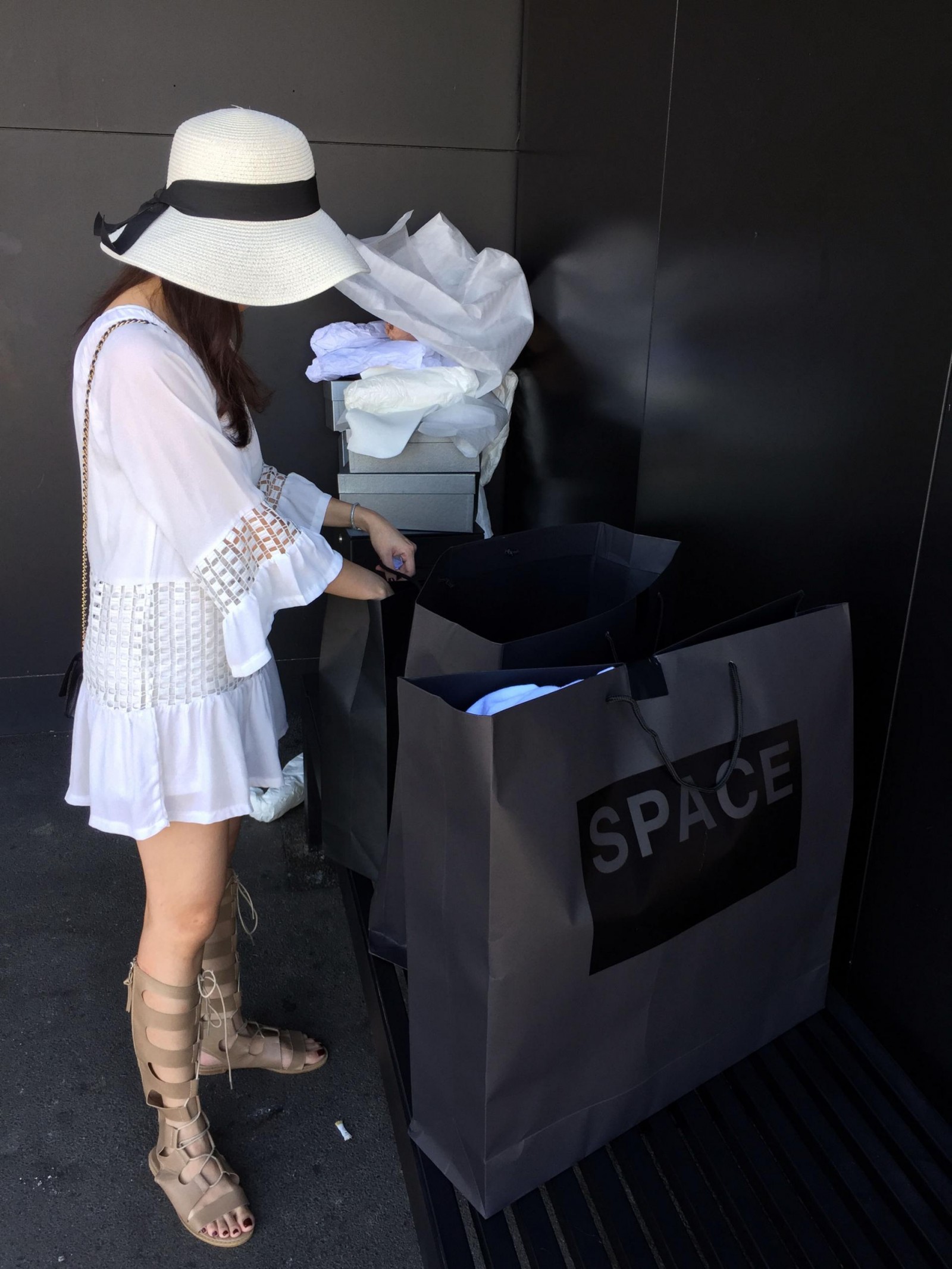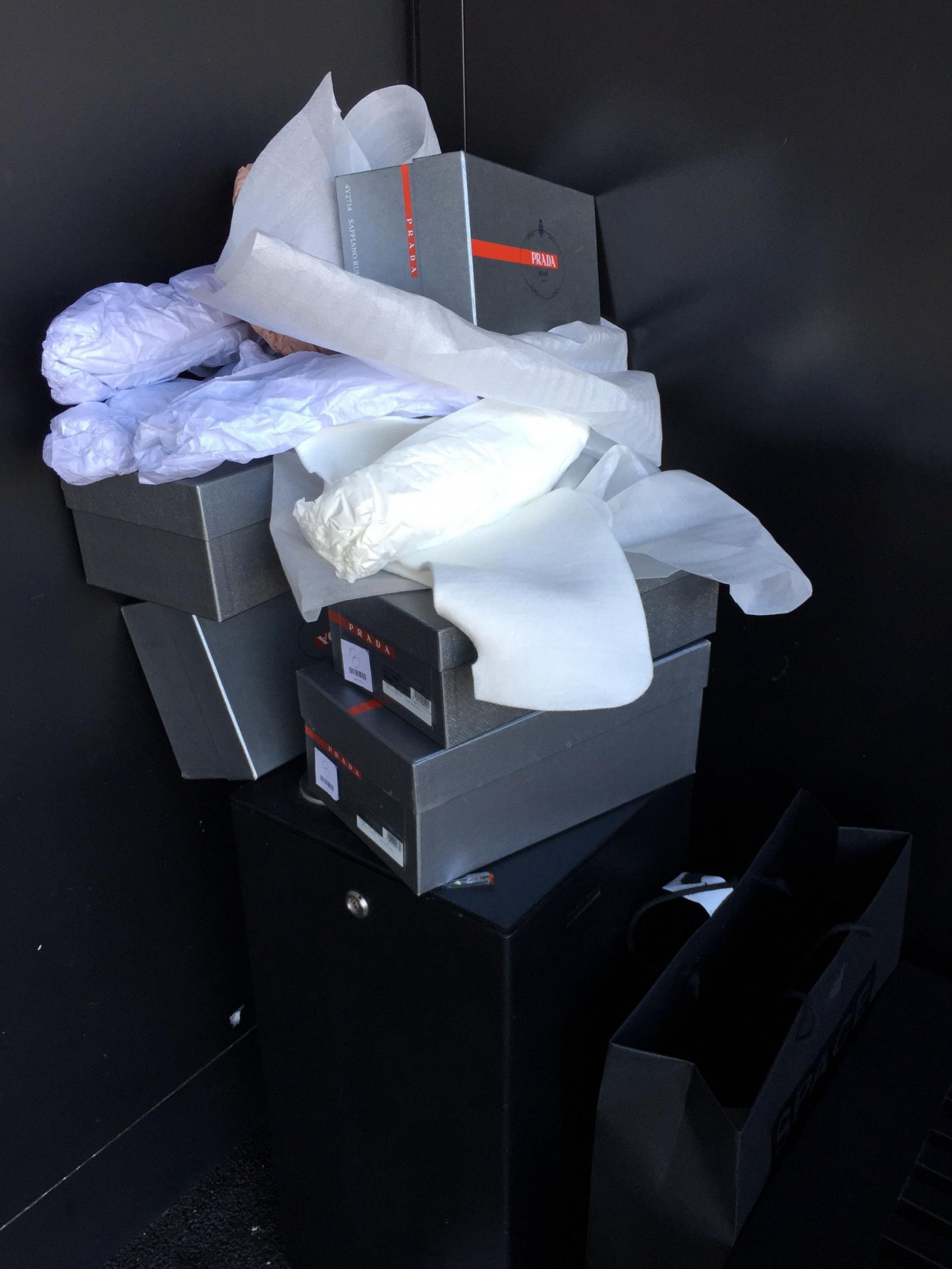 We managed to reached Florence by 3pm and decided to do a walk around the city to look for another luggage as we were  out of luggage space. We saw Mandarina  Duck having 50 % sale and bought a luggage for €130. We  left the luggage in the store and went on walking around.
We walked to Ponte Vecchio, ("Old Bridge") a arch bridge over the Arno River. It was noted for still having shops built along it, as was once common. Butchers initially occupied the shops; the present tenants are jewellers, art dealers and souvenir sellers. There was a place for you to make a wish. I wished to come back to this beautiful city again. 🙂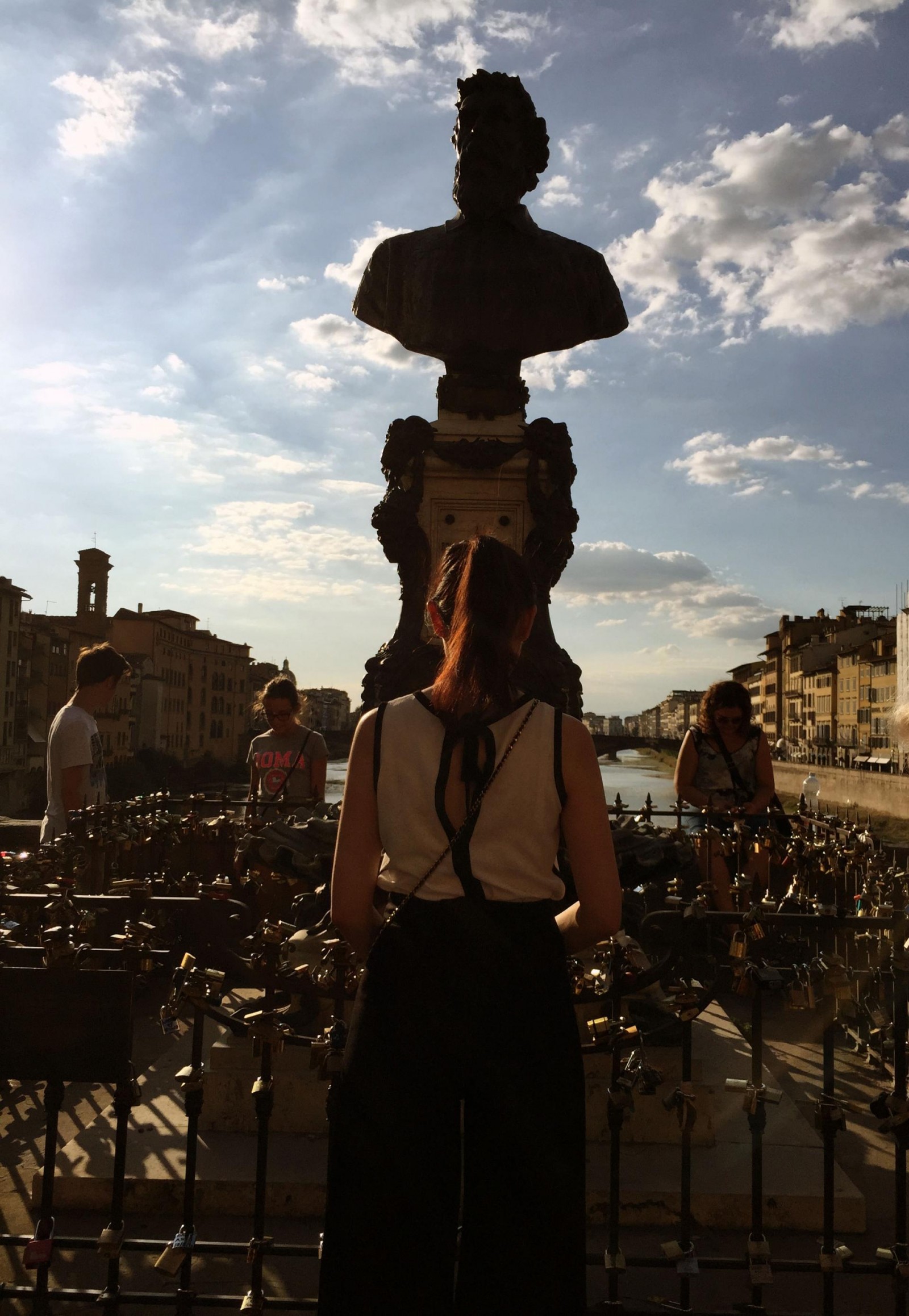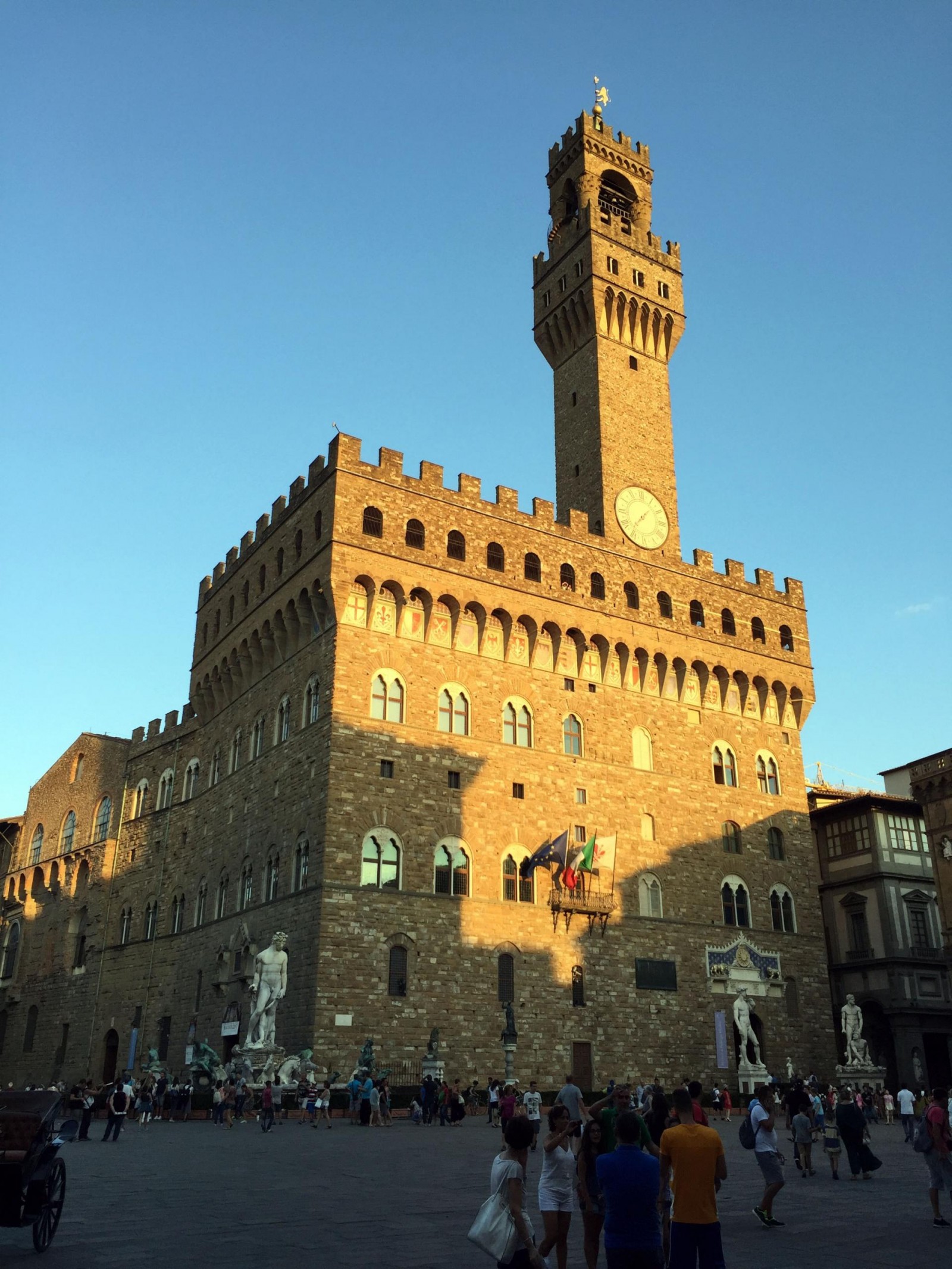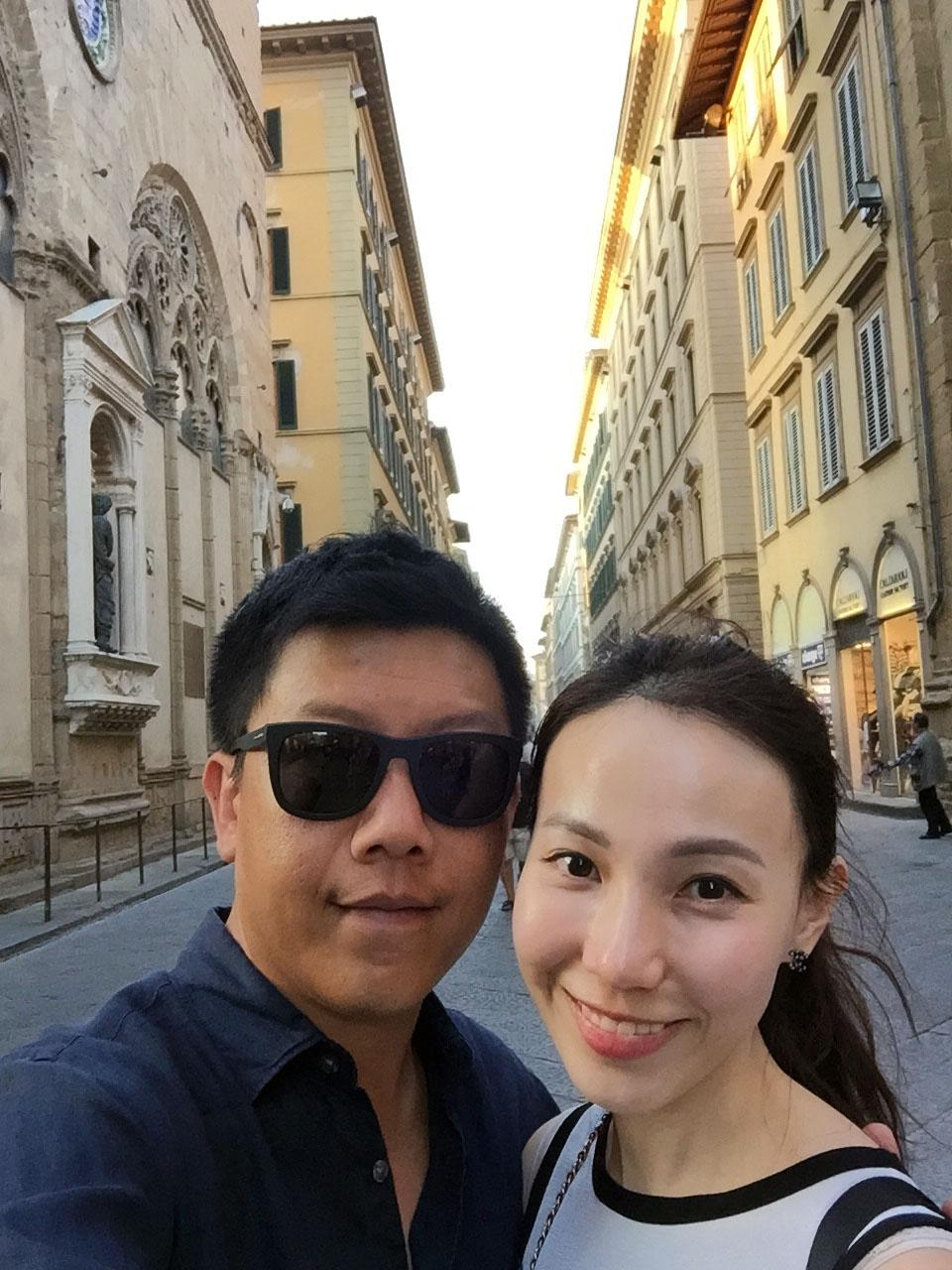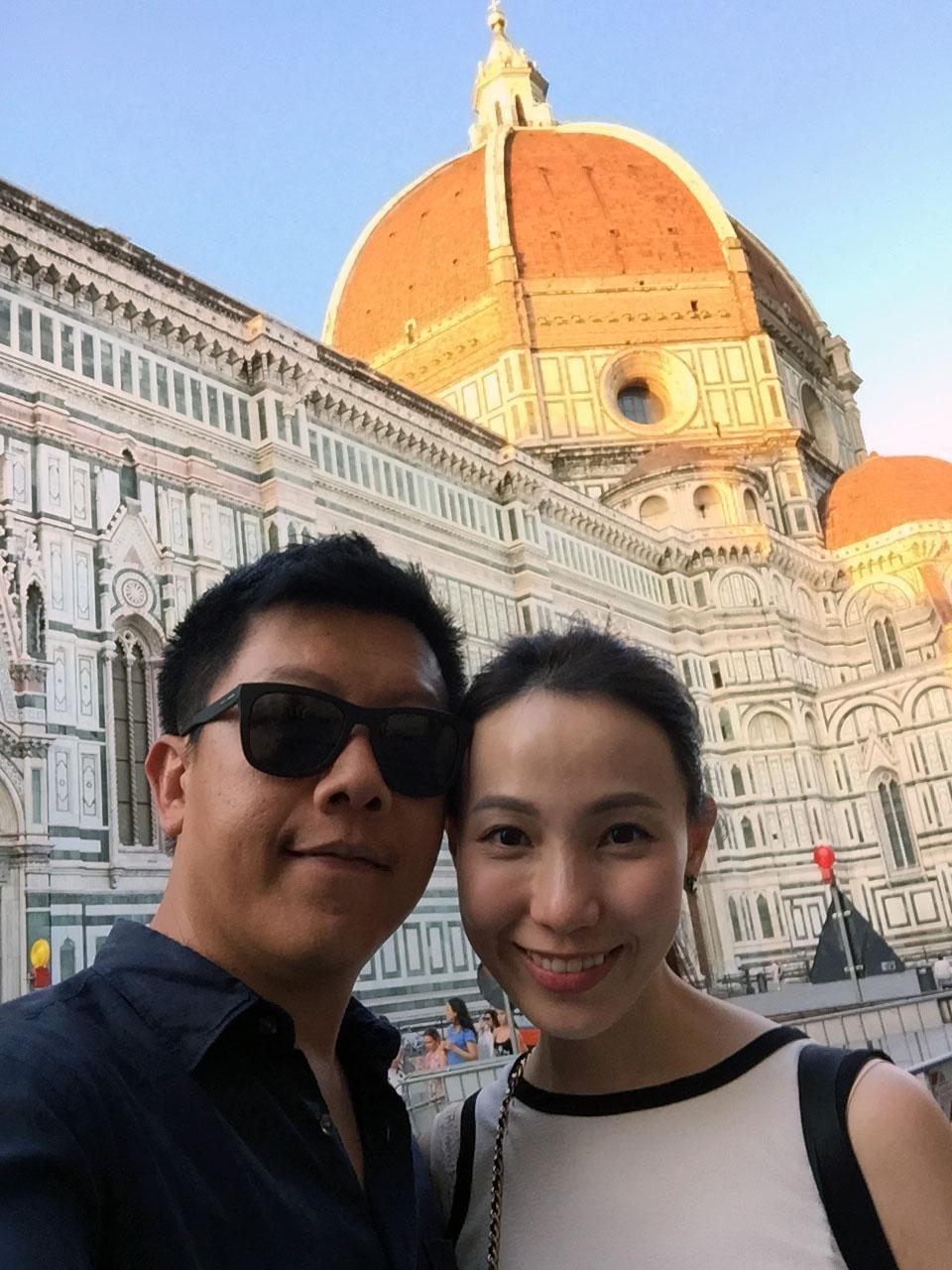 Our initial plan was to keep Day 3 for our touristy stuff but because of all the shopping we were left with little time.
So I will say it was a  pity that  we missed out on the nice places to visit in Florence. We will definitely come back again.